Page 3 - Subjective Performance Tests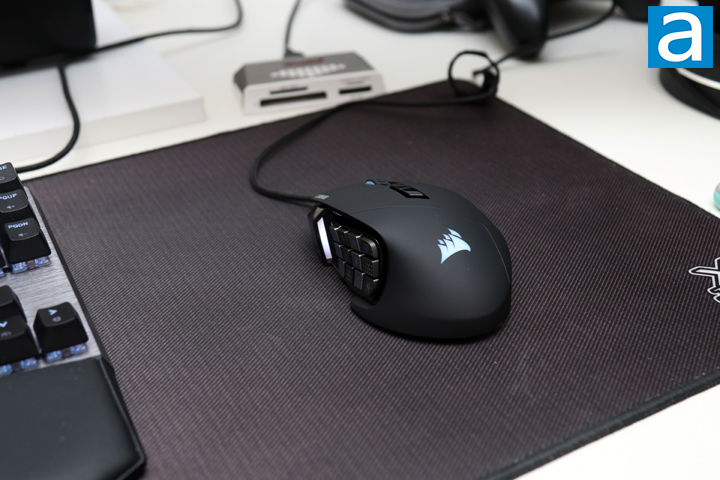 After plugging the Corsair Scimitar RGB Elite in and setting up the software, I ran the mouse through our series of standard tracking performance tests. This includes normal office usage in the Windows environment as well as gaming. Some graphics work and testing were done with Adobe Photoshop. Games used in this test primarily include Overwatch, League of Legends, and Monster Hunter: World. This spans multiple genres and allows us to get a feel as to how the mouse responds in different situations. All testing was completed on a cloth surface, primarily the XTracGear Carbonic XXL. Please note these are subjective tests, but we will attempt to make it as objective as possible with our cross-reference testing methods.
Due to the larger and wider shape of the Scimitar RGB Elite, I ended up utilizing a full palm-grip on this mouse. While it is not my preference, especially in faster moving games like shooters, this Corsair mouse definitely makes it comfortable with the side rest for my ring and pinky fingers to sit upon. Those with large hands in general may still choose this grip just based on the girth of the mouse. On the other hand, those with smaller hands should try this mouse out before buying it. As for its weight, I definitely needed some time to get used to this 122g mouse, as it is much heavier than the mouse I was using previously. Heavier mice can offer stability, as the Corsair Scimitar RGB Elite does, but it comes down to personal preferences if you like this. As for the sensitivity range, I generally keep my mice in the 800 DPI range, even if this one can reach 18000 DPI. As for the button layout, I think Corsair has done a good job in keeping them in an accessible place while avoiding accidental presses. Audible and tactile feedback on all of the buttons were good, even the secondary keys. There were no abnormal squeaks, sounds, or sensor rattle heard.
The Corsair Scimitar RGB Elite is advertised as a gaming mouse, so it only makes sense to use it with games like Overwatch and League of Legends. I also threw Monster Hunter into the mix as this mouse is meant to be more for RPGs that allow for macro presses and key combinations. Starting with this game, the button placement and Corsair software does make playing this role-playing game pretty easy, as the buttons are all easy to reach and quick to press. I had no issue quickly pressing different key combinations that the game may offer. As for our MOBA in League of Legends, buttons were quick to press and react, while the sensor tracked as expected. The primary Omron switches held up quite well and were easy to spam when I needed to move around quickly. Finally, in our FPS game, this mouse is not exactly made for shooters, and its bulky size and greater mass were the two main culprits for this. It is not a mouse designed for first person shooters, so this should not be too surprising. Flicking the mouse is a bit trickier too due to its shape and size. Even so, the sensor performed quite well and tracked well in all gaming circumstances.
When checking for more technical flaws, the Corsair Scimitar RGB Elite did not exhibit any immediate problems. Photoshop tests revealed small details were easily picked up when moving the mouse in straight lines with zero prediction or smoothing. I did not notice any input lag and response time felt pretty consistent. There was no observable jitter at realistic sensitivities, though at the maximum 18000 DPI, it was a bit more noticeable. I configured the mouse to have a low lift off distance and it did not move when I lifted the mouse off the surface.
Overall, performance of the Corsair Scimitar RGB Elite was great, especially when used in the games it is designed for. In these situations, the buttons and secondary keys performed well and were easily accessible. The Scimitar RGB Elite heavier body does mean you might want to use a different mouse for first person shooters, but the sensor kept up in all situations. It offered smooth tracking and predictable handling, which is something that has held true for mice with the higher-end Pixart sensors.
---
Page Index
1.
Introduction, Packaging, Specifications
2.
A Closer Look - Hardware and Software
3. Subjective Performance Tests
4.
Conclusion