By: Jonathan Kwan
June 16, 2023
Lately, I keep humming a melody that I could not remember the lyrics to. I was pretty sure it was an old song, since I do not believe I have heard it anywhere in recent memory. After a few days, it really bothered me what the song actually was. I found out the Google app has a song recognition feature that works by you humming into it, so I decided to give it a try. I started humming the melody into my phone, and shockingly, it gave me the correct song on the first try. The song in question was "Truly Madly Deeply" by Savage Garden, which came out in 1997. Needless to say, I was very impressed, and listening to that song really brought back memories of the 90s. I have many fond memories of the 90s, and another thing that reminds me of that era was the webcam. Our family got one made by Logitech back then expecting to use it to use it a lot on MSN Messenger, but no one actually really used it, and I ended up disposing of it a few years ago. Funny enough, webcams made a roaring comeback in 2020 thanks to COVID-19 and working from home. As I go about testing Creative's latest webcam, the Live! Cam Sync V3, and listening to "Truly Madly Deeply" at the same time, how much progress have we made since the 640x480 model designed to sit on top of my CRT monitor in the era Savage Garden was dominating the airwaves? Read on to find out!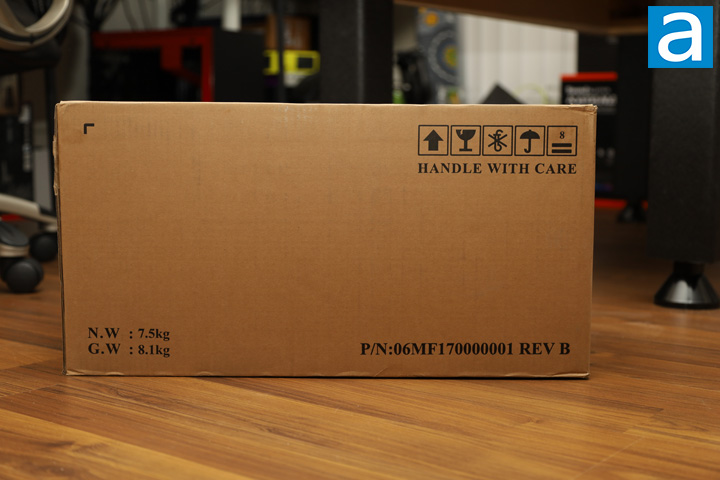 Our review unit of the Creative Live! Cam Sync V3 came in a large brown corrugated cardboard box from a logistics firm in Lachine, Quebec, Canada. Lachine is a borough within the city of Montreal right next to the airport. Everything arrived in excellent condition to us here in Calgary, Alberta, Canada via Purolator Ground for our review today. Also inside the box are the Creative Stage Air V2 and Creative Sound Blaster X5 reviewed by my colleagues Jonah and Aaron, respectively.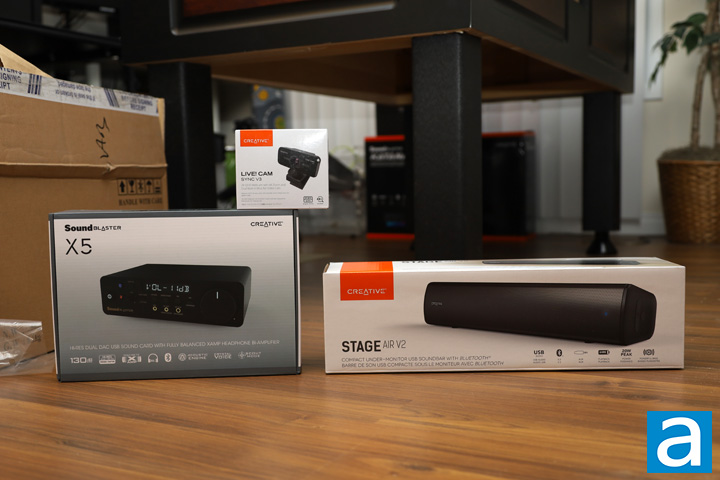 Creative sent us a retail package of the Live! Cam Sync V3 for our review today. The small retail box will fit anywhere in a retail store. The box art consists of a primarily white background with a strap of orange at the top where Creative's logo is located. Prominently shown in front is the webcam in three-quarter view. The Live! Cam Sync V3 branding can be found next to the photo, followed by the product description of "2K QHD webcam with 4x zoom and dual built-in mics for video calls". Two icons for highlighting the webcam's 2K QHD 30FPS video capture capability and 4x zoom is at the bottom right corner. More feature highlights can be found at the back, with a content and compatibility list on the side of the box.
Before we move on, let us take a look at the features and specifications of the Creative Live! Cam Sync V3, as obtained from the manufacturer's website:
Imaging
- Sensor Technology: CMOS QHD (2560 x 1440) 5 MP image sensor
- Video resolution and frame rates: MJPG- 1440p 30 fps/ 1080p 30 fps / 1200p 30 fps / 720p 30 fps / 540p 30 fps
- Output format: YUY2 / MJPG
- Image capture resolution: 2560 x 1440 /1920 x 1080
- Image capture format: BMP / JPG
- FOV: Up to 95° (diagonal)
- Flicker control: 50 Hz / 60 Hz
Microphone
- Dual built-in omni-directional digital MEMS microphone arrays
Interface
- USB 2.0
- Button: Touch control
- Plug-and-play UVC (USB video device class) compliant
- Cable Length: 1.8m / 5.9 ft
- USB-A connector
- Tripod mounting capable: Yes
Operating Temperature
- 0—40°C
Dimensions (L x W x H)
- 82 x 53 x 58 mm / 3.23 x 2.09 x 2.28 inches
Weight
- 95.7g (3.38 oz)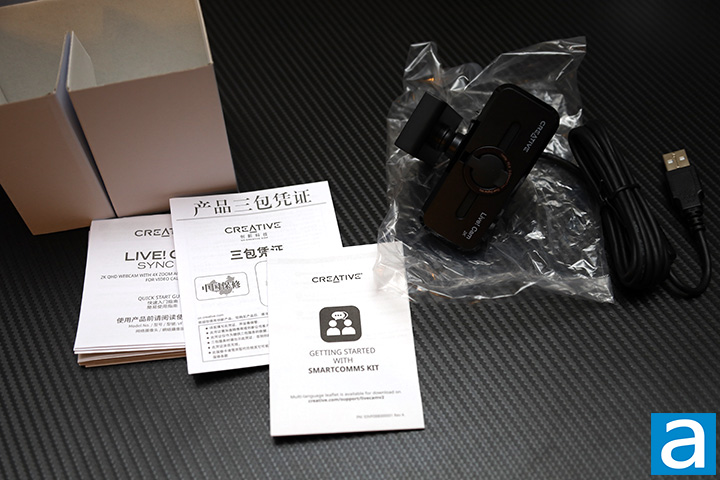 Opening a flap at the top of the box reveals a cardboard wrapper for the internal contents. Out of the box, you will receive the Creative Live! Cam Sync V3 itself, a webcam quick start guide, SmartComms Kit getting started guide, and a warranty form for Mainland China. I am not sure why the warranty form was needed for something sold in North America, but it does not hurt to include something you will not use, haha.
---
Page Index
1. Introduction, Packaging, Specifications
2.
Physical Look - Hardware
3.
Software, Sample Videos, Analysis
4.
Conclusion