By: Aaron Lai
July 17, 2020
If you are looking for some sort of consistency in Calgary, the worst place to look for it is in our weather. A week or two back, I was sitting at home when my phone started vibrating and ringing. I looked at the screen and on it was an emergency alert that said there was a tornado warning in my mobile reception area. Taking a better look at Google, it highlighted that the path was going to be over northeast Calgary and heading towards the south side of the city. As such, I looked outside one side of my house, and the skies were absolutely clear with only a few clouds in sight. When I walked over to the other side of my house, it was a completely different story, with a massive grey cloud that blanketed the skies. Honestly, it was both a shock and an expected sight. Seeing two different skies with two different weather patterns within one city at the same time is normally a rare occurrence, but Calgary has often provided the greatest weather-related drama for meteorologists. In fact, we were only a month removed from a hailstorm that pelted Calgary. Once again, only the east neighborhoods saw the golf ball-sized hail while the west side saw some heavy rain at most. There are other poor places to look for consistency, like the local hockey team, but it seems Calgary's weather is about as yo-yo as a famous cellist. If we look at consistency in the tech world, it is also hard to find a great company that does everything right. From large giants to smaller boutique names, every single company has had its showings of excellence and blunders. Today, we have the Creative Outlier Air, which are a pair of true wireless earphones. However, we have only reviewed two of Creative's audio products before, both of which were soundbars. How will the Outlier Air fare in our tests, and will it stay consistent with their other Creative products? Let us read on to find out!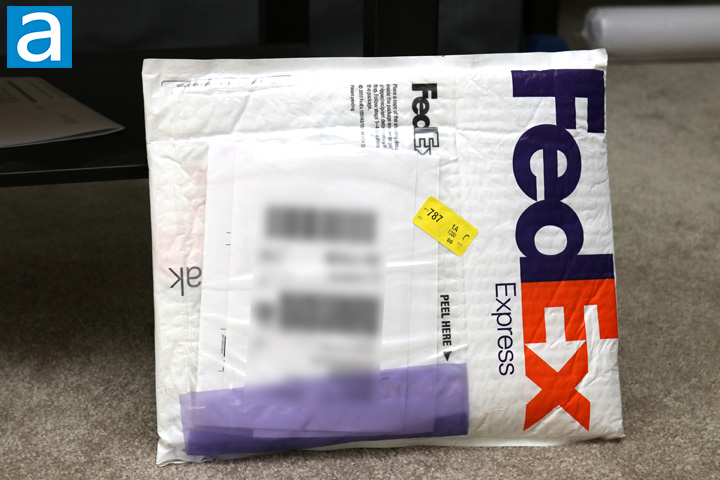 Today's review unit of the Creative Outlier Air arrived from Creative's American offices in Milpitas, California. Traveling with FedEx and their International Priority, this white bubble-wrapped envelope arrived in excellent condition. Due to its more flexible nature, the envelope does not show any damages or holes. Inside, Creative packed their Outlier Air inside an additional envelope, albeit a white cardboard one. Otherwise, I tore this open to get a better look at the Outlier Air.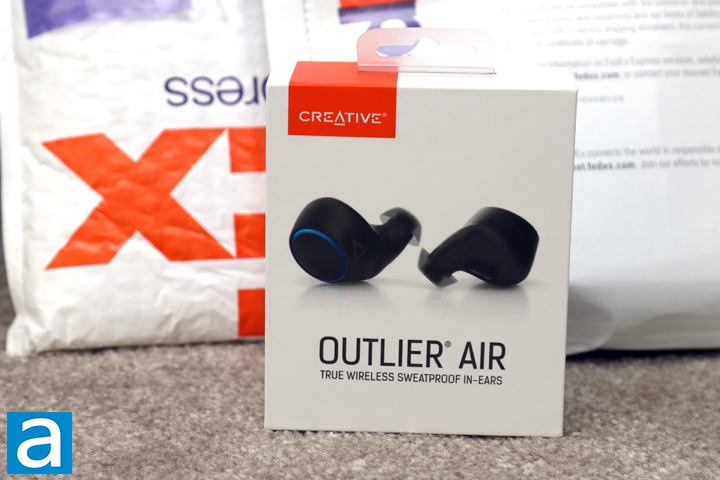 Creative has been around for quite a while in terms of audio. Our last Creative product we looked at, the Creative Stage, was boxed in a white container with orange accents too. Interestingly enough, the Outlier Air follows in the same line with its white and orange look. In the middle, we have a scaled-up version of the Outlier Air earphones in different angles. The company logo can be found on the top left corner, while the product name can be found under the front image. A description of "True Wireless Sweatproof In-Ears" sums up what you can expect from the Outlier Air. Around the box we have some notable features, as well as a description of the box contents. Otherwise, I grabbed a knife to break the seals and get inside.
Before we continue, I have grabbed the specifications from the manufacturer's website for your perusal:
Specifications
Interface: USB Type-C (Charging), Bluetooth 5.0
Product Type: True Wireless Headphones
Weight: Charging Case: 54g (1.90 oz), Earbuds: 2 x 5g (2 x 0.18 oz)
Color: Black
Frequency Response: 20–20,000 Hz
Driver: 5.6 mm graphene driver diaphragm
Battery Type and Life
- Battery in Earbuds: 2 X Rechargeable Lithium Polymer Battery 60 mAh
- Battery in Charging Case: 1 x Rechargeable Lithium Polymer Battery 380 mAh
Charging Time: 1–2 hours
Connector Type: Bluetooth 5.0
Bluetooth Profiles: HFP (Hands-Free Profile), A2DP (Wireless Stereo Bluetooth), AVRCP (Bluetooth Remote Control)
Bluetooth Operating Frequency: 2.4 GHz
Audio Codec: aptX, AAC, SBC
Operating Range: Up to 10m / 33 ft
Wearing Style: In-ear, True Wireless
Microphone
- Frequency Response: 100–10,000 Hz
- Sensitivity: - 42 dBV / Pa
- Type: Omni-directional
Weather-proof Resistant: IPX5
Operating Temperature: 0–45°C
Built in microphone: Yes
Music playback and calls control: Yes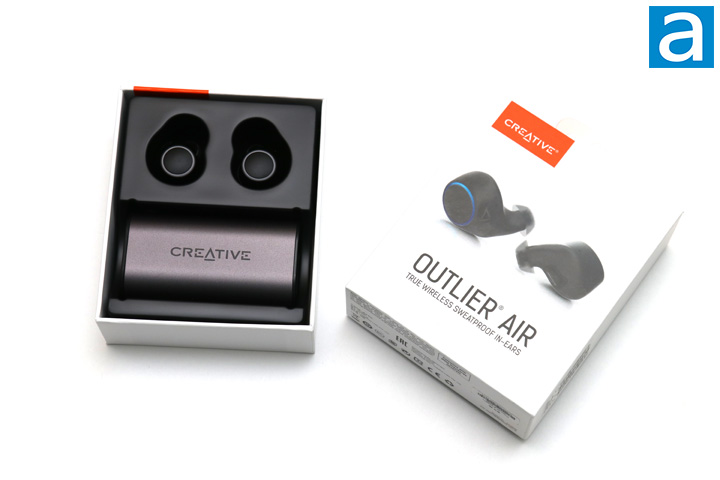 Out of the box, there are a few accessories included with the Creative Outlier Air. The front cover slides off to reveal a plastic shell that shows off the two earphones and its charging case. Underneath the black plastic shell, we have a small resealable bag that contains more bags. It also contains a 27cm USB Type-C to Type-A cable, along with several different ear tips for changing up the fit. Otherwise, we have a few more pieces of documentation regarding usage and warranty information. Speaking of which, the Outlier Air's limited warranty lasts for one year, which is the minimum for most consumer electronics.
---
Page Index
1. Introduction, Packaging, Specifications
2.
Physical Look - Hardware
3.
Subjective Audio Analysis
4.
Conclusion