Page 2 - Physical Look - Hardware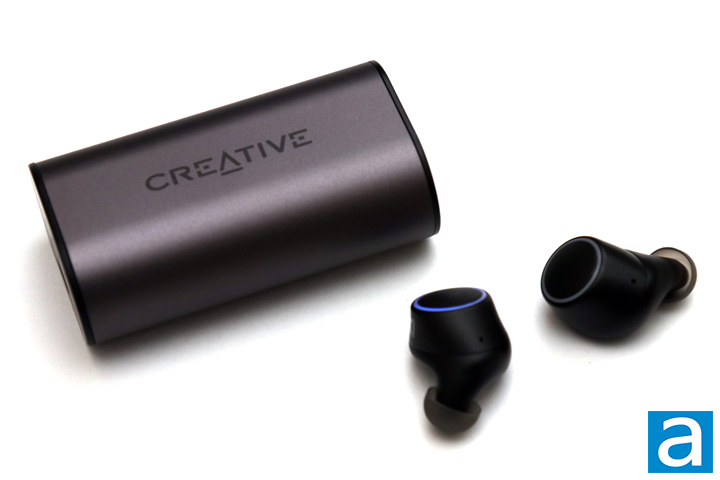 The Creative Outlier Air comes in a hard-plastic construction that is neither matte nor glossy. Its exterior is a typical black color with the exception of the two gray Creative logos on the outside of each ear. The plastics easily show handling or oil marks from your skin. However, most of the outward facing material is actually a sort of rubber material, because there is a large outward facing button on each ear. Overall, the body of each earbud is quite a bit larger than other true wireless earphones I have looked at. They protrude further out and have a body that is quite wide. As a whole, the two earphones weigh approximately 10g, or 5g on each side. Due to its larger dimensions, this makes each side feel a bit less dense. Overall, the body is solid, but I wish Creative would do something to reduce the oil marks that inevitably show up on the Outlier Air during use.
When it comes to controls, the Creative Outlier Air uses a single large button on each side with a combination of clicks and holds. The large button and change in texture make it easy to find the button. Play/Pause, Next, and Previous Track can be executed with a variety of click combinations. These are also used to accept and reject calls, activate the voice assistant, or put calls on hold. Plopping the earphones into the carrying case will power off each side, as they turn off when they charge. Volume Up and Volume Down can also be executed by pressing and holding a side. While these controls are intuitive, I found the button to require quite a bit of force to press, which meant jamming each side of the Outlier Air into my head when I wanted to execute an action. This caused a lot of discomfort and I ended up not using these controls. I think this is a major disadvantage, as other true wireless earphones with tap controls do not have this issue. I think this could be resolved by reducing the amount of force required to activate the buttons or implementing a capacitive tap interface.
The Creative Outlier Air utilizes Bluetooth 5.0 to connect to devices, which is pretty typical for most true wireless earphones. Supported codecs of the Outlier Air include SBC, AAC, and aptX. SBC, or Subband Coding, is the default Bluetooth audio codec with decent audio quality and low processing power requirements. This codec maxes out at 328 kbps. AAC, or Advanced Audio Coding, is preferred by Apple's devices and their iPhones, and maxes out at 250 kbps. Despite having a lower maximum bitrate, AAC is still known to offer better sound quality. Qualcomm's aptX offer slightly higher bitrates at a maximum 352kbps, while offering a "CD-like quality". While this term seems to be vague and overused, this codec still offers a more efficient audio encoding. This does mean you need a source with aptX support, which is not implemented in Apple devices.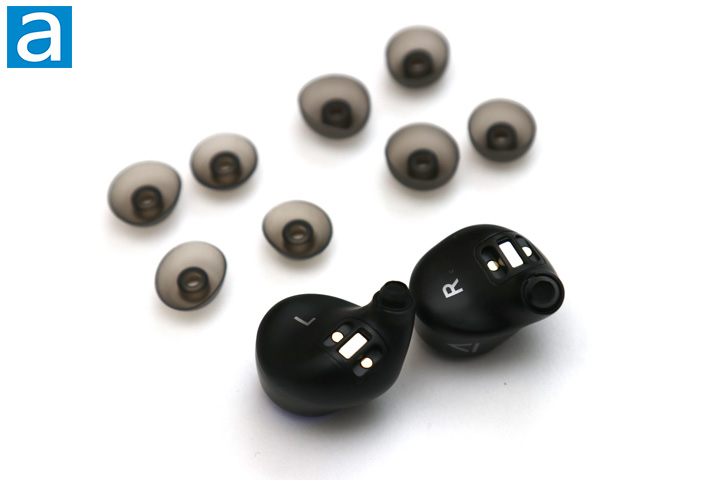 Taking a closer look at the Creative Outlier Air, you can see the size of these wireless in-ear monitors compared to the tips. Internally, each ear packs a 5.6mm neodymium drivers with a graphene diaphragm. These have a frequency response of 20Hz to 20kHz, which matches the normal hearing range for a human being. The drivers are directed into your ear for a direct and transparent sound reproduction. The sleeves are there to aim at the user's ear canals while also creating a passive noise canceling effect. The sleeves are there to aim at the user's ear canals while also creating a passive noise canceling effect. As mentioned previously, Creative has two different sizes of silicone sleeves but with two different styles. This includes a flatter tip and a more normal tip. Moving on, these earphones also have an ingress rating of IPX5, which translates to "protection from water projected from a nozzle". This should also protect these earphones from sweat or rain, especially for those on-the-go indoors or outdoors.
On each side of the Creative Outlier Air are two pogo pin pads to charge the set. In addition, we have some magnets inside to hold the pair of earphones in its charging case. This means they should stay connected even when you shake the charging case about. Located near the pin pads are printed "L" and "R" letters on the respective side to show users which side to use for which ear. On the flip side, we have a large LED ring that circles around the outside the rubber button. The ring flashes blue and red depending on the status. One thing I did not capture in the photos are the microphones on each side, which are used for picking up voice during calls or voice assistant actions.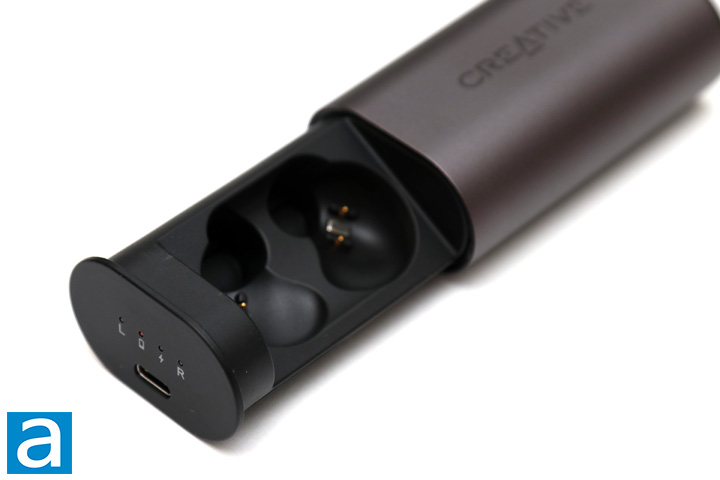 As for the carrying case, the Creative Outlier Air's metal and plastic case doubles as a charger for the headphones. I really like the metal enclosure, as it feels much more solid than any plastic shell we have seen. While it may not bring the same fancy feel of fabric, the cool touch is always nice when it comes to electronics. When it is closed, it measures 79mm in length, 44mm in width, and 28mm in height. This makes the flattened tube-shaped case pretty chunky to hold and can create a bit of a bulge in your pockets. The whole case slides open from the right side to reveal the two sitting positions of the earphones for charging. On the right side, we have four pinhole LEDs with a USB Type-C input. The four LEDs show battery status for different aspects. From left to right, it shows the charging status of the Left ear, the battery life of the case, the charging status of the case when it is plugged in, and the charging status of the Right ear. I appreciate the level of detail for each different aspect, rather than just a single battery status light for everything.
As the two sides of the Creative Outlier Air are completely disconnected, both sides have a lithium polymer battery. The carrying case doubles as a charger and has a battery inside it. Each ear has a 60 mAh battery inside, while the case has an additional 380 mAh battery. As a whole, Creative says the headphones should last ten hours on one charge, while the carrying case adds an additional twenty hours of listening for a total of thirty hours. The manufacturer also advertises the case can fully charge within two hours. In day-to-day use, I found these numbers to be inflated. These headphones lasted around seven and a half hours on 50% volume, which is still an impressive duration. It does allow for two more charges, so the total time is closer to over twenty-two hours. I am disappointed that the Outlier Air do not actually last the full rated time, but this is still one of the longest lasting true wireless earphones I have used, which is good.
Normally, I do not need to mention the pairing process with true wireless headphones, because they work like any other Bluetooth device. However, the Creative Outlier Air work slightly differently when it comes to the pairing process. Before any device is connected, you will need to put both of the earpieces into pairing mode and then start by pairing one of the sides. The second one should show up with a request to pair with your device shortly after, though it may take a reset or two for them to behave in this fashion. From here, these should work as you would expect other headphones to work. However, Android devices will report the battery life of only the primary side. This side will drain faster than the secondary side. Remember, this is just based on which pairs first, so you can alternate between the sides for each time you power on the Outlier Air earphones. It is a bit of a quirk, but I at least did not find any issues with connectivity after pairing it.
---
Page Index
1.
Introduction, Packaging, Specifications
2. Physical Look - Hardware
3.
Subjective Audio Analysis
4.
Conclusion