By: Jonah Chow
October 15, 2021
I am sure everyone has heard the saying "do not judge a book by its cover" at least a few times in their life. I find this was especially true when I watched a show you probably have heard of, given its recent popularity, called Squid Game. Having watched similar death-game-type media before, I thought I knew what to expect going in. And while some of the tropes remained, the show was a very fresh entry to the genre and more importantly, a thrilling watch from start to finish. Certain parts of the show surprised me and threw me into a loop when it came to revelations and characters, and once again showed me how easy it is to assume you know something about a show before even starting it. Similarly, today we have the Creative Outlier Air V2, which from a distance, looks exactly the same as its predecessor, the Creative Outlier Air, which was reviewed last year by my colleague Aaron Lai. While it would be very easy to just write a one-page review saying the Outlier Air V2 is just the same product, we cannot judge a book by its cover. What changes and improvements does the Creative Outlier Air V2 make from its predecessor? Let us read on to find out!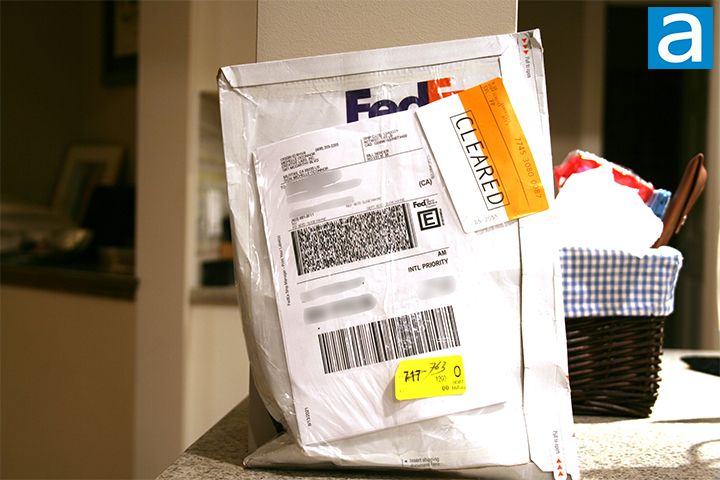 Today's unit of the Creative Outlier Air V2 arrived from Creative's American offices in Milpitas, California. Traveling with FedEx International Priority, the white-bubble-wrapped envelope arrived in great condition with no scratches or tears to us here in Calgary, Alberta, Canada.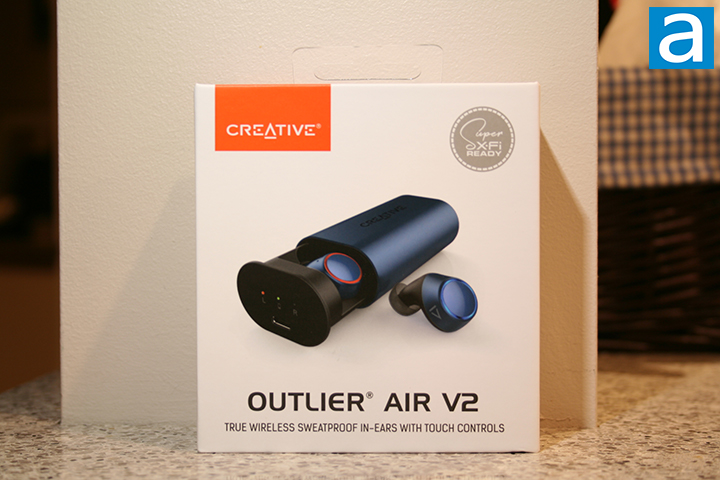 The Creative Outlier Air V2 retail box is almost the same as the original Outlier Air. The Outlier Air V2 has the same white and orange look. A scaled-up version of the Outlier Air V2 earphones can be seen in the middle. The carrying case can be seen this time around with one of the earbuds sitting inside it. The company logo can be found on the top left corner, while the product name can be found under the front image. A description of "True Wireless Sweatproof In-Ears with Touch Controls" makes a point to describe a new feature that these earphones have that its predecessor did not -- touch controls. At the top right, we have a label that reads "Super X-Fi Ready". Around the box, we have some notable features as well as a description of the box contents. I then proceeded to open the box.
Before we move on, here are the specifications from Creative's website:
Interface: USB-C (Charging)
Product Type: True Wireless Headphones
Weight: Charging Case: 60g, Earbuds: 2 x 6g
Color: Metallic Blue
Main Features: aptX
Frequency Response: 20–20,000 Hz
Driver: 5.6 mm Graphene-coated Driver Diaphragm
Battery Type and Life:
-Battery in Charging Case: 1 x Rechargeable
-Lithium Polymer Battery 450 mAh, Battery in
-Earbuds: 1 X Rechargeable Lithium-ion
-Polymer Battery 80 mAh in each earbud
Charging Time: 1–2 hours
Connector Type: Bluetooth 5.0 (Class 1 device)
Bluetooth Profiles: HFP (Hands-Free Profile), A2DP (Wireless Stereo Bluetooth), AVRCP (Bluetooth Remote Control)
Bluetooth Operating Frequency: 2.4 GHz
Audio Codec: aptX, AAC, SBC
Operating Range: Up to 10m / 33 ft
Wearing Style: In-ear, True Wireless
Microphone:
-Frequency Response: 100–10,000 Hz
-Sensitivity: - 42 dBV / Pa
-Type: Omni-directional x 2
Weather-proof Resistant: IPX5
Operating Temperature: 0–45°C
Built in microphone: Yes
Music playback and calls control: Yes
Controls: Touch controls (Volume and Playback controls)
Total Battery Life: Up to 34 Hours
Playtime Per Charge: Up to 12 Hours Per Charge
Microphone setup: Single, with Qualcomm® cVc™ 8.0 Technology for mic
Controls: Touch Control
Software Super X-Fi® / Super X-FI READY: Yes
Siri / Google Assistant: Yes
Water Resistance: IPX5 Certified
Interface: USB Type-C (Charging), Bluetooth 5.0
Driver: 5.6 mm Graphene-coated Driver Diaphragm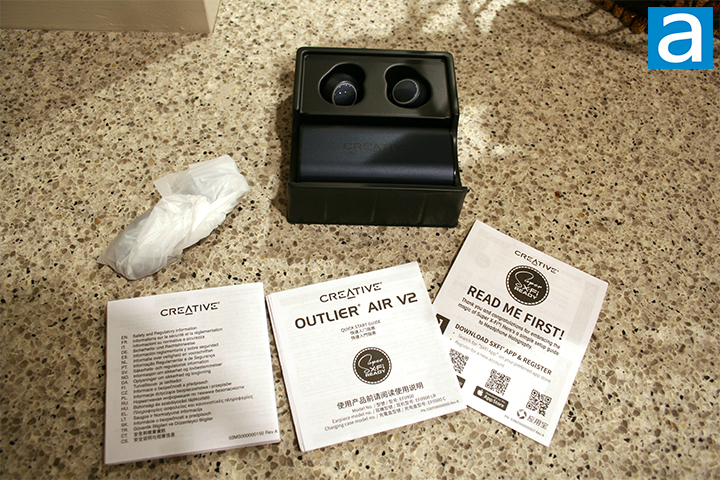 Opening the box reveals the contents, which include the earphones themselves, carrying case, and some documentation including a manual, warranty information, and information on the SXFI app. The earphones and the carrying case are placed snug inside a black plastic shell. Removing the shell reveals a small bag containing other bags inside it. We also get a 27cm USB Type-C to Type-A cable. Finally, we get different earbud sleeves to fit a wide variety of ears. The Creative Outlier Air V2 comes with a 1-year limited warranty.
---
Page Index
1. Introduction, Packaging, Specifications
2.
Physical Look - Hardware
3.
Subjective Audio Analysis
4.
Conclusion