Page 2 - Physical Look - Hardware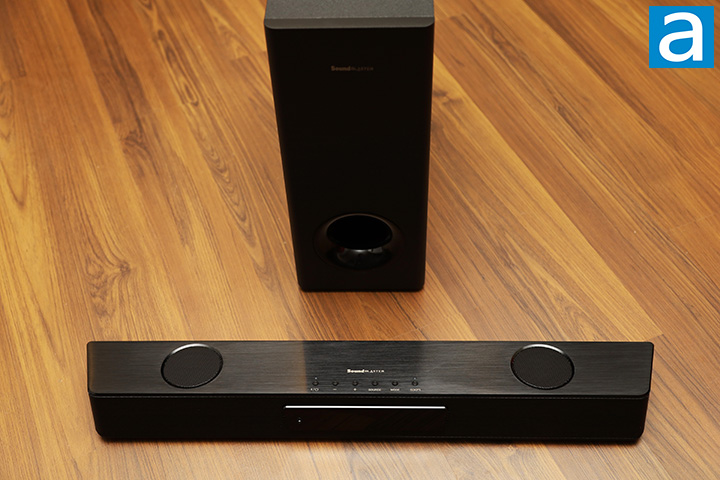 Creative promises their latest Katana soundbar will allow you to "explore uncharted audile territories and achieve elevated sound experiences". Like its predecessor, the Sound BlasterX Katana, the Sound Blaster Katana V2 is a sleek and slim speaker designed to go underneath your monitor. This soundbar looks great in person, measuring in at 95mm in depth, 600mm in width, 62mm in height, and tipping the scales at 3.35 lbs. The clean lines in conjunction with its sturdy, brushed aluminum surface is clean and modern. Putting it next to the original Katana makes the previous model look outdated. The Katana V2 is cold to touch and solid to behold. The choice of material is functional as well. Its construction promises to minimize harmful vibrations that reduce sound clarity.
The metal speaker grille wraps around the soundbar and extends to every vertical side other than the back of the Sound Blaster Katana V2. In the middle is a section that contains an infrared receiver for the remote, dual built-in beamforming microphones, and an eight character, fourteen-segment display used to show information such as current input, system status, or volume. I like the inclusion of a microphone for those who game often or work from home. A 3.5mm output is also available to automatically mute the speakers when you connect a pair of headphones. Near the sides of the front is a pair of 3/4" fabric dome tweeters. Creative claims these tweeters are capable of cleaner and more refined highs compared to the original Katana. At the top are two 2.5" up-firing midrange drivers. Programmable LEDs in seven segments can be found underneath the soundbar with a plastic diffuser to provide RGB LED underglow effects with 16.8 million colors.
Six buttons adjacent to the Sound Blaster branding on the top provides direct control of the system. From the left to the right, we have power/pair, volume down, volume up, source, mode, and SXFI. The SXFI button cycles between Super X-Fi modes, including Super X-Fi on, Battle Mode, and off. The two outside buttons have a corresponding multi-color LED on top. The LED above the power/pair button glows or blinks white, red, yellow, or blue depending on the system power and Bluetooth status. The LED for the SXFI button glows or blinks orange, green, blue, or red to indicate Super X-Fi mode or status. When Super X-Fi is unavailable, the LED will be off.
A slim subwoofer is included to fill in the lower frequencies otherwise not reached by the quad drivers located on the soundbar itself. The subwoofer has dimensions of 367mm tall, 367mm deep, and 150mm wide and weighs in at 14.1 lbs, which houses one 6.5″ driver inside. The driver is increased from 5.25" and the unit is significantly heavier than the previous model's 8.8 lbs.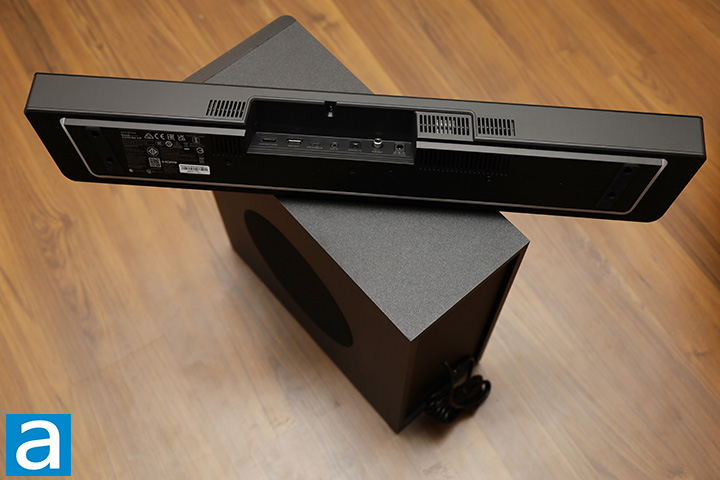 Here is a shot at the back of the Creative Sound Blaster Katana V2 powered soundbar. By "powered", it means it comes with an internal amplifier. What we have here is an internal amplifier located inside the soundbar that produces a combined output of 126W RMS, up from the previous model's 75W. There are actually three DSP-controlled amplifiers inside the soundbar, where one stereo amp powers the tweeters, a second stereo amp powers the midrange drivers, and a third mono amp powers the subwoofer. The multi-core 24-bit/96kHz DSP supports Dolby Audio decoding when connected via HDMI ARC or optical. Power to the soundbar is supplied by a GVE 24V/3A 72W external power supply that can take any AC voltage input between 100V and 240V.
As you can see in our photo above, Creative offers a generous array of input connectors on the Sound Blaster Katana V2. There is an HDMI ARC, USB Type-C to USB Type-A PC, auxiliary 3.5mm jack, and optical connector. You can select between HDMI, PC, auxiliary, optical, and Bluetooth separately, which is very useful for those who plan to hook up multiple devices at the same time. On the output side, there is an amplified RCA subwoofer jack. One unique feature is the SXFI Out USB Type-A port. It is for connecting to a wireless dongle for Creative Super X-Fi gaming headphones. This replaces the USB Type-A port found in the previous model for plugging in a drive that has music files on it, which is not that useful in 2022.
On the wireless side, its Bluetooth 5.0 operation depends on an internal antenna. To start, simply hold down the power/pair button to enter into pairing mode. Once a device is paired, switch to Bluetooth for the input. SBC is the only protocol supported over Bluetooth. SBC, or Subband Coding, is the default Bluetooth audio codec with reasonably good audio quality and low processing power requirements. It is too bad there is no aptX or AAC support for improved Bluetooth wireless quality.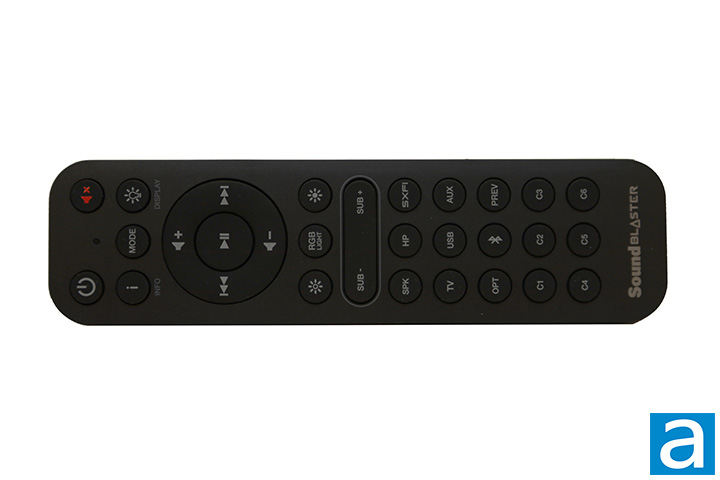 Creative includes a remote control to go with the Sound Blaster Katana V2, shown in our photo above. The remote control is made out of plastic, powered by two AAA batteries that are not included, and looks much more like a real remote than its predecessor. The buttons click crisply. Everything should be self-explanatory other than a select few. The Info button toggles the display between audio format, volume, sound mode, and source information. The Display button cycles through the LED display brightness. RGB Lighting cycles through RGB LED lighting presets, which can be configured in the app. SPK and HP is for selecting speaker output and headphone output, respectively. Super X-Fi cycles between Super X-Fi modes, including Super X-Fi on, Battle Mode, and off. PREV is for the previous source. Finally, C1 to C6 are customizable buttons via the Creative app.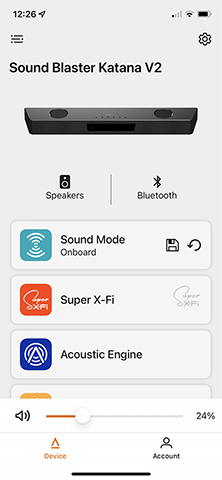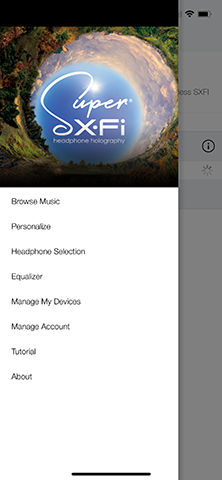 There are two apps designed to be used with the Creative Sound Blaster Katana V2, shown in the above screenshots. On the left is the Creative app, while the one on the right is the SXFI app. This may be slightly off topic, but I find the Creative app very hard to find in Apple's App Store, as the name is too generic, and it simply does not come up in search.
The Creative app is where you can customize your soundbar's audio settings, lighting effects, and remote control custom buttons. Audio settings you can configure include Sound Mode, Acoustic Engine, Equalizer, CrystalVoice, Scout Mode, Decoder, and Mixer. Sound Mode combines multiple audio settings into a profile. Acoustic Engine is for audio enhancements. CrystalVoice are where microphone settings are found. Decoder is for the Dolby Decoder. Mixer adjusts the subwoofer volume.
Preset lighting effects you can choose from include Aurora, Cycle, Mood, Morph, Pulsate, Solo, and Wave. You can change the color, speed, direction, brightness, and make it music reactive. The direction can be set from left to right, right to left, or bouncing. The effect speed is available in seven steps. nor does it have visualizer effects. Of course, you can turn them off if you find it distracting.
The SXFI app is for building your own headphone audio profiles with compatible products when connected to the Sound Blaster Katana V2. For some reason, it requires you to register before use, which I find unnecessary. It was easy enough to register, but the app could easily function without forced user registration in my opinion.
Overall, I find the apps to be reasonably intuitive to use, but I am not sure if the disaggregation of the two apps is necessary. The Creative app actually links to the SXFI app on the main screen. Simply put, I feel like it can be one app instead of two. With all this in mind, it is now time to put the Creative Sound Blaster Katana V2 through APH Networks' infamous subjective audio tests.
---
Page Index
1.
Introduction, Packaging, Specifications
2. Physical Look - Hardware
3.
Subjective Audio Analysis
4.
Conclusion