By: Jonathan Kwan
September 29, 2017
I was sitting at a restaurant with a group of friends one Sunday afternoon after church when a couple of girls started talking about makeup. "I spend an hour every day putting on makeup before I leave the house," the first girl said. "I just do not leave the house without it." The second girl responded, "I would rather have an extra hour of sleep than to put on makeup." Taking the opportunity to join this conversation, I said, "That is the exact same reason why I do away with makeup as well." Now, while it is not literally wrong I prefer an extra hour of sleep over putting on makeup, the actual reason why I do not put on makeup is not because I need an extra hour of sleep. After all, I am a guy, and I am not into that kind of stuff. With the popularity of soundbars in the market today, I will have to boldly say that, in a similar manner as to why I do not put on makeup, people do not prefer soundbars over actual speakers because of its sound quality. People want soundbars because they deliver better performance than primitive systems like the one built into your TV (or maybe nothing at all), and for the form factor and convenience it offers, it is as well as you can do, given the constraints. As I was looking around for a soundbar that fits underneath my 42" TV that doubles as a monitor for one of my computers in my basement, one product caught my eye. The Creative Sound BlasterX Katana promises great audio performance for gaming and entertainment alike in an aesthetically pleasing package. Creative has long been known for their computer audio products since the 1980s. How successful are they today with the Sound BlasterX Katana? Read on to find out!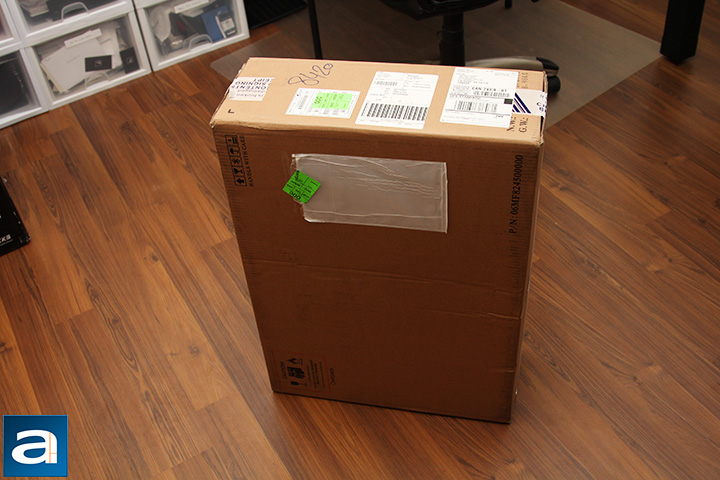 Our review unit of the Creative Sound BlasterX Katana came in a large brown corrugated cardboard box from the company's American headquarters in Milpitas, California. Milpitas is also the home to well-known technology companies like Cisco Systems and SanDisk. Traveling via UPS Standard, everything arrived in excellent condition to us here in Calgary, Alberta, Canada in the height of summer. As I look outside the window in the loom of snowfall, it is time to wake up and get this review out the door before September ends.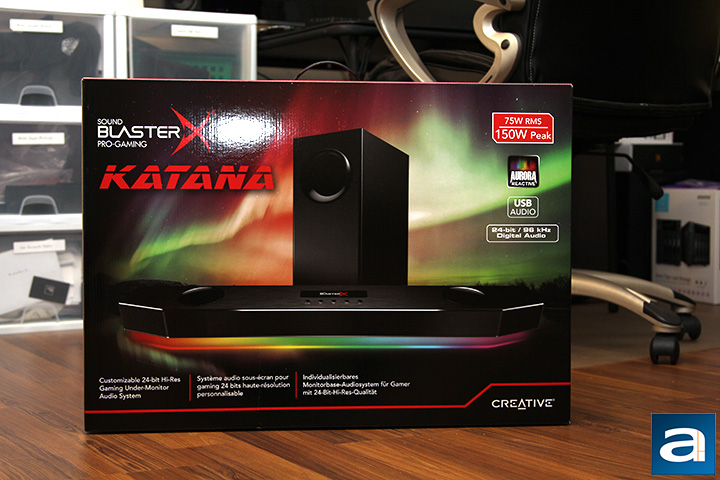 Creative sent us a retail package of the Sound BlasterX Katana for our review today. The large retail box could double as a shipping box by itself, which features a carrying handle at the top to make carrying a little easier. The box art contains a background composed of northern lights, also known as an aurora, to reflect the company's Aurora Reactive lighting system feature. In the foreground is the soundbar itself with the Aurora Reactive underglow lighting activated, followed by a photo of the included subwoofer immediately behind. The Sound BlasterX and Katana branding can be found at the top left corner, while feature highlights such as its 75W RMS/150W peak output, Aurora Reactive LEDs, USB audio support, and 24-bit/96 kHz decoding is located at the top right corner. Along the bottom, there is a short product description in three different language, as well as Creative's logo just below the red border. A diagram with more feature highlights can be found at the back, with specifications on the side of the box.
Before we move on, let us take a look at the features and specifications of the Creative Sound BlasterX Katana, as obtained from the manufacturer's website:
Soundbar Dimensions (H x W x D): 60.0 x 600.0 x 79.0 mm (2.4 x 23.6 x 3.1 inches)
Subwoofer Dimensions (H x W x D): 333 x 130 x 299 mm (5.1 x 11.8 x 13.1 inches)
Soundbar Weight: 1.5kg (3.3 lbs)
Subwoofer Weight: 4kg (8.8 lbs)
System Configuration: 2.1 system
Bluetooth Version: Bluetooth 4.2
Bluetooth Profile: A2DP (Wireless Stereo Bluetooth)
Supported Codecs: SBC, AAC
Connector Type: Bluetooth, AUX-in, USB FlashDrive, Headset out, USB Audio, Mic-in, Optical-in
Color: Black
Remote Control: Infrared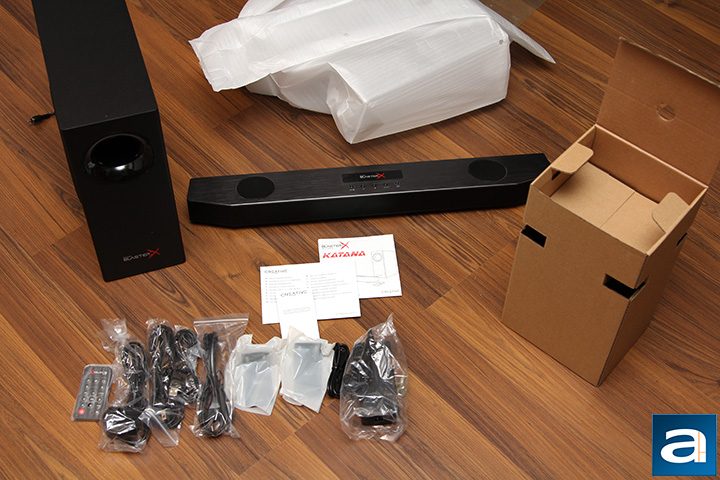 Everything was neatly placed inside upon opening the box at the top. Clipped between a collection of foam brackets, wrapped in white foam sheets, or contained in plastic bags where appropriate, the following items are included out of the box:
- 1 x Sound BlasterX Katana Soundbar
- 1 x Sound BlasterX Katana Subwoofer
- 1 x Power Adapter
- 1 x USB Cable (1.8m)
- 1 x USB Cable (0.6m)
- 1 x IR remote (battery included)
- 2 x Wall Mount Brackets
- Warranty & Technical Support leaflet
- Quick Start Guide
- Safety & Regulatory leaflet
---
Page Index
1. Introduction, Packaging, Specifications
2.
Physical Look - Hardware
3.
Subjective Audio Analysis
4.
Conclusion