By: Jonathan Kwan
December 2, 2022
"I need everyone over six foot tall to come with me," I said as I was walking into the room at the University of Calgary. I am pretty sure most people were confused what is going on, but eventually someone asked the question. "Why do you need people who are six foot or taller?" "It is for hanging up posters around campus," I said. "I need tall people to reach areas I cannot reach." Just for reference, I am about 5'9", so having that extra three or so inches really go a long way when reaching up. In this case, size matters for this task, and I am sure you have run into situations in the past where physical attributes play a key role. The same goes with products we use, and sometimes saving some space goes a long way. Last year, I reviewed the Creative Sound Blaster Katana V2, a soundbar I said was well-designed and well-built. However, soundbars are all more often about maximizing sound quality while minimizing space, and if you ever find the already compact 150 x 367 x 367 mm subwoofer taking up too much room, Creative has your back. The Katana V2X is exactly the same product as the Katana V2, except the subwoofer is slimmed down to 116 x 250 x 423 mm. This means it keeps the tri-amplified design, Super X-Fi UltraDSP chip, built-in microphone, and improved overall sound quality compared to the original Sound BlasterX Katana. Of course, with the reduction of subwoofer size also comes the reduction in overall power from 126W RMS to 90W RMS. How much of a difference will this make? Read on to find out!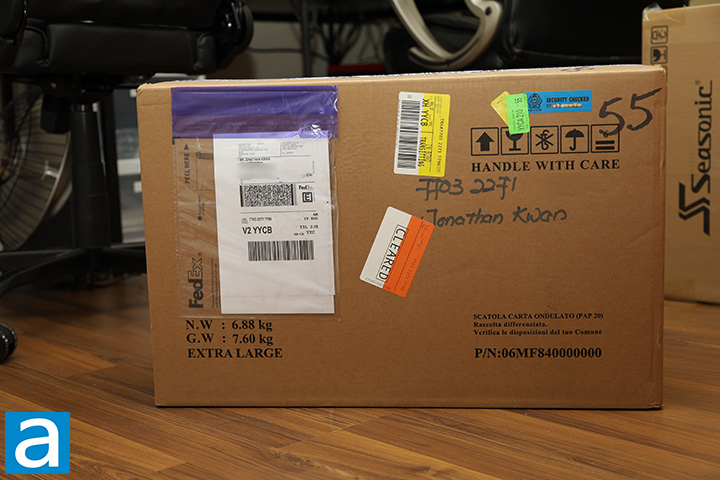 Our review unit of the Creative Sound Blaster Katana V2X came in a large brown corrugated cardboard box from the company's headquarters all the way from Singapore. Everything arrived in excellent condition to us here in Calgary, Alberta, Canada via FedEx International Priority for our review today. The shipping box was made to be an exact fit for the retail box inside.
Creative sent us a retail package of the Sound Blaster Katana V2X for our review today. The large retail box could have easily doubled as a shipping box by itself, which features a carrying handle at the top to make carrying a little easier. The box art consists of a primarily black background with orange highlights on the side. Prominently shown is the soundbar itself with a RGB LED underglow lighting activated, followed by a photo of the included subwoofer and remote control next to it. The Sound Blaster and Katana V2X branding can be found at the top left corner, followed by the product description of "Tri-Amplified Multi-Channel Super X-Fi Gaming Soundbar with Compact Subwoofer". An array of icons for highlighting the soundbar's 5.1 virtual surround, HDMI ARC, USB audio, Bluetooth 5.0, 16.8 million color RGB LEDs, 180W peak power, Super X-Fi headphone holography, Acoustic Engine, and Dolby Audio is just below the middle. A diagram with more feature highlights can be found at the back, with specifications and a content list on the sides of the box.
Before we move on, let us take a look at the features and specifications of the Creative Sound Blaster Katana V2X, as obtained from the manufacturer's website:
Speaker Configuration: 2.1 system, Soundbar, Speakers with Subwoofer
Connector Type: HDMI 2.1, USB-in, Optical-in (TOSLINK), Bluetooth®, Aux-in, Headset-out, SXFI-out, AC Wall Plug, DC-in, Subwoofer-out
Operating Temperature: 0—40°C
Recommended Usage: Movies / Music, Gaming, Communications, Wireless Streaming
Dimensions: 600 x 95 x 62 mm / 23.6 x 3.74 x 2.44 inches, 116 x 250 x 423 mm / 4.6 x 9.9 x 16.7 inches
Weight: Soundbar: 1.52 kg / 3.35 lbs, Subwoofer: 3.3 kg / 7.3 lbs
Cable Length (End-to-end): Optical Cable: 1.5m / 4.92 ft, USB-C to USB-A Cable: 1.2m (3.94 ft), Power Cord: 1.5 m / 4.92 ft
Drivers Configuration: 2 X tweeter, 2 X Midrange driver, 1 X Subwoofer driver
Channels: 2.1
Power Output: Subwoofer: 1 x 40W RMS, Soundbar: 1 x 50W RMS, Total System Power: Up to 90W RMS, Peak Power: 180W
Profiles: (A2DP) Wireless Stereo Bluetooth*, *Stereo Bluetooth or A2DP profile enables wireless transmission of full stereo sound to other Bluetooth devices. To determine whether your device (notebook, PC, or mobile device) is equipped with A2DP-enabled Bluetooth technology, refer to your device manufacturer's documentation / website for more information., (AVRCP) Audio / Video Remote Control Profile
Operating Frequency: 2402–2480 MHz
Operating Range: Up to 10m / 33 ft*, *Measured in open space. Walls and structures may affect range of device.
Wireless Codecs: SBC
Technology: CrystalVoice, Super X-Fi®, Sound Blaster Acoustic Engine, SXFI® BATTLE Mode, Scout Mode
Controls:
- Remote Control: Yes
- Playback: Yes
- Volume: Yes
- Power: Yes
- EQ Modes: Yes, via remote control
- Bass / Treble: Yes, via remote control
- Bluetooth Pairing: Yes
- Programmable Buttons: Yes, via software
- Source Toggle: Yes
Color: Black
RGB: Up to 16.8 million colors
Package Contents: Wall Mounting Kit, Wall Mount Brackets, IR remote control, AC Plugs (Region-specific), AC Power Adapter 22V 2.7A (1.5m / 4.92 ft), Optical Cable (Toslink), USB Cable C to A cable
Supported Platforms: TV, Windows PC, Mac, PS5, PS4 Series, Xbox Series, Nintendo Switch, Mobile (via Bluetooth®)
Software:
- Mobile: Creative app
- Mobile: SXFI App
- PC / Mac: Creative app (Windows PC / Mac)
Warranty: 1-year Limited Hardware Warranty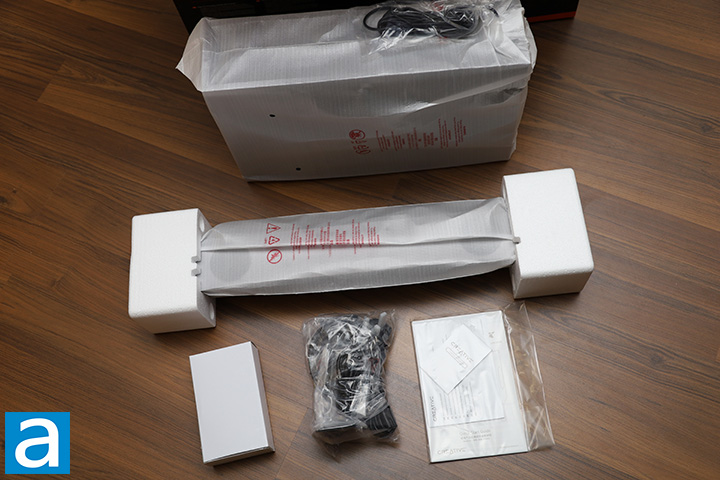 Everything was neatly placed inside upon opening the box at the top. There were two more boxes inside. Clipped between a collection of foam brackets, wrapped in white foam sheets, or contained in plastic bags where appropriate, the following items are included out of the box:
- Soundbar
- Subwoofer
- Remote Control
- Power Adapter
- Optical Cable
- USB-C to USB-A Cable
- Quick Start Guide
- Wall Mount Brackets
Note that two AAA batteries required for the remote control is not included. Interestingly, the power adapter came with three different cables each with its own AC plug. I personally do not plan to travel with this soundbar internationally, but I guess the extra cables cannot hurt, haha.
---
Page Index
1. Introduction, Packaging, Specifications
2.
Physical Look - Hardware
3.
Subjective Audio Analysis
4.
Conclusion