By: Aaron Lai
October 1, 2021
At the beginning of September, I was able to attend the Calgary Expo with a few of my friends. For those unaware, the Calgary Expo is actually known in full as the Calgary Comic and Entertainment Expo and is an annual convention that covers all sorts of topics from comic books to popular television shows and movies to video games. We actually planned to attend last year before it was cancelled. For myself, this was the first time I have been at one. On that Saturday, I saw many people dress up in cosplay and roam the grounds as various characters. I was mostly intrigued by the many Genshin Impact characters, but I saw a few other video game characters. I had brought my camera to take photos of people, but I ran into the same fear that I always have when taking photos of people: Asking them for permission. Obviously, I do not take photos of people without their permission, but I am often too shy to ask, which ends with me only taking photos of merchandise. Near the end of the day, I finally worked up the courage to ask two people who were together, and both dressed as Link from Legend of Zelda: Breath of the Wild. I was relieved when they were happy to oblige, and I quickly photographed them before running off. I realize as I write that I should not be afraid because the worst thing they would say is probably "no". When I last reviewed the Creative Stage in 2019, I had a few requests for Creative to refine. Once again, when manufacturers hear these requests, they could politely decline or ignore these asks altogether, or they could listen to the feedback and make improvements. Today, we are now looking at the second Creative Stage, dubbed the V2 version. How will this soundbar and subwoofer combination perform? Has Creative implemented some of my suggestions? Let us read on to find out!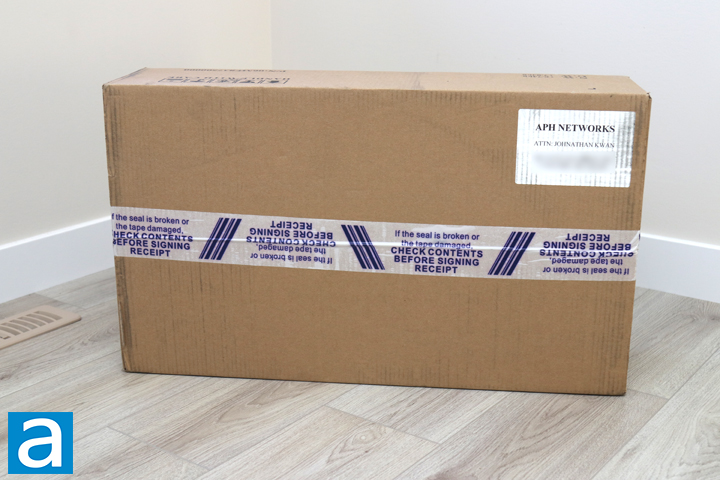 Today's review unit of the Creative Stage V2 did not arrive from their offices in Milpitas, California, USA, but rather from a distribution office in Richmond, BC, Canada. As mentioned in our review of the Creative SBS E2900, Richmond is a city located in the Greater Vancouver Area and is home to some quality Chinese food. Traveling with Purolator and their standard Ground service, this box arrived in great condition with no real concerns to speak about. When I was handling the box, I kept hearing rattling noises with small particles falling down when I moved the box. I was a bit concerned something was broken inside, but I could not really check until I opened up this box, so I continued with the unboxing.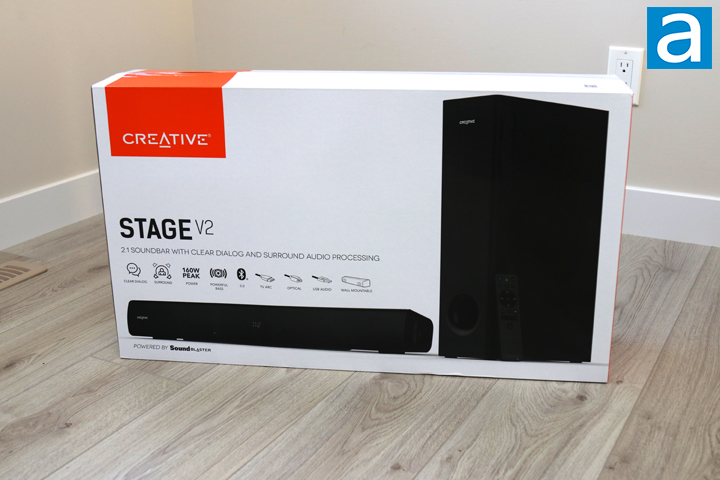 The corrugated cardboard box precisely holds the retail container of the Creative Stage V2, which is not too surprising. Compared to the previous Creative Stage, the retail container looks very similar on the second revision. As expected from Creative, we have a mostly white exterior with orange accenting. The second Stage is pictured on the front. The product name "Stage V2" is seen on the left side, with a descriptor of "2.1 Soundbar with Clear Dialog and Surround Audio Processing" underneath. There are several features and specifications found underneath, highlighting different Dialog and Surround modes, peak power of 160W, powerful bass, Bluetooth 5.0 support, inputs of HDMI with ARC, optical, and USB, as well as wall mounting capabilities. We will explore these different features as we continue on in our review. Around the box, we have more features highlighted for this soundbar and subwoofer combination in different languages. Unfortunately, I still could not find the source of rattling, which only means I have to continue opening up this package.
Before we continue on, I have grabbed the specifications from the manufacturer's website for your perusal:
Dimensions - Soundbar: 78 x 680 x 100 mm (3.07 x 26.8 x 3.94 inches), Subwoofer: 423 x 116 x 250 mm (16.7 x 4.6 x 9.84 inches)
Cable Length - USB-C to USB-A Cable: 1.2m (47 inches), 3.5 mm AUX-in Cable: 1.2m (47 inches), Power Cable: 1.5m (59 inches), Subwoofer Cable: Approx 2m; tethered to subwoofer
Weight - Soundbar: 2.0 kg (4.4 lbs), Subwoofer: 3.3 kg (7.28 lbs)
Operating Temperature - 0—45°C
Power Output - Total System Power: Up to 80W RMS, Peak Power 160W, Main unit: 2 x 20 W, Subwoofer: 1 x 40W
Drivers - Dual 2.25″ Soundbar Speaker Driver, 5.25″ Subwoofer Speaker Driver
Frequency Response - 55–20,000 Hz
System Configuration - 2.1 system
Signal-to-Noise Ratio (SNR) - ≥ 75 dB
Bluetooth Operating Frequency - 2402–2480 MHz
Operating Range for Bluetooth Devices - Up to 10 meters / 33 ft, (Measured in open space. Walls and structures may affect range of device.)
Bluetooth® Version - Bluetooth 5.0
Bluetooth Profile - A2DP (Wireless Stereo Bluetooth), AVRCP (Bluetooth Remote Control)
Supported Codecs - SBC
Connector Type - USB-C, Optical-in, Bluetooth, AUX-in
Color - Black
Remote Control - Infrared
Other Features - Supports Optical input and TV (ARC) input, 3.5 mm integrated AUX-in for other audio devices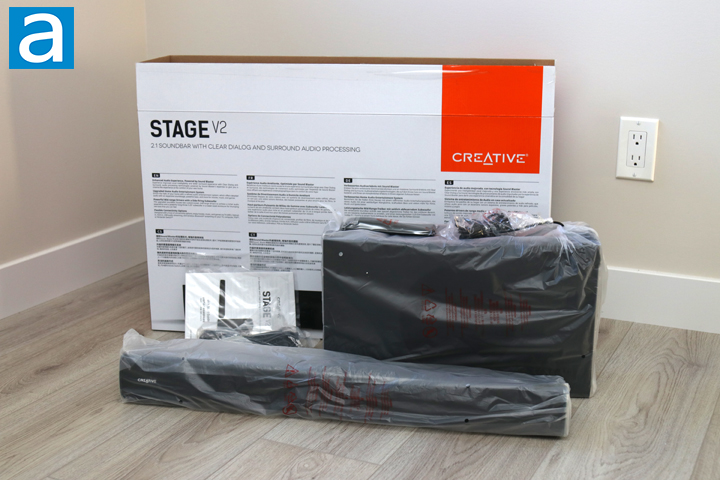 It was not until I opened up this retail box when I found the source of all of the rattling. It turns out one of the silica gel packets had exploded inside and so the beads were all over the inside. It was quite a mess to clean up. Moving on, similar to the Creative Stage, the V2 came with the two major components, the sound bar and the subwoofer, packed in their own plastic bags and surrounded by foam inserts. Creative once again used a cardboard box to ensure the soundbar had a balanced place to rest at the top of this box. All of the extra contents are found inside this box, including a remote control, 1.2m 3.5mm audio cable, 1.2m USB Type-C to Type-A cable, and a detached 1.5m power cable. I am glad they have extended all of these cables from the original Stage, though I think this 1.2m length for the input cables is still too short.
---
Page Index
1. Introduction, Packaging, Specifications
2.
Physical Look - Hardware
3.
Subjective Audio Analysis
4.
Conclusion