By: Jonathan Kwan
May 7, 2021
I was sitting in a meeting when a software developer tried to explain to me what a correlation is. "Yes, I understand what a correlation is," I respectfully tried to slip it in as he paused in the middle of a long explanation. But he ignored me and kept going until he finished a few minutes later. After he finished, I finally had a chance to speak up. "As I have said, I understand what a correlation is. I have attended multiple academic conferences regarding the usage of correlation for machine learning and wrote several peer-reviewed papers on this subject." I could see the reaction of those who know me in the meeting, mainly because I actually specialized in this area in my PhD in electrical engineering. Of course, the software developer did not know my background, and those who laughed certainly knew what was going on. In the real world, when you know the background, your expectations and reactions of whatever the context is will change accordingly. If I were to tell you that you can buy a 2.1 computer speaker set for $100, what are your expectations? I definitely have no expectations for anything of that price range to compete against the likes of the Audioengine HD6, and neither should you. But this got me curious about the Creative SBS E2900. The specifications on paper of this $100 2.1 computer speaker set has nothing particularly exceptional, and the price is almost too good for a 3-piece system. So are these speakers good for the money? Is it something you can enjoy? We are here to answer all your questions.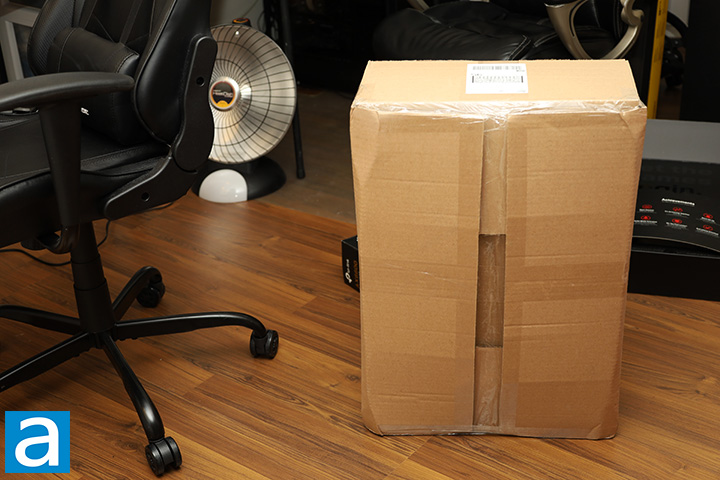 Our review unit of the Creative SBS E2900 did not arrive from Milpitas, California, USA like other products we have received from the company in the past. Instead, it came from a distributor in Richmond, BC, Canada, which is a city in the Greater Vancouver Area. Using a medium-sized brown corrugated box and traveling via Purolator Ground, the box was packed a little funny, but everything arrived in nonetheless excellent condition to us one province over to the east in Calgary, Alberta for our evaluation today.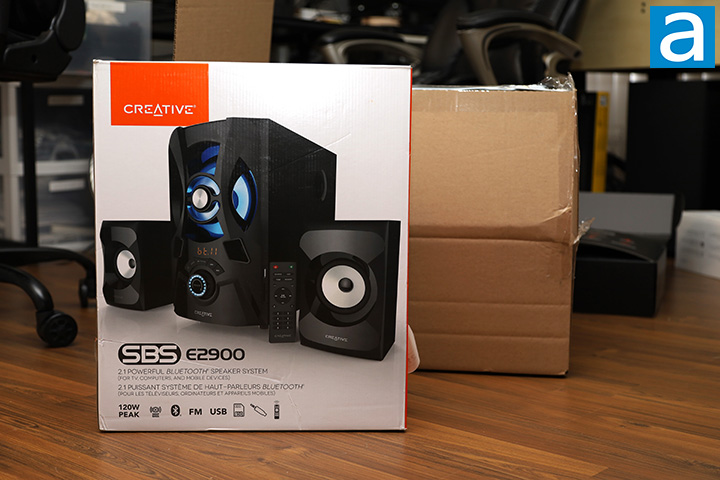 Creative sent us a retail package of the SBS E2900 for our review today. The large retail box could double as a shipping box by itself. The predominantly white and orange box features a photo of the speaker set prominently displayed across the front. Creative's logo can be found at the top left corner, while the model name, short product description in two different language, and an array of feature highlights can be found along the bottom. These feature highlights are represented by a series of icons showing off its 120W peak power, deep bass, Bluetooth support, FM radio, USB flash drive input, SD card input, 3.5mm input, and included remote control. The feature highlights written in text in a lot of different languages can be found on the sides of the box. Meanwhile, the opposite side of the box is the same as what is shown above.
Before we move on, let us take a look at the specifications of the Creative SBS E2900, as obtained from the manufacturer's website:
Dimensions - FM Antenna: 1.5m / 4.92 ft, Satellite: 105 x 100 x 170 mm / 4.13 x 3.94 x 6.69 inches, Subwoofer: 170 x 335 x 313 mm / 6.69 x 13.19 x 12.32 inches, Infra Remote Control: 140 x 44 x 20 mm / 5.51 x 1.73 x 0.79 inches
Cable Length - Power cord: 1.2m / 3.94 ft, 3.5 mm to 3.5 mm cable: 1.5m / 4.92 ft
Weight - 3.5 mm to 3.5 mm cable: 27g / 0.95 oz, Satellite: 488g / 1.08 lbs, Subwoofer: 3.16 kg / 6.97 lbs, Infra Remote Control: 40g / 1.41 oz
Operating Temperature - 0—45°C
Power Output - Satellite: 15W RMS per channel (2 channels), Subwoofer: 30W RMS, Total System Power: 60W, Total System Peak power: 120W
Drivers - Satellite: 3″, Subwoofer: 5.25″
Frequency Response - 50–20,000 Hz
System Configuration - 2.1 system
Signal-to-Noise Ratio (SNR) - ≥ 75 dB
Bluetooth Operating Frequency - 2402–2480 MHz
Bluetooth® Version - Bluetooth 5.0
Bluetooth Profile - AVRCP (Bluetooth Remote Control), A2DP (Wireless Stereo Bluetooth)
Supported Codecs - SBC
Connector Type - USB FlashDrive, Bluetooth, AUX-in
Color - Black
Remote Control - Infrared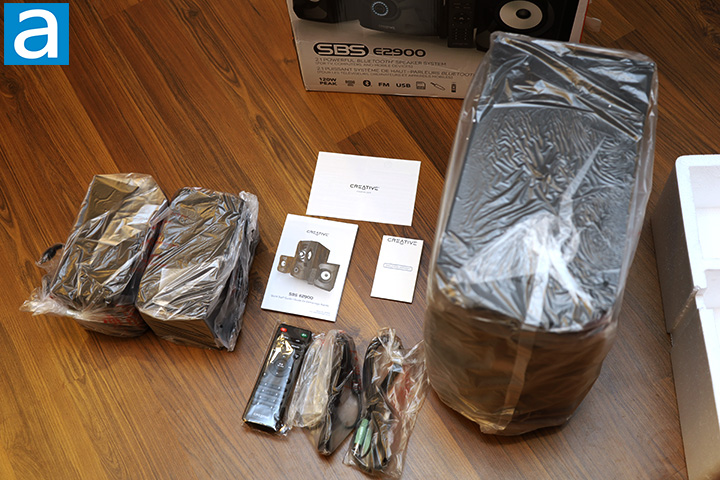 Everything was neatly placed inside upon opening the box at the top. Clipped between two foam brackets and contained in plastic bags, the following items are included out of the box:
- 2 Satellite Speakers (Left and Right Satellites)
- Subwoofer
- Infrared Remote Control
- 3.5 mm to 3.5 mm Cable
- FM Antenna
- Warranty & Technical Support leaflet
- Quick Start Guide
- Safety & Regulatory leaflet
---
Page Index
1. Introduction, Packaging, Specifications
2.
Physical Look - Hardware
3.
Subjective Audio Analysis
4.
Conclusion