By: Jonathan Kwan
July 22, 2016
If you have been reading APH Networks for a while, usually, we start off a review with a story, a joke, or a narrative of some sort. Yes, there are a number of unorthodox exceptions, notably in the introductions of the QNAP TS-419P II and Tt eSPORTS Meka G-Unit reviews, but those are far and few in between. Some people may wonder why we start reviews in this manner instead of cutting to the chase, which is a fair point -- but at least we make our articles interesting to read, you know? Now, before you go "yo dawg..." about me writing a review introduction about writing review introductions, I just want to point out instead of going the usual route, let us talk about the shipping method used to get the Audioengine HD6 to our door. About a month ago, on a sunny Friday afternoon, I got a notice on my door for a delivery from "ATS Healthcare". If you go on their website, the company states they are "the largest, most reputable provider in Canada's temperature controlled healthcare transportation industry". At first, I thought they probably found the wrong place to deliver a dog or some medical equipment, so I did not give it much thought. When I called them on Monday about the shipment, I found out it was actually our sample for today's review. Needless to say, I was surprised. Why would they use a healthcare transportation company to ship a pair of speakers? When I told my colleague Aaron Lai about this, he told me it made sense, because judging from our experience on the past, products from Audioengine are really healthcare products used to cure people from Heats prescribed by Dr. Grey, or whatever it is called. With the latest flagship speakers from renowned manufacturer Audioengine in our hands for the last month or so, have we found the best antidote for people suffering from poor computer audio equipment? Well, we got the lab results for you.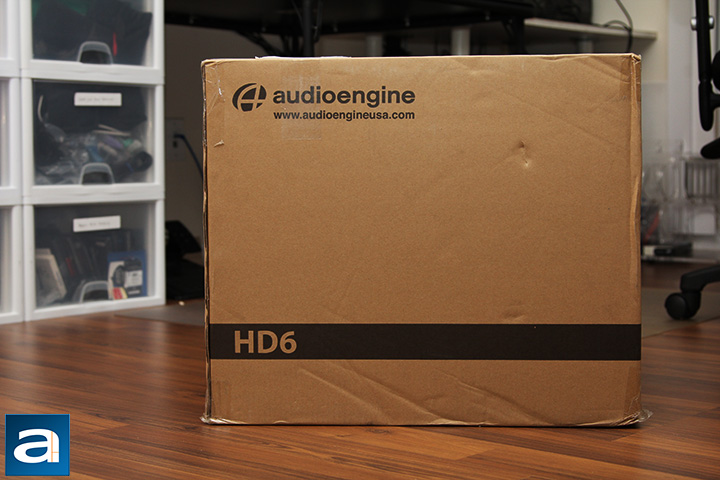 As I have mentioned in the introduction, our review unit of the Audioengine HD6 came in quite a big and hefty brown corrugated cardboard box from Atlantia, a large national distributor of technology products in Vancouver, BC who handles Audioengine's account here in Canada. Vancouver is pretty famous for street pharmaceuticals, and I heard there is a high concentration of street pharmacists on East Hastings, which is located just across the harbor from Atlantia's offices. Now, I am not interested in those kind of stuff, and I would much rather try out the Audioengine HD6 to cure any sickness I may have. This could not have been done without ATS Healthcare getting my equipment safely delivered one province over to us here in Calgary, Alberta for our evaluation today, and of course, they have done their job well.
As you can see in our photo above, Audioengine kept the packaging simple. Its retail box doubles as the shipping box, which is not a bad idea, considering the size of the package. All you will get is Audioengine's logo and website at top left corner, and the model on a band along the bottom. On other sides, you will see some regulatory logos, region for the power cable, and a color checkbox. Our particular model is the Cherry Wood Veneer version. This is it. It is double boxed for extra protection, but the inside box is completely plain.
Before we move on, let us take a look at the specifications of the Audioengine HD6, as obtained from the manufacturer's website:
Hardware specifications
Speaker type: 2.0 powered bookshelf-style speaker system featuring wireless and digital optical inputs
Power output: 150W peak power total (50W RMS, 75W peak per channel)
Inputs: 3.5mm mini-jack, RCA L/R, digital optical (SPDIF,) Bluetooth aptX
Outputs: Variable line-out w/2.0V RMS max output, 47ohm output impedance
Input voltages: 115/240V, 50/60Hz manually-switchable
Amplifier type: Analog dual-class A/B monolithic
Drivers: 5.5" Kevlar woofers, 1" silk dome tweeters
SNR: >95dB (typical A-weighted)
THD+N: <0.05% at all power settings
Crosstalk: -50dB
Frequency response: 50Hz-22kHz ±1.5dB
Analog input impedance: 48Kohms unbalanced (mini-jack and RCA inputs)
Protection: Output current limiting, thermal over-temperature, power on/off transient protection, replaceable external main fuse
Bluetooth specifications
Internal D/A converter: AKM AK4396
Input bit depth: 24-bits upsampled
Bluetooth receiver type: Bluetooth 4.0 audio
Supported codecs: aptX, AAC, SBC
Wireless operation range: Up to 100ft (30m) typical
Input data rate: Determined by Bluetooth
Wireless latency: ~30 milliseconds (ms)
Optical specifications
Internal D/A converter: AKM AK4396
Input bit depth: up to 24-bits native
Input data rate: up to 192KS/s native
Speaker dimensions (HxWxD)
Left speaker (powered)
Dimensions: 11.75" (30cm) x 7.25" (18.5cm) x 10" (25cm)
Weight: 17.5 lbs (8kg)
Right speaker (passive)
Dimensions: 11.75" (30cm) x 7.25" (18.5cm) x 10" (25cm)
Weight: 12.5 lbs (5.5kg)
Shipping box
Dimensions: 17" (43cm) x 20" (51cm) x 15" (38cm)
Total weight: 33.5 lbs (15kg)
Power consumption
Idle: 10W
Mute: 6W
Sleep: 4W
Environmental requirements
Operating temperature: 32° to 95°F
Non-operating temperature: -4° to 113°F
Relative humidity: 5% to 95% non-condensing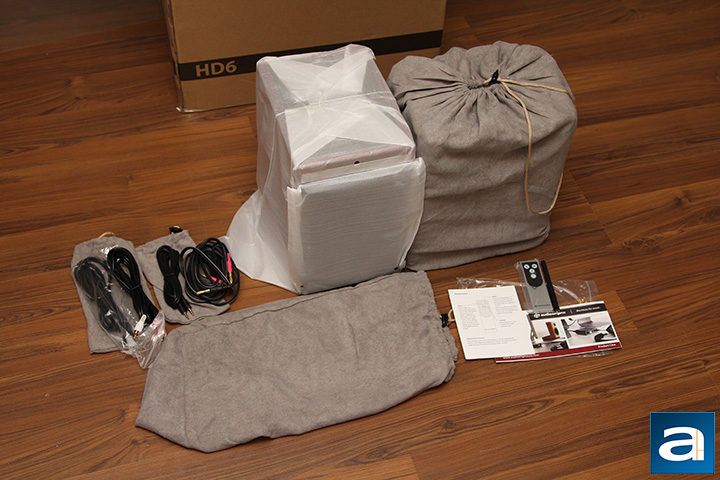 Out of the box, you will receive everything you need to get you started. In addition to the Styrofoam brackets, you will find both speakers and cables all come in their separate reusable microfiber drawstring bag. I think the way a product is packaged is a statement in itself to the end user, and my experience with stuff from Audioengine in the past -- namely, the A2+ and B2 -- is the company makes its products with no expenses spared. We will dig into that more in the hardware inspection on the next page, but for now, here is a list of what you will receive in addition to the Audioengine HD6 speakers itself:
- Remote control
- Antenna
- Speaker wire (16AWG), 4 meters (~13ft)
- Power cable
- Mini-jack audio cable, 2 meters (~6.5 feet)
- RCA audio cable, 2 meters (~6.5 feet)
- Microfiber speaker bags
- Microfiber cable bag
- Quickstart guide
- Product line brochure
---
Page Index
1. Introduction, Packaging, Specifications
2.
Physical Look - Hardware
3.
Subjective Audio Analysis
4.
Conclusion