By: Jonathan Kwan
March 29, 2019
I was recently looking through some household spending items to cut costs when I noticed one item I was certainly not getting my money's worth: The landline. Although there are still some uses to it despite its under-utilization, that was not the only problem. The problem was I was paying $26 per month for a service we barely use. As a diligent consumer, I transferred the number over to a VoIP-based service and canceled the $26 plan. Since everything in my house was hardwired to a networking panel in the basement, I simply switched the phone line to the new VoIP modem and all the phones in the house continues to function as if nothing has changed. The difference, of course, was the price. I am now paying $5 a month for the same thing. It is quite intriguing how things have changed in the last couple of decades. Twenty years ago, we used to connect to the internet through a phone line. Nowadays, we get a phone line through the internet. If there is another thing that changed significantly, it would be the way we store and manage data. Ten years ago, we would use a small SSD as a boot drive and put everything else on a traditional HDD. Nowadays, with affordable SSDs in the 1TB range, why buy a mechanical hard drive at all? TV shows and movies can be streamed via Netflix and everything else can be stored on your NAS. One such affordable SSD is the Crucial BX500 960GB designed to replace your HDD. A few months ago, we reviewed the Crucial BX500 480GB. I was not particularly impressed by the 480GB version, but with a slightly updated controller and different flash memory ICs, will the BX500 960GB perform differently? Read on to find out!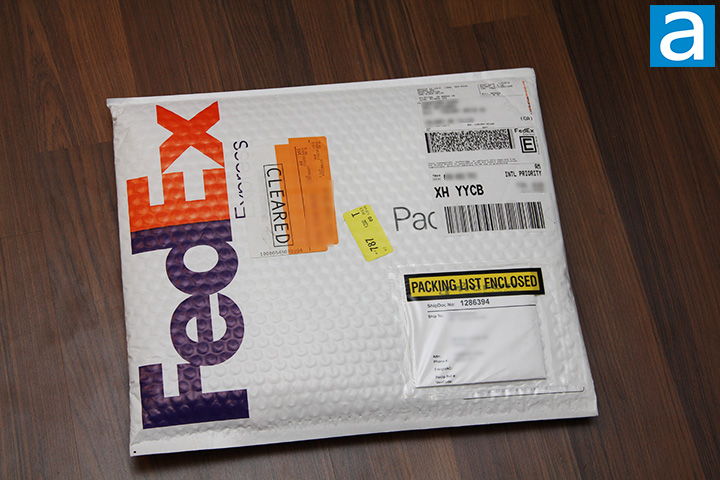 Our review unit of the Crucial BX500 960GB solid state drive arrived in a FedEx branded bubble envelope from the company's American headquarters in Meridian, Idaho, USA. Meridian is located between Boise and Nampa, which is under two hours of flying time from Calgary if a direct flight exists. Using the speedy International Priority service, it only took a day to get to us here in Calgary, Alberta, Canada. As always, everything arrived in excellent condition for our review today.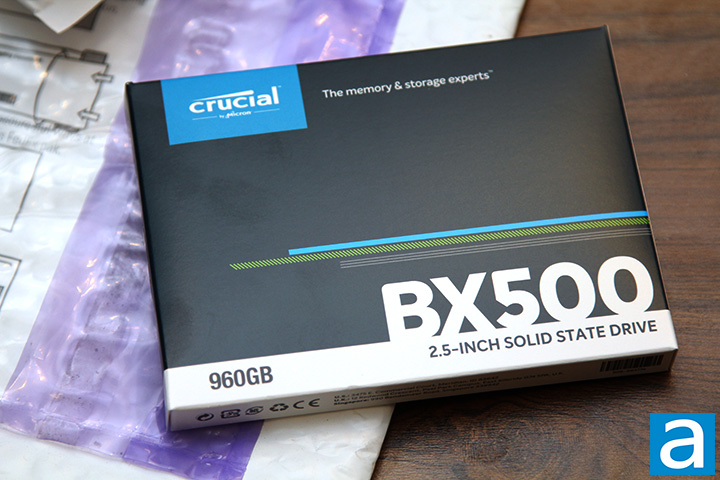 Crucial's retail package designs has always been about business, and the BX500 is no different. The evolutionary changes continue with the latest budget product from the company and carries the corporate theme as with the MX500. The simple, environmentally friendly box is the same shape and size as everything we have seen before. It uses a relatively compact, thin square box to deliver the SSD into the hands of the consumers, with the contents and other miscellaneous information printed on the back. As you can see in our photo above, the box art evokes a strong business feel. The dark blue gradient background is plain for the easily distracted. In fact, there is not even a photo of the drive. Crucial's logo and slogan can be found at the top, while the BX500 branding, 2.5" solid state drive description, and 960GB capacity is printed at the bottom.
Before we move on, let us take a look at the features and specifications of the Crucial BX500 960GB, as obtained from the manufacturer's website:
Form Factor: 2.5-inch internal SSD
Warranty: Limited 3-year
Specs: 960GB 2.5-inch internal SSD • SATA 6.0Gb/s • 540 MB/s Read, 500 MB/s Write
Series: BX500
Product Line: Client SSD
Interface: SATA 6.0Gb/s
Density SSD: 960GB
Device Type: Internal Solid State Drive
Unit Height: 7mm
Package Content: Crucial BX500 3D NAND SATA 2.5-inch SSD, Acronis True Image for Crucial
Form Factor SSD: 2.5-inch (7mm)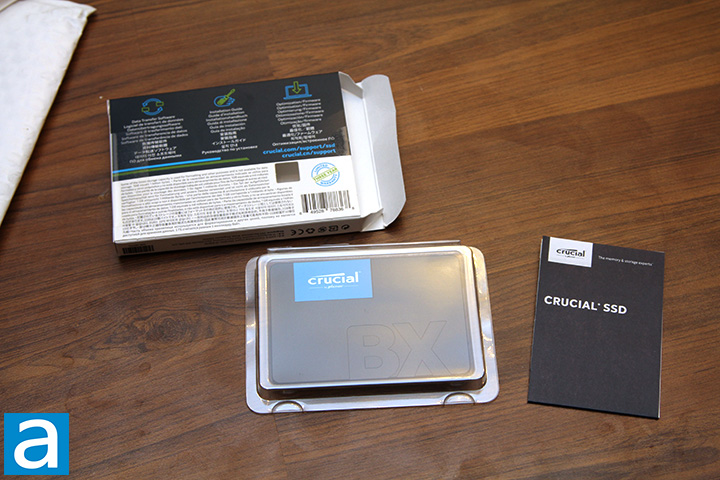 Crucial does not usually included a whole lot of stuff out of the box, and the BX500 960GB carries forward this tradition. This no-frills approach keeps the retail box small and excess waste low, and I am always appreciative of companies who do not throw in extras for the sake of throwing in extras. This is not to mention it is a budget drive, so a smaller bundle means more savings. The drive itself is placed inside a clear plastic shell. The only other item included is a getting started guide with Acronis' True Image cloning software activation key printed on it.
---
Page Index
1. Introduction, Packaging, Specifications
2.
A Closer Look, Test System
3.
Benchmark: AIDA64 Disk Benchmark
4.
Benchmark: ATTO Disk Benchmark
5.
Benchmark: Crystal Disk Mark 3.0
6.
Benchmark: HD Tach 3.0.1.0
7.
Benchmark: HD Tune Pro 5.70
8.
Benchmark: PassMark PerformanceTest 9.0
9.
Benchmark: PCMark Vantage
10.
Benchmark: PCMark 8
11.
Conclusion