By: Jonathan Kwan
March 31, 2023
How do we make the worst combination of elements? In my opinion, in order to compose something really bad, one must start with something bad and add other things to it that makes it exponentially worse. I was chatting with some friends last week, and one girl was thoroughly convinced that wearing Crocs with socks is fashion. She wears it everywhere and was willing to defend her position no matter what others say, which does not make any sense to me. You may disagree with me on this, and I know this is something polarizing, but I am on the camp that Crocs are absolutely hideous to begin with. I simply could not understand how anyone can find something that looks so ridiculous so attractive. Wearing Crocs with socks escalates it to whole different level. It takes absurdity of Crocs with removes the only practical redeeming quality it has while looking even worse than before, which you would think is already pretty hard. Why would anyone do that? Truly, wearing Crocs with socks is one of the worst combinations known to humankind. On the other hand, how do we make the best combination of elements? This is a bit harder, because "best" is dependent on what metrics of merit to use. For computer storage, we have to strike a balance between capacity, speed, and price, and typically you can only choose two of the three. The Crucial P3 Plus 4TB we are taking a look at today pushes the limits of SSD capacity for only $225 at press time, but at what cost to speed? We went through many pages of benchmarking to find out.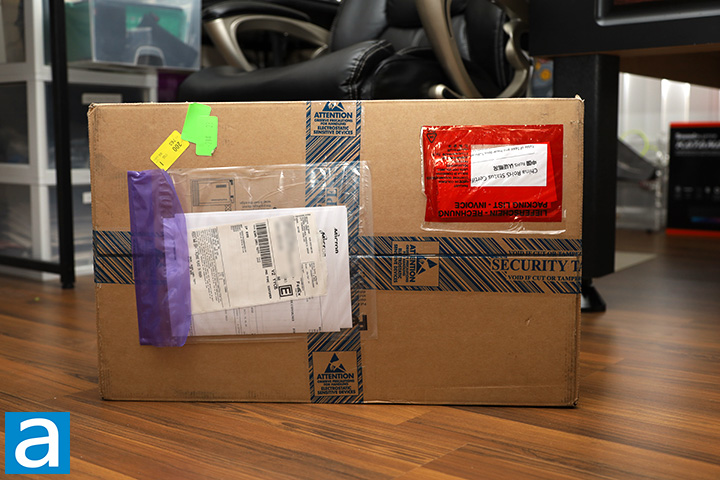 Our review unit of the Crucial P3 Plus 4TB arrived in a brown corrugated cardboard box large enough to hold a computer monitor from Brno, Czech Republic. I have never received anything from Czech Republic before, so this is a first. If you wonder what is in the box, you will see it in the next photo. I hate to think how much it costs to ship such a big box all the way from Central Europe using the FedEx International Priority service to us here in Calgary, Alberta, Canada. Regardless, everything arrived in excellent condition for our review today.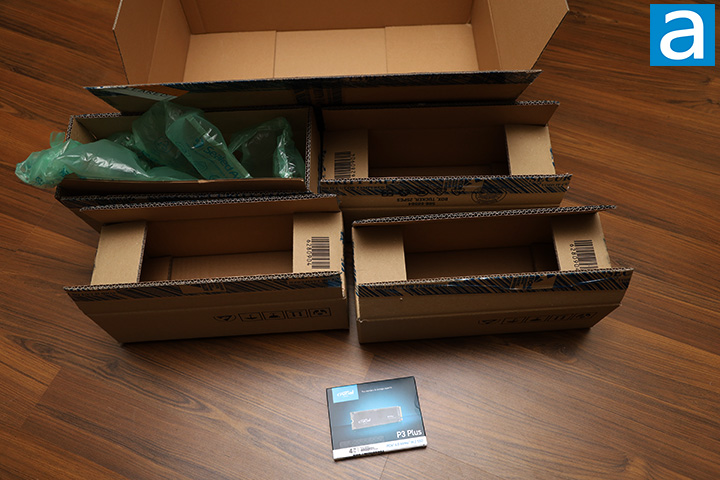 At first, I was worried they accidentally shipped us a hundred SSDs, given the four smaller boxes inside the main box can each hold twenty-five. While I was glad that was not case, so I did not need to call them up to send ninety-nine back, three of the four boxes were completely empty and the one that did contain the Crucial P3 Plus 4TB was filled with air pockets. Was someone at their shipping department trying to troll their supervisor to get back at them for not approving their holidays or something? If someone knows the answer, please let me know.
That aside, Crucial's retail package designs have always been about business, and the P3 Plus is no different. The simple, environmentally friendly box is the same shape and size as everything we have seen before. It uses a relatively compact, thin square box to deliver the SSD into the hands of the consumers with miscellaneous information printed on the back. As you can see in our photo above, the box art evokes a strong business feel. A photo of the Crucial P3 NVMe SSD is shown in front of a gradient blue background. At the top, you will find Crucial's logo and slogan. Near the bottom, you will find the P3 Plus model name. The white strip at the bottom has the product description, PCIe 4.0 NVMe M.2 SSD, and a sticker indicating its speed and capacity.
Before we move on, let us take a look at the specifications of the Crucial P3 Plus 4TB, as obtained from the manufacturer's website:
SSD series: P3 Plus
Interface: NVMe (PCIe Gen 4 x4)
Capacity: 4TB
Form factor: M.2 (2280)
Sequential Read: 4,800 MB/s
Sequential Write: 4,100 MB/s
Reliability (MTTF): 1.5 million hours
Endurance - Total Bytes Written (TBW): 800TB (TBW)
Data Transfer Software: Acronis True Image for Crucial cloning software
Operating Temperature: 0 °C to 70 °C
Compliance: UKCA, CE, FCC, VCCI, KC, RCM, ICES, Morocco, BSMI, Ukraine, UL, TUV, China RoHS, WEEE, Halogen Free
Advanced Features:
• Dynamic write acceleration
• Redundant array of independent NAND (RAIN)
• Multistep data integrity algorithm
• Adaptive thermal protection
• Integrated power loss immunity
• Active garbage collection
• TRIM support
• Self-monitoring and reporting technology (SMART)
• Error correction code (ECC)
• Device sleep support
• Launching with Micron 176-layer NAND
Warranty: Limited 5-year warranty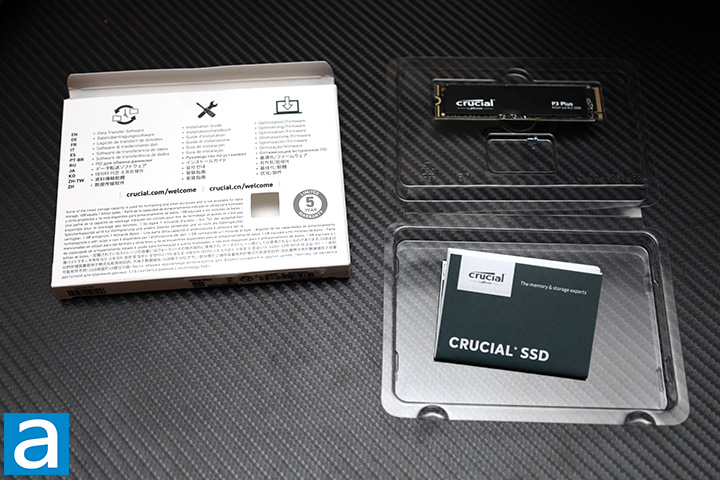 Opening the box reveals the Crucial P3 Plus 4TB itself and a screw placed on a clear plastic tray. There is also a multi-language quick start guide that points you to the company's website. This is it -- out of the box, you will get nothing more than what you need. Not that we need them anyway, of course.
---
Page Index
1. Introduction, Packaging, Specifications
2.
A Closer Look, Test System
3.
Benchmark: AIDA64 Disk Benchmark
4.
Benchmark: ATTO Disk Benchmark
5.
Benchmark: Crystal Disk Mark 8.0
6.
Benchmark: HD Tune Pro 5.70
7.
Benchmark: PassMark PerformanceTest 10
8.
Benchmark: PCMark 10
9.
Benchmark: 3DMark
10.
Conclusion