By: Aaron Lai
February 24, 2017
For those who are dating or married, ten days ago was probably a pretty significant day in the early year. For myself, it was another day to make sure I do something special for my compadre, even if it is something small. I think the most standard gifts to give on this day are flowers and chocolate. However, I have never liked giving standard gifts, despite my lacking creativity. Last year, I found a place in Calgary that combined the two gifts to make chocolate roses. As she loves food more than flowers, I felt it was fitting. As for this year, I really did not have an idea until a few days before Valentine's, when I came across a Facebook post about a girl receiving a bouquet of chicken nuggets. While I laughed, my compadre loved the idea, so I decided to use this idea and add a bit more. In addition to the chicken nuggets I bought on Valentine's, I baked some brownies and arranged it all together with bamboo skewers and a cup, forming it into a bouquet of deliciousness. Even though I am pretty sure she would still be happy with flowers and chocolate, I wanted to do something special. From all this, you can see a standard solution for a problem can be good, but sometimes it takes a bit of ingenuity to flex the norm into something more fitting for the audience. Today's review of the CRYORIG A80 illustrates this point too. As an AIO liquid cooler, you might pass this off as another water cooler, but on closer inspection, you will notice a third fan placed right above the CPU heatsink. This small change is said to bring better cooling for not only the processor, but the components around it. So I can only ask, is this just a flash of a good idea, or does it actually deliver in practice? I guess we will find out when we dig in deeper today!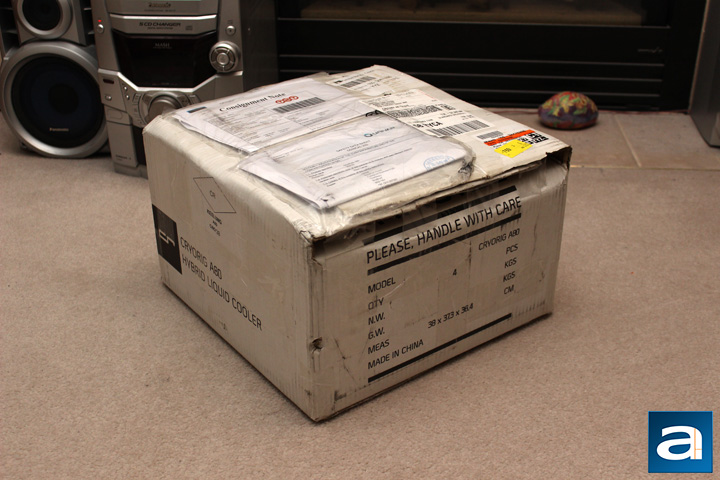 Today's review unit of the CRYORIG A80 arrived to us from New Taipei City, Taiwan, which is the location of CRYORIG's offices. The package arrived in relatively decent condition, though the box did look a bit more worn than I would have cared for. You may also notice it actually a CRYORIG A80 marked box. However, you will also see it says the container should hold four A80s, despite not actually having this many. Oddly enough, there is also a huge gap between the top flaps and the side of the box, but several long pieces of packing tape hold the whole thing together. Otherwise, along with the A80, CRYORIG also gave us the A40 Ultimate, which will be reviewed by fellow editor, Ben Joubert.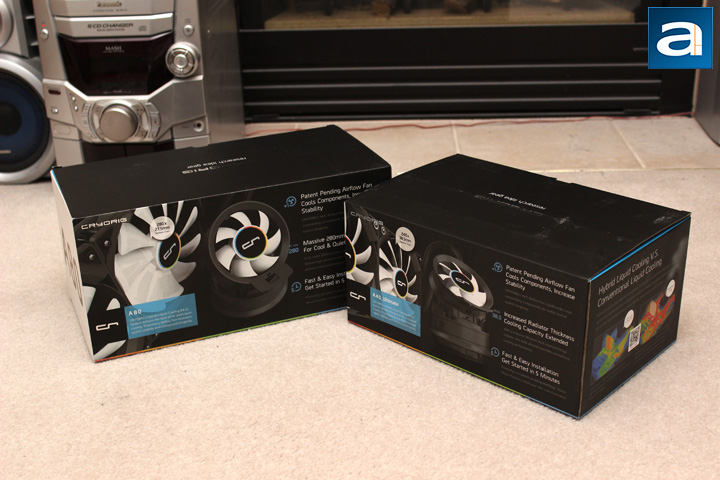 Out of the shipping box, we have both of the liquid coolers, with the A80 having a longer but slimmer retail container, while the A40 Ultimate being in a bulkier but shorter box. The retail containers have a relatively similar layout, with the product displayed on the front and several key points about features. The entire container has a black background, with the exception of the white background on the left side panel. The top shows a simple panel of just CRYORIG branding. Other sides are flanked with more marketing material to explain the features of the liquid coolers, but otherwise there is not too much to speak about.
If you are interested in the specifications, we have obtained them from the manufacturer's website for your perusal:
Specifications
Model Name: A80
Radiator Dimensions: L311 x W140 x H27.5 mm
Radiator Material: Aluminum
Pump Dimensions ( with fan ): L88 x W88 x H116.2 mm
Pump Dimensions ( without fan ): L88 x W88 x H52.8 mm
Tube Length: 350 mm
Tube Diameter: Ø10 mm
Fan Model: QF140 Performance
Fan Dimensions: L140 x W140 x H25.4 mm
Fan Speed: 600 ~ 1850 RPM ±10 %
Fan Noise Level: 13 ~ 38 dBA
Fan AirFlow: 128 CFM
Fan Pressure: 2.12 mmH2O
Fan Ampere: 0.43 A
Airflow Fan Dimensions: L70 x W70 x H25.4 mm
Airflow Fan Speed: 1500 ~ 3000 RPM ±10 %
Airflow Fan Noise Level: 15 ~ 27 dBA
Airflow Fan AirFlow: 25 CFM
Airflow Fan Pressure: 3.1 mmH2O
Airflow Fan Ampere: 0.12 A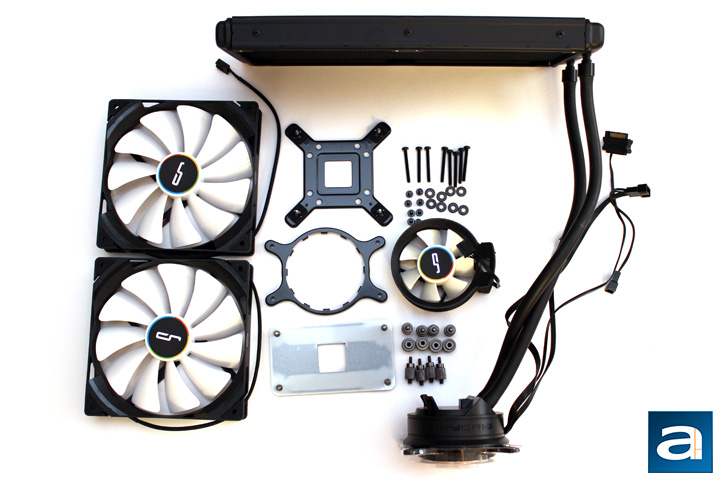 Out of the box, we have a pretty normal set of equipment and accessories. Along with the A80 radiator and pump all attached together, we have two CRYORIG QF140 Performance fans, and a third 70mm fan. We will look at all of these air movement equipment later. In addition to all this are the mounting accessories for both AMD and Intel processors. This includes Intel LGA2011, LGA1366, LGA115x sockets, and AMD's FM1, FM2/+, AM2/+, and AM3/+. In addition, CRYORIG has stated their AM4 backplates are being shipped free of charge for the just released AMD Ryzen processors. Otherwise, there is also a bit of documentation and warranty information for the A80. Just to note, three years of warranty is offered to the user, with an additional three years available once you register your cooler. This process and length of warranty is in line with other CRYORIG products.
---
Page Index
1. Introduction, Packaging, Specifications
2.
Physical Look - Hardware; Installation
3.
Test Results
4.
Conclusion