By: Kenneth Kwok
March 18, 2016
Just a few weeks ago was the NHL Trade Deadline. On that day, there are usually a flurry of trades with 'buyer' teams trying to stock up on rental players to make a deep run into the playoffs, and 'seller' teams stocking up on assets for the future. Being located in Vancouver, I was watching our local team, the Vancouver Canucks, who were supposedly one of the 'seller' teams. However, by the 12:00PM PST deadline, not a single trade had been made. The overall consensus from the fans and even sports critics was the Canucks took too long to make deals, and failed to gain anything from quality rental players they could have traded. To say the least, people were quite disappointed in the overall process, and the lack of additions for the future in the form of draft picks or prospects. One takeaway from all this is, sometimes you need to make changes in order to improve for the future. Be it in the form of a change of players or in branding, there are always new things out there that can surprise you. Today, we will get a chance to look at a product from a company we have not looked at in the past, and maybe they will be able to show us being new can be better. We will be looking at the R1 Universal, a CPU cooler from CRYORIG. Let us move right to it, and see if something fresh can improve on things we have seen in the past.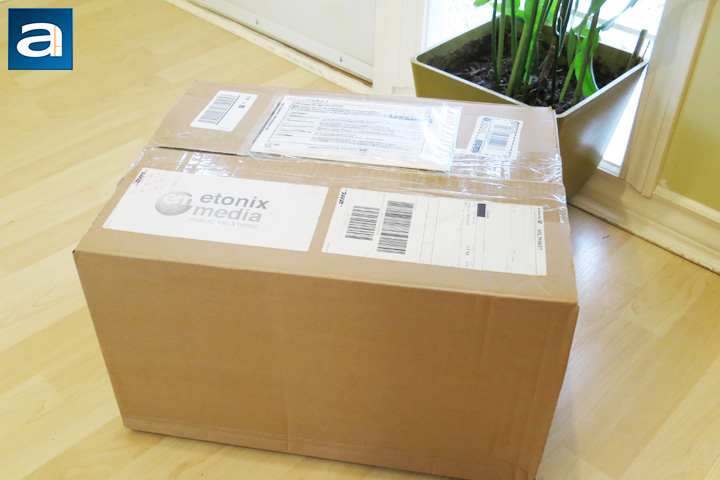 Our review unit of the CRYORIG R1 Universal arrived in a fairly large brown rectangular corrugated cardboard box from eTonix Media's office in Leer, Germany. eTonix Media is in charge of public relations and sending out sample units for CRYORIG. It was shipped using Deutsche Post, which was then transferred to Canada Post after it crossed the Atlantic. Considering the distance traveled, the small dents and creases on the exterior shipping box were really minor and not really visible. The interior packaging consisted of brown shipping paper and the CRYORIG R1 Universal itself, which was more than enough to keep the product safe.
CRYORIG takes a fairly simple approach when it comes to their design aesthetics. The front face of the box has a zoomed in image of the CRYORIG R1 Universal as the backdrop, and has everything else imposed on top of it. Looking at the bottom of the front face, we can see the multicolored strip that runs across this whole base. This is a key design for CRYORIG, and appears to be a theme for their products and packaging. A foil or holographic logo can be seen near the left side, with the R1 Universal product name next to it. In addition, the color is listed in a small circle. The right side of the box lists a few of the key features of the heatsink. All of the remaining specifications and compatibility information can be found at the rear of the box. It also includes some scaled images of the product with measurements for compatibility reasons. As you can see, the packaging is quite simple yet practical, and also really showcases what CRYORIG deems as important.
Before moving on with our review, let us take a look at the specifications of the CRYORIG R1 Universal, as obtained from the manufacturer's website:
Heatsink Specifications
Dimension (with fan): L 128.5 mm x W 140 mm x H 168.3 mm
Weight (with fan): 1215 g
Weight (without fan): 970 g
Heat pipes: 6mm heatpipe x 7 units
Front Fin: T = 0.4 mm ; Gap = 2.4 mm
Front Fin Pcs: 42 pcs
Rear Fin: T = 0.4 mm ; Gap = 1.8 mm
Rear Fin Pcs: 53 pcs
Copper Base: C1100 Pure copper nickel plated
Distance From Center: 35.5 mm
RAM Height Limit: Limitless
TDP: 240 W+
Fan Specifications
XF140
Dimension: L 140 mm x W 140 mm x H 25.4 mm
Weight: 156 g
Rated Speed: 700 ~ 1300 RPM ±10 %
Noise Level: 19 ~ 23 dBA
Air Flow: 76 CFM
Air Pressure: 1.44 mmH2O
Ampere : 0.16 A
XT140
Dimension: L 140 mm x W 140 mm x H 13 mm
Weight: 89 g
Rated Speed: 700 ~ 1300 RPM ±10 %
Noise Level: 20 ~ 24 dBA
Air Flow: 65 CFM
Air Pressure: 1.49 mmH2O
Ampere : 0.27 A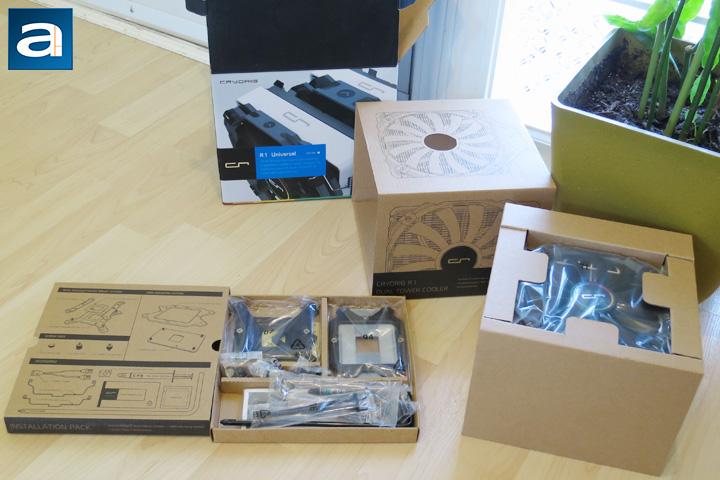 CRYORIG has taken the Noctua route in terms of packaging. The heatsink is encased in a larger square box placed at the bottom. On top of the heatsink box is a much smaller box that contains all the accessories for mounting the heatsink. This includes the mounting kit, long screwdriver, extra fan clips, PWM Y-splitter cable, CP9 thermal compound, alcohol pad, and a registration card. A small manual is also included, which shows the types of installations, and how to get the R1 Universal installed perfectly. On top of that, you can also follow a QR code that leads to a video tutorial on how to install the heatsink. They really loaded up on everything with this one. You will find everything you need, and then some.
---
Page Index
1. Introduction, Packaging, Specifications
2.
Physical Look - Hardware; Installation
3.
Test Results
4.
Conclusion