By: Aaron Lai
June 29, 2018
It is after a work day and time for me to start cooking for dinner. I am exhausted from a long day at work and waiting for the water to boil. I never realized how bad all-day meetings could be until now. All of a sudden, the doorbell rings. I hesitate. I generally do not open the door for unexpected guests, but I relent since it may be a neighbor. Unfortunately, it is not a neighbor but a salesman for a security company. "Hi, my name is Mike, and I represent ..." He drones off into a typical sales pitch. I nod politely and try to pay attention, but the draining day at work had left me barely wanting to reply. He asks me various questions like if I heard about his company he represented or if my neighbors told me about it. I try to brush through the questions while still looking interested. Of course, this was something I had been thinking about when I bought my place, as it would lend some peace of mind in terms of unexpected visitors. We start talking pricing, as this really is my real concern with any sort of security system. Pulling out his iPad, he calculates a few things, including the number of sensors I would need. After surveying everything, he gives me a total and I literally gasp aloud. "I thought it would be closer to half of that," I think to myself. Based on my expressions and reaction, he starts asking about ways he can cut down on the price. Maybe I should not have gasped so loud. I never realized peace of mind would cost so much and I start thinking about alternatives.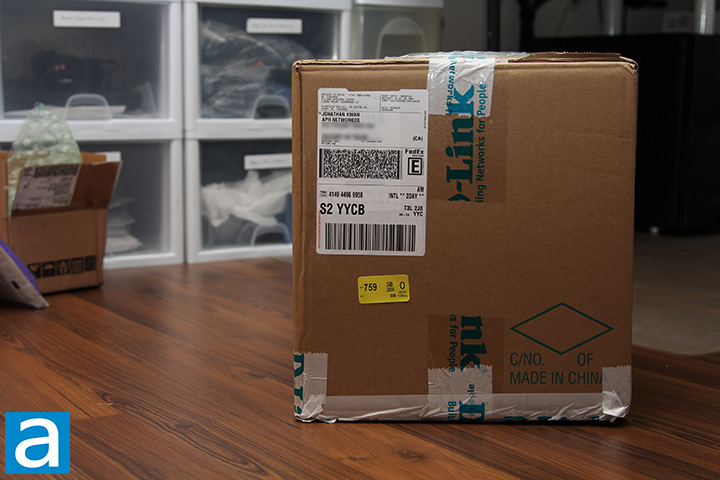 The situation above was a real one and I guess it is fortunate timing, as today we have the D-Link DCS-8010LH. This wireless camera is not D-Link's sole answer to home security systems, but it is a part of their solution. Today's review unit arrived from Fountain Valley, California, traveling via FedEx and their 2Day International service. Thankfully, it arrived in excellent condition without any bumps or bruises to worry about. D-Link marked tape was on all of the edges to show if any tampering had happened while in transit. Inside the brown corrugated cardboard box, we have the aforementioned camera as well as a D-Link DIR-867 wireless router, which will be reviewed by Editor-in-Chief Jonathan Kwan.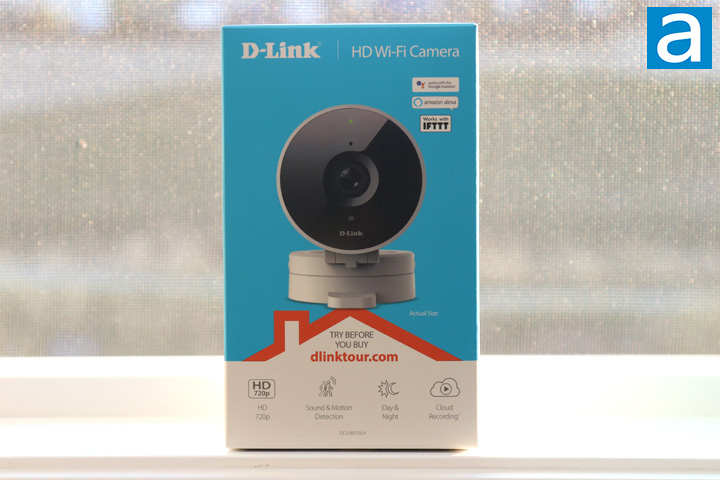 The D-Link DCS-8010LH comes in a pretty colorful box with a bright blue and white color scheme. As you can see in the photo above, the wireless camera sits as the main subject on the front panel with a red outlined house underneath to show its purpose. A company logo can be found in white on the top left corner while a description of "HD Wi-Fi Camera" can be found on the right side. Underneath, there are labels to show this unit is compatible with other smart assistants like Google Assistant and Amazon Alexa. In addition, it can integrate with IFTTT or If This Then That. At the bottom of the box, D-Link has put some primary features, including an HD 720p recording resolution, sound and motion detection, day and night recording, and cloud recording. Around the box are more features and specifications, but we will explore these later on.
Before we continue on, I have grabbed the specifications from the manufacturer's website for your perusal:
Technical Specifications
Camera Hardware Profile
- 1/4" 1-megapixel progressive CMOS sensor
- 16 ft night vision with infrared LEDs
- Minimum illumination: Color (Day Mode), IR LEDs off: 2.2 lux; B/W (Night Mode), IR LEDs off: 1.6 lux; B/W (Night Mode), IR LEDs on: 0 lux
- Built-in Infrared-Cut Removable (ICR) filter module
- Fixed length 2.55mm
- Aperture: F2.2
- Angle of view: (H) 96°, (V) 53°, (D) 120°
- Minimum object distance: 19.7 inches
- Built-in microphone
Image Features
- Configurable image size
- Pre-event snapshot and recording
- Configurable Sound level detection
- Configurable motion detection windows
- Time stamp and text overlays
Video Compression
- Simultaneous H.264/MJPEG format video compression
- JPEG for still images
Video Resolution
- 720p (1280 x 720), VGA (640 x 352) up to 30 fps
Audio Compression
- AAC
Connectivity
- 802.11b/g/n wireless with WPA/WPA2 encryption
- Operates on 2.4 GHz band
- MicroSD card slot
- Single-band 1T1R mode supports a maximum data rate of 72.2 Mbps (PHY rate) using bandwidth
- Bluetooth 2.1/3.0/4.0
Network
Network Protocols
- IPv4, IPv6, ARP, TCP/IP, UDP, ICMP
- DHCP Client
- DNS Client
- RTP, RTSP
- HTTPS
- Bonjour
Security
- WPA-PSK
- WPS2-PSK
System Integration
- Motion detection
- Sound level detection
- Push notification
Remote Management
- Configurable accessible via mydlink™ app
Mobile Support
- mydlink app for iPhone, iPad, Android phone and tablet
General
Dimensions (W x D x H)
- 3.6 x 2.6 x 3.6 inches
Weight
- 0.31 lbs ± 5% (with stand)
Power
- 5 V DC / 1.2 A through external power adapter
- Power adapter: 100 to 240 V AC, 50/60 Hz
- Power Consumption: 5 watts maximum ± 5%
Temperature
- Operating: 0 to 40 °C (32 to 104 °F)
- Storage: -20 to 70 °C (-4 to 158 °F)
Humidity
- Operating: 20% to 80% non-condensing
- Storage: 5% to 95% non-condensing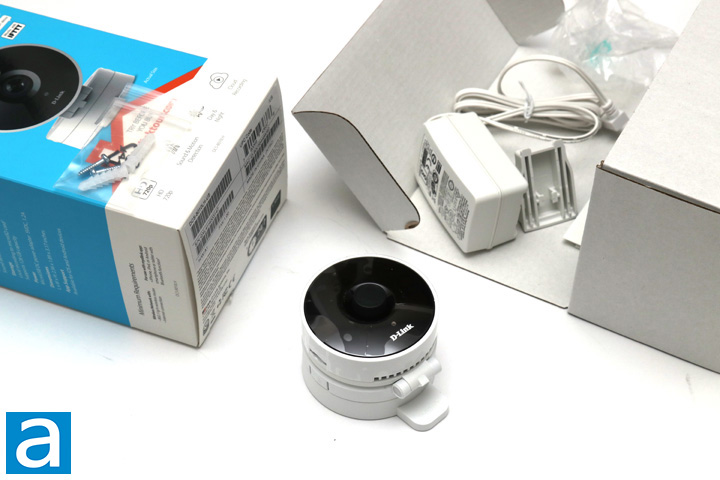 Out of the colorful retail box, we have the DCS-8010LH camera, white microUSB power adapter, and some mounting screws. A small quick installation guide is also included for helping with setup. The DCS-8010LH is sealed with some plastic shrink wrap to prevent any surface scratches or smudges from getting on the camera. The unit also came with a lens cap to prevent any damage to the protruding lens. Otherwise, D-Link has included a single year of warranty with the DCS-8010LH, which is pretty typical for consumer electronics.
---
Page Index
1. Introduction, Packaging, Specifications
2.
Physical Look - Hardware
3.
Configuration and User Interface
4.
Sample Videos and Analysis
5.
Conclusion