By: Jonathan Kwan
August 7, 2015
Here at APH Networks, we love to tell stories in the introduction of our reviews. I am not entirely sure how this started, but this tradition became one of our unique aspects after being in the industry for the last ten years. There are usually quite a number of sources for our inspiration; ranging from elements intrinsic to the product itself, to snippets of life with people around us. In my Datacolor Spyder4PRO review last year, I told of a story of a person who tried to challenge me and my friend in foosball, only to be utterly humiliated in the next few minutes. So what better way is there to lead into the Spyder5PRO review with yet another foosball story? Over the weekend, I was playing against a few of my friends, except this time, it was on a table that was clearly slanted and sounded like it was going to fall apart on every shot. For the first few minutes, playing on a literally uneven field against opponents that were not traditionally challenging proved to be more challenging than I first thought. A lot of foosball has to do with timing, and with an uneven table, classical physics will tell us the way the ball moves will be affected. As such, none of my tricks executed correctly, because everything was slightly off by fractions of a second. It was not until a few minutes later that I finally calibrated my brain to the new physics of the table before I was able to finally win the game. As you can see here, even though I may have the skills, if my coordination was not properly calibrated, my performance suffered. In the same way, there are many great displays on the market. But if they were not properly calibrated, what good will all the hardware do? Today, we will take a look at the latest colorimeter from Datacolor, the Spyder5PRO. Building upon the success of popular Spyder4PRO, will it be able to fix LCDs that are wildly off color, and turn what is already great into perfection? We took one in, and tested it across a spectrum of products to find out.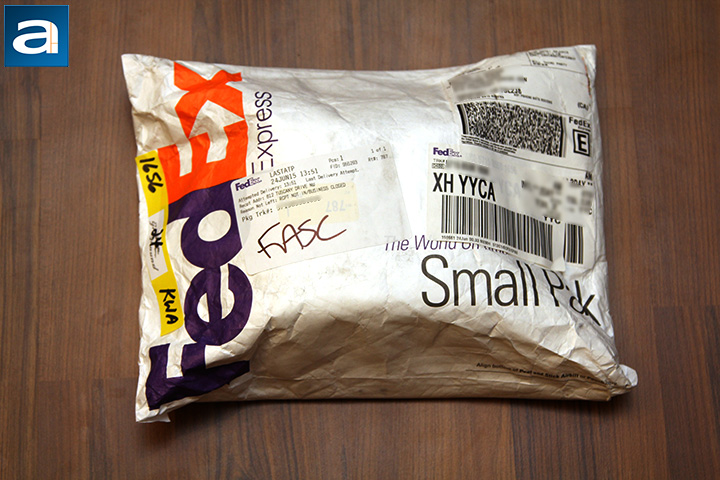 Our review unit of the Datacolor Spyder5PRO display calibration tool came from the company's public relations representative in Providence, Rhode Island. There is not a whole lot of products that come to us in the New England region; in fact, as far as I can remember, the last time something arrived from the second most densely populated state in America was the Spyder4PRO early last year. They shipped it inside a FedEx Small Pak tear-resistant envelope using the International 2-day service. As usual, everything arrived in excellent condition to us here in Calgary, Alberta, Canada for our review today.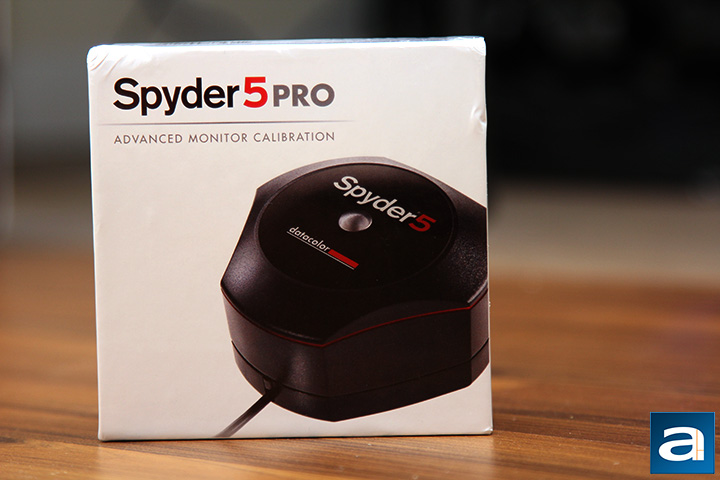 While our Spyder4PRO was shipped in a brown corrugated cardboard box, you can kind of see why they had so much confidence in sending the Spyder5PRO in a Small Pak with minimal bubble wrapping for protection. The Spyder5PRO's retail packaging has been completely redesigned, and we will see more of it once we take a look at what is inside. While the Spyder4PRO carries a style that fits well in a Staples store circa mid-2000, the Spyder5PRO is professional and minimalistic. It certainly fits in with the graphics design and professional photography crowd. As you can see in our photo above, all you will get in front is the product name, the slogan "Advanced Monitor Calibration", and an image of the hardware colorimeter at an angle. Datacolor's logo is printed on three of the four sides. Information such as system requirements are placed on top. There is absolutely nothing at the back. It is quintessentially Apple without being actually Apple. Judging by the amount of people in the intended market who probably own Apple computers, they certainly got the right audience.
Before we move on, let us take a look at the hardware specifications of the Datacolor Spyder5PRO, as obtained from the manufacturer's website:
Color Sensor: 7 Filter/Detector
Aperture Size: 27 mm
Encapsulated Optical Module: Yes
Integrated Tripod Mount: Yes
Sensor Lens cap: Yes
Initial Calibration Time: 5 min
Recalibration Time: 2.5 min
Mounting Methods: Lens cap Counterweight
Physical Dimensions: 2.73 in.(L) x 2.93 in.(W) x 1.71 in.(H)
Computer Connection: USB
Hardware Warranty: 1 Year (for countries of the EU, the period is 2 years)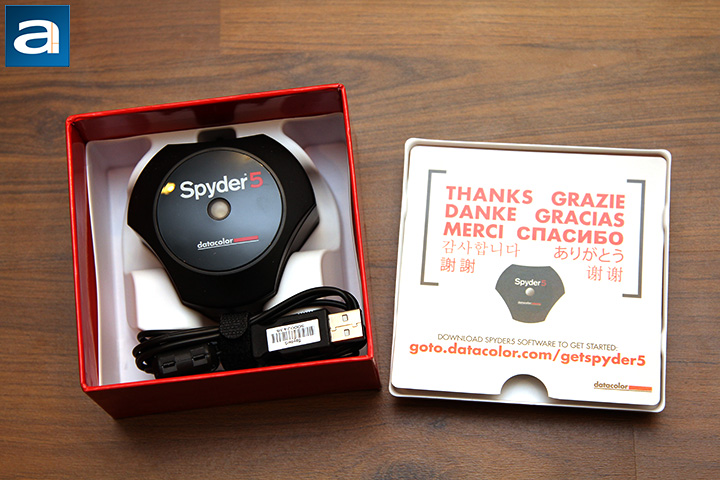 The simplistic packaging continues on as you open the retail box of the Datacolor Spyder5PRO. The full lid rigid box is not only much more portable and durable than its predecessor, but it is also reusable. In the past, I have had a hard time storing the colorimeter in its original packaging, because it was such a pain to take it out and put it in. With the Spyder5PRO, you can easily put everything back inside for storage or travel. When opening the box, the first thing you will see is a thank-you note, and a URL to download the Spyder5PRO software. No physical media is included, but it is 2015, after all. Lift that out, and you will find the Spyder5PRO hardware sitting on a PET shell. The license key for activating the software is located just underneath the colorimeter. It is not shown in my picture for obvious reasons, haha.
---
Page Index
1. Introduction, Packaging, Specifications
2.
Physical Look - Hardware
3.
Software and Usage Experience
4.
Results Discussion and Conclusion