By: Jonathan Kwan
February 21, 2014
In the beginning of the Fall semester last year, I was hanging out in the Electrical Engineering homeroom, playing some foosball with my friend. As we bounced goals off each other during a relatively fast paced game, a group of four individuals dropped by, and one of them asked if we were any good at foosball. "I will challenge both of you guys one on two," he said in an intimating manner. Being in the faculty of engineering for the last few years, it is always wise to assume a bit of humility in this regard, because there are some guys that just strikingly amazing. "We are okay at foosball," I replied. My friend and I took our bars, and the ball was dropped. In a little less than four minutes, he was completely defeated. Thinking it was just his luck, he decided to challenge me one on one. His friends began to snicker, and told him he was messing with the wrong people. I accepted the challenge, and just like the last game, I beat him ten to nothing in almost no time. (Later on, I found out he was a first year student -- this is not to mention I used to play foosball every day at work during my internship after third year, and I am ranked first in the office, haha.) Is he physically incapable of playing good foosball? Personally, I do not think so. Throughout the game, he certainly has the power and agility of a good player. The problem is, he did not have the same training and experience like I did, contributing to his humiliating and complete loss. The same story goes in the LCD monitor world. Sure, you can spend hundreds, or even thousands, of dollars on a professional grade 8-bit AH-IPS display, but what merit does it have if the display if the colors are inaccurate? Of course, calibration is not just limited to expensive LCDs. To see what we can do to bring everything ranging from low end TN monitors to high performance IPS panels up to the reference standard, we plugged in a Datacolor Spyder4PRO colorimeter to see how much we have been missing out all these years.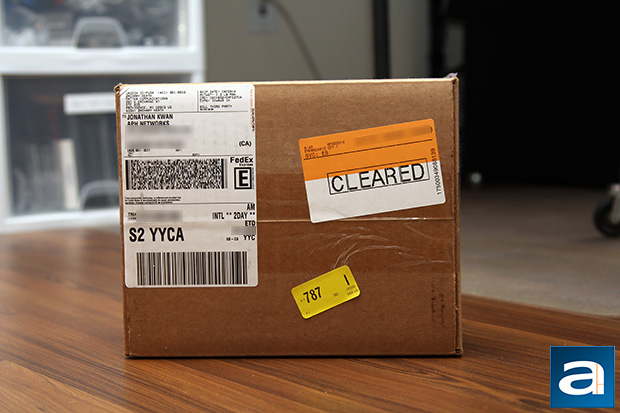 Datacolor sent a unit of the Spyder4PRO display color calibration system to us here in Calgary, Alberta, Canada inside a medium sized, brown corrugated cardboard box from the company's public relations representative in Providence, Rhode Island. Using FedEx's International 2-day service, it arrived right on time in perfect condition for our review today. Although I have been reviewing products since 2005, I have actually never evaluated any product of this genre before. Ironically, if you have read my SilverStone ARM Two SST-ARM22SC monitor arm review from a few weeks ago, you will realize I love my high performance LCD monitors. As such, I wasted no time to hang this little bugger over my displays.
Our review unit of the Datacolor Spyder4PRO arrived in retail packaging. At first glance, everything seemed to be eerily familiar to me. It gave me the same feeling as meeting someone I do not know, but I could have sworn I have seen them somewhere before. After contemplating on my office chair for about ten minutes, it came to me that its style is a lot like the retail box of image editing programs from the mid-2000s -- professional, clean, and down to business. Of course, unlike software packages, the Spyder4PRO hardware is proudly displayed in front behind a clear plastic window, as shown in my photo above. The model name is printed in large text across the top, while the Datacolor logo is placed at the bottom right corner. Across from Datacolor's logo is an Apple App Store icon; signifying its ability to calibrate even your iPad display, should you desire. In between, a series of icons, before/after comparison photo, and the line "Advanced monitor calibration" wastes no time to tell you what the Spyder4PRO is all about. I think the company has done an excellent job at making professionals, enthusiasts, and consumers alike know exactly what this product does.
Before we move on, let's take a look at the hardware specifications of the Datacolor Spyder4PRO, as obtained from the manufacturer's website:
Measurement Device: Spyder4PRO
Ambient Light Sensor: Yes
Color Sensor: 7 Filter/Detector
Aperture Size: 27 mm
Initial Calibration Time: 5 Minutes
Recalibration Time: 2.5 Minutes
Ambient Light Shield: 2 inches
Mounting Methods: Universal Counterweight and Tripod Mount
Desktop Docking Base w/Tripod Mount: Yes
Physical Dimensions: 1.5 in.(D) x 3.5 in.(W) x 4 in.(L)
Computer Connection: USB
Hardware Warranty: 1 Year (for countries of the EU, the period is 2 years)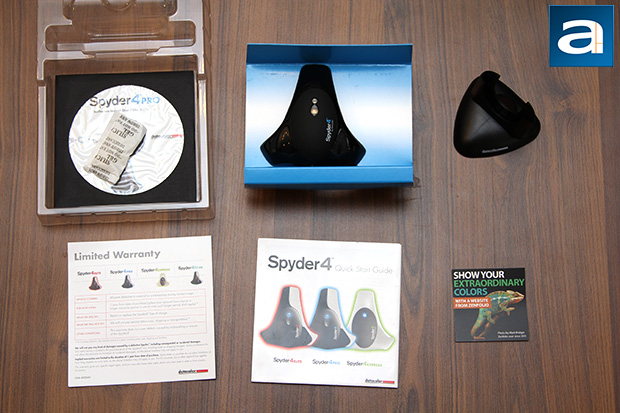 Upon opening the flat at the top, you will find everything is neatly packaged inside, and are organized by a PET shell. Out of the box, you will receive the following items:
- Datacolor Spyder4PRO colorimeter
- Desktop Cradle/Tripod mount
- Spyder4PRO Software CD
- Quick Start Guide (in 10 languages)
- Warranty Card
---
Page Index
1. Introduction, Packaging, Specifications
2.
Physical Look - Hardware
3.
Software and Usage Experience
4.
Results Discussion and Conclusion