By: Preston Yuen
October 21, 2014
Many people hear the phrase "the bigger, the better" thrown around quite a bit, but is it true in all scenarios? On the contrary, sometimes, "big things come in small packages." Which phrase would be deemed true? Many people would give the usual answer, "Well, it depends on the situation or scenario." Here at APH Networks, we have reviewed quite a number of fans, ranging from as small as 80mm to as large as 180mm, each having their merits and cons. Depending on the user's preference when custom building a computer, the design of a fan, whether it is its size, build quality, or other features are very important factors to consider to build a perfect system. Generally speaking, larger fans are able to move more air, and are quieter at a given speed compared to a smaller fan. However, motor build quality, fan blade design, and vibration dampening features may also affect the amount of air moved and noise levels. What we have here today is a 120mm fan from Deepcool, namely the GF120. Looking at the specifications list, it is able to deliver low and high rotational speeds, ranging from 500rpm to 1800rpm, with a soft rubberized cover for vibration dampening to boot. Will the Deepcool GF120 be the next best fan in the market for consumers and enthusiasts alike? We have cracked open a unit today to find out.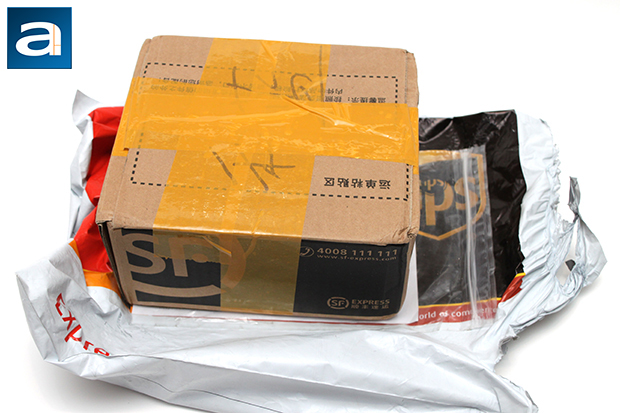 Our review sample of the Deepcool GF120 came in a relatively small corrugated cardboard box in a delivery bag via UPS Saver from the company's Taiwan headquarters in fairly good condition. After traveling half way across the world, there were next to no bumps or bruises around the box or rips in the bag other than the fact that I had to open it for obvious reasons. Without further adieu, I pulled out my knife and opened the box to take a look at our goods that we have today.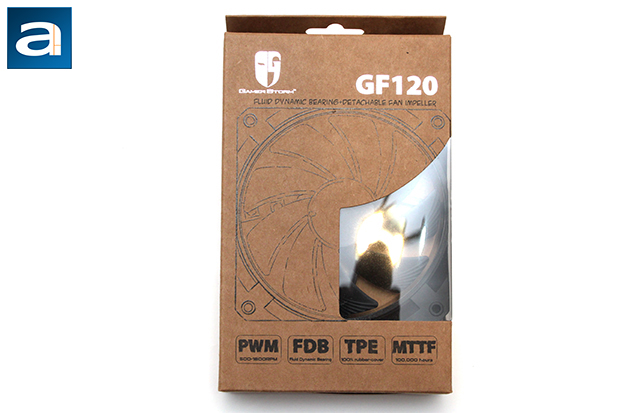 Our review unit came in retail packaging, as always. Saving a bit of money on coloring the box, Deepcool decided to only print the Game Storm logo and model in shiny metallic print. All other necessary information around the box and outline of the fan were printed in black ink. A plastic cover takes up the right side of the box to give consumers a good view of what the actual fan looks like without having to rip the box apart while shopping at their favorite electronics store -- which, in case you are wondering, may get you into some legal trouble if you actually try to do that, haha. The packaging is nothing out of the ordinary besides the shiny text, so let's not waste more time and get into the real deal to what Deepcool has to offer us.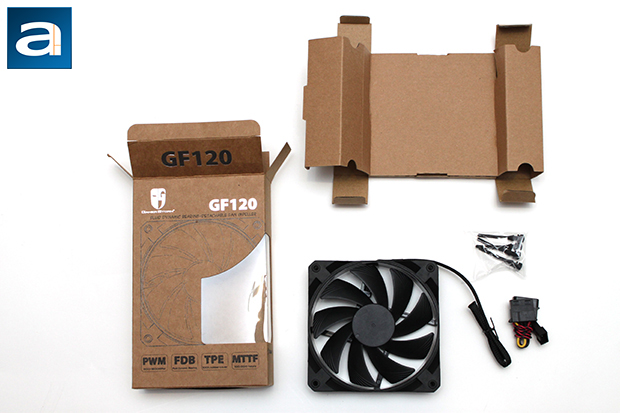 Pulling the fan and other accessories out of the box, you will find the GF120 120mm fan itself, Molex to 4-pin adapter, and four rubber mounting grommets. To add to the idea of being environmentally friendly, a physical manual is not included, but can be found on Deepcool's product webpage. Having said that, it should be relatively easy to install a fan, given the proper tools and mounting spots, so I doubt many people would take the effort to look it up in the first place. Before we move on to the rest of the review, let us take a closer look at the specifications of the fan, as obtained from the manufacturer's website:
Features
- Japanese Fluid Dynamic Bearing & high-quality IC to offer a super noise level
- 100% rubber-cover design with perfect de-vibration effect
- Detachable fan impeller owned the function of recruited lubricating oil, extend the lifetime max
- PWM (Pulse Width Modulation) to adjust fan speed automatically according to the system's request
- MITTF (Mean Time To Failure): 100,000 hours to offer a more steady working time max
- Optimized fan configuration with triple-proof (Dustproof, Waterproof, Oil-leakage proof) with estimated lifetime of 100,000 hours
Specifications
- Application for: computer case cooling; power supply cooling
- Overall Dimension: 120x120x26mm
- Net Weight: 170g
- Bearing Type: Fluid Dynamic Bearing
- Rated Voltage: 12VDC
- Operating Voltage: 10.8~13.2VDC
- Started Voltage: 7VDC
- Rated Current: 0.14 +/- 10% A (max)
- Power Input: 1.68W
- Fan Speed: 500 +/- 200 ~ 1800 +/- 10% RPM
- Max Air Flow: 79.81 CFM
- Noise: 17.6~32.5dB(A)
- Warranty: 5 years
---
Page Index
1. Introduction, Packaging, Specifications
2.
A Closer Look - Hardware
3.
Performance Tests
4.
Conclusion