By: Aaron Lai
August 16, 2013
If you pull out your toolbox, you will find everything you have is generally the same as it was approximately twenty years ago. The hammer, the screwdriver, the pliers; they all have not changed. Sure, differences have been made to smaller parts like the grips, or the materials they are made out of, but their basic shape and design is pretty much unchanged. They are so basic and simple that if they did change, people would regard it as unnecessary, and even frivolous. Additionally, if you start mixing these tools together, you will also find one tool gets in the way of another. The Swiss Army Knife is regarded as one of the finest examples of all-in-one-ness with approximately 87 (And growing) tools with over 140 capabilities. However, each of these tools often impede with one another. While it may be capable of cutting sheets of paper with the built-in scissors and screwing in a loose screw, there are huge mechanical disadvantages in comparison to the "full version" of its respective counterparts. The scissors are too small for any purpose other than cutting twine, while the screwdriver does not provide a strong grip to make it easy to use. While people will disagree that the Swiss Army Knife is not meant for everyday application, it is proof that more is not necessarily better. This brings us to the Deepcool Multi Core X8. We saw what happened when Deepcool tried to pull a "Swiss Army Knife" of a cooler, and it was not great. This time, Deepcool has sent in a product far more towards the basics of laptop cooling, hopefully with better results. Let's see what we got.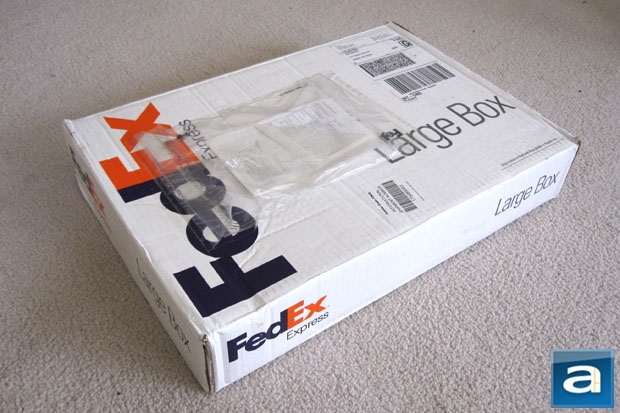 This package, much like the Deepcool M6 we have reviewed earlier, arrived from Broadview Heights, Ohio in a FedEx box via the company's Grounds service. The box was in decent condition, with a few scratches on the side. This time around, the Multi Core X8 did not attract any attention from any border guard, so it came unopened. What surprised me was the retail packaging which was inside the shipping box without any protection or lining. I sure hope they at least lined the inside of the retail packaging, which we will find out in just a moment.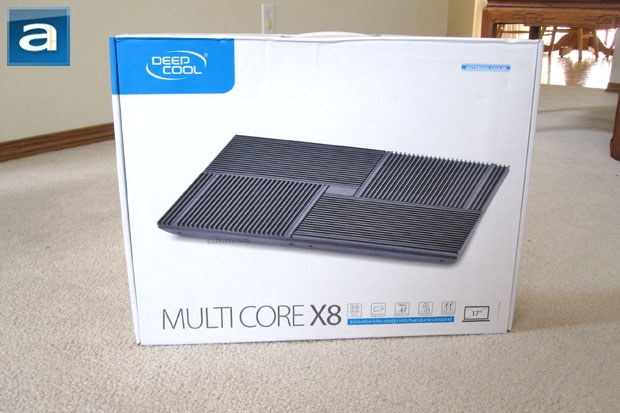 Taking out the retail box, we find the top is slightly pushed in, but there is nothing to be truly concerned about. The front of the box displays the X8, which occupies approximately forty percent of the front panel. The bottom displays "MULTI CORE X8" in clear letters. Five features/specifications are listed in squares: 4 Fans, Super Silent, Pure Aluminum Panel, Step Switch, and Vertical Airflow Design. Another bottom line of "Innovative 4-fan design with pure aluminum panel" is underneath the five squares. On the back, twelve specifications in thirteen languages are listed for the Multi Core X8. More pictures of the cooler are located on the back side with top, bottom and side views for more curious consumers. Found on the top of the box is a plastic handle, which makes moving the product around easy and without hassle. Overall, the retail box is slim, and looks clean. Gamer or enthusiast products are often seen to have lots of extraneous pictures, such as dragons, tanks, or flames. Even on the website, the Multi Core X8 is placed over red and blue flames, as if to extinguish these fiery foes of heat. But the retail box is much more conservative and clean. This packaging clearly shows that another no-frills type product is within, and definitely much more professional. Our next step is to open up said retail box so while I do that, let us look at the features and specifications of the Deepcool Multi Core X8, as taken from the manufacturer's website:
Features
- Built-in four fans provide massive airflow to cool the whole notebook base with no blind area.
- The creative Multi-Core Control Technology enables users to apply 4 different fan-working statuses: 4 fans on / 2 upper fans on / 2 downside fans on / 4 fans off.
- Ergonomic design with 2 viewing angles available for the most comfort in use.
- Four aluminum panels with Vertical Airflow Design pushes air into four different directions for superb cooling performance.
- 2 USB ports allow users to connect their personal USB devices.
- Compatible with 17" notebooks and below.
Technical Specifications
- Overall Dimension: 381 x 268 x 29mm
- Fan Dimension: 100 x 100 x 15mm
- Net Weight: 1290g
- Bearing Type: Hydro Bearing
- Rated Voltage: 5VDC
- Operating Voltage: 4.5-5VDC
- Started Voltage: 4VDC
- Rated Current: 0.2±10% ~ 0.4±10%A
- Power Input: 1~2W
- Fan Speed: 1300±10%RPM
- Max. Air Flow: 53.4CFM
- Noise: 23dBA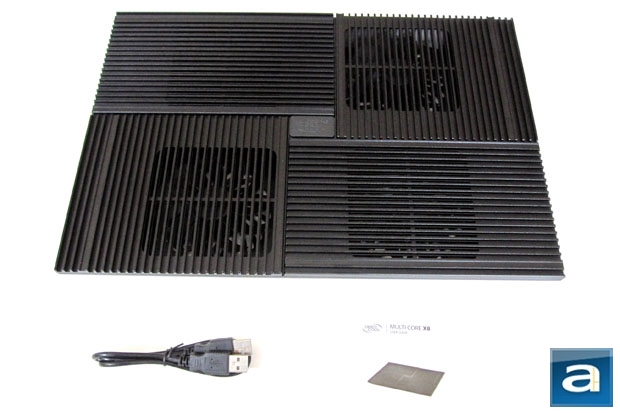 Finally, we can dig into all the goodies this thing has. Well, not really. Besides the cooler, there is not too much else in this box at all. A USB 2.0 male to male (Approximately 70 cm in length) and a small user guide is also included in the box. Compared to the M6, this cooler is quite a bit easier to carry with one hand, since it is quite a bit smaller and lighter. The cooler is wrapped in a plastic bag, and placed between two foam inserts trimmed to fit the cooler's sides.
---
Page Index
1. Introduction, Packaging, Specifications
2.
A Closer Look, Usage
3.
Testing and Conclusion