By: Aaron Lai
August 2, 2013
I remember a few summers ago, Denny's, an American dining establishment, introduced a new "Bacon" line. This was during the days when Epic Meal Time was making a name for itself on YouTube by throwing bacon -- and Jack Daniels -- plus other ingredients into a massive manly monstrosity of a meal. Since Denny's is a family diner, they could not exactly throw Jack Daniels into everything, but they could do so with bacon. Personally, I thought it was a good idea, until I came across the Maple Bacon Milkshake. What was Denny's thinking when they threw bacon into a sweet goodness? Unsurprisingly, the result was catastrophic; it was probably one of the worst milkshakes I have ever tried. After that "promotional" time, the maple bacon milkshake has ceased to exist. While bacon and ice cream are both excellent on its own, sometimes two excellent things combined do not become excellent-er. On the flip side, there are times when two good products combine to make something better, such as FriXion erasable pens from Pilot. These pens combine the neat and professional look of a pen and the correctional abilities of a pencil. So when Deepcool decided to combine two laptop accessories that are common, the laptop cooler and the external speaker, and threw it into a plastic and metal chassis, dubbing it the M6, what do we get? Along with the sport car looks, and the nice price tag of $40 USD at press time, will the M6 follow the way of the bacon milkshake, or rise like the FriXion pen? Read on to find out!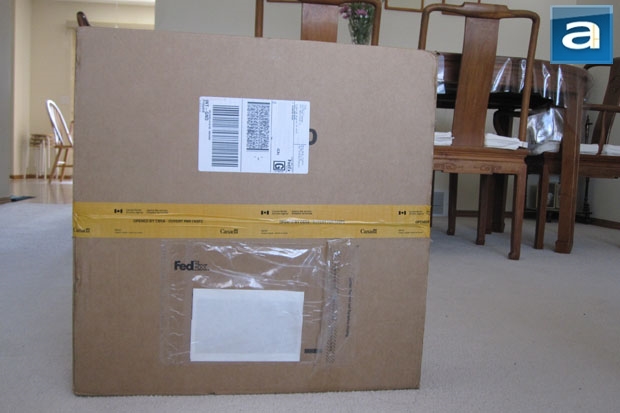 This package arrived from Broadview Heights, Ohio in a standard brown corrugated cardboard box via FedEx Ground. The box was slightly damaged with dents on both side. Inside, the retail packaging of the M6 is lined with large bubble wrap. It seems it was inspected by the Canada Border Services Agency, as it has been resealed with their mustard yellow tape. They may have been a bit worried that we here at APH Networks may be importing the M6 Aircrew Survival Weapon instead.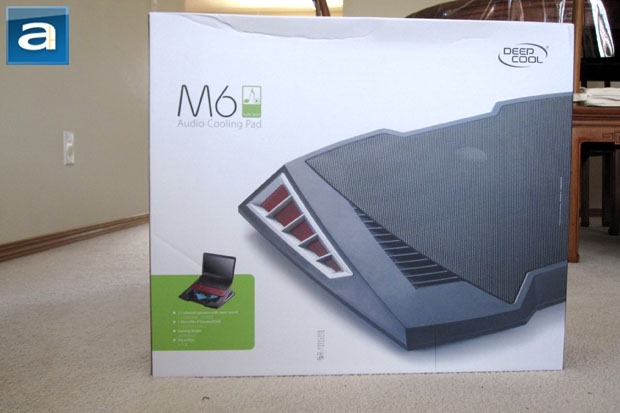 On the retail box was a medium sized dent at the top; luckily everything inside was unharmed. On the front of the box, the M6 is displayed and takes up about sixty to seventy percent of the front panel. This enlarged image allows buyers to view the closer design choices made by Deepcool, including the side red mesh and the mesh where the laptop lies on. The bottom left corner displays a red laptop (Presumably a Dell Inspiron 14, due to its relative sizing and the words "Inspiron" that can be made out) on the cooler, with several features listed underneath. On the back, the specifications are listed in thirteen different languages. The user guide is also printed on the back, explaining how to connect the device to the laptop. I was somewhat surprised to see that Deepcool did not provide a user manual; on the other hand, there is not too much to actually elaborate on in terms of usage. On the top of the box is a carrying handle, since it is quite cumbersome to carry this retail box around. In general, packaging is clean and simple. I was expecting something more like Deepcool's website with a large car or engine. But this way, the box design gives the product a "no frills" feel, and removes any thoughts of the device being cheesy or cheap. Before continuing on, we will briefly look through the features and specifications of the Deepcool M6, as taken from the manufacturer's website:
Features
- 2.1 speaker system with excellent stereo sound (2 tweeter & 1 woofer)
- Plug-and-play with standard 3.5mm line in for easy access to any music source
- 14cm fan for optimal airflow to cool your gaming notebook
- Fan speed adjustable for a perfect balance between cooling performance and silence
- USB HUB function with 4 USB output ports for your additional USB devices
- Compatible with 17" notebooks and below.
Technical Specifications
- Overall Dimension: 456 x 358 x 75mm
- Fan Dimension: Φ140X15mm
- Net Weight: 1500g
- Bearing Type: Hydro Bearing
- Rated Voltage: 5VDC
- Operating Voltage: 4.5-5.5VDC
- Started Voltage: 2.8VDC
- Rated Current: 0.5~1.0A
- Power Input: 2.5~5W
- Fan Speed: 700±150 - 1100±10% rpm
- Max. Air Flow: 47.35CFM
- Noise: 21dBA
- Frequency Response: 180Hz~15KHz
- Tweeter: 2inches(52mm)+2inches(52mm)
- Woofer: 2.25inches(57mm)
- Sensitivity: 450±50mV
- Audio Adapter: 3.5mm
- Antimagnetic Function: Available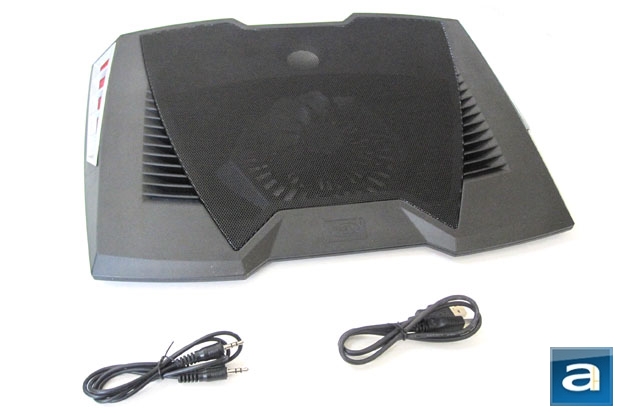 Out of the box, you will find some standard components. Of course, the cooler is inside, and takes up the majority of the box. When I first pulled it out, I was almost astounded at the sheer size of the M6. You also receive a 3.5 mm auxiliary cable (Approximately 90 cm in length), USB 2.0 male to male cable (Approximately 70 cm in length) and a small warranty card. The cooler is wrapped in a plastic bag, and placed between two large foam inserts trimmed to fit the cooler's sides.
---
Page Index
1. Introduction, Packaging, Specifications
2.
A Closer Look, Usage
3.
Testing and Conclusion