By: Jonathan Kwan
June 23, 2017
Although I have been living in Canada for as long as I could remember, I could hardly understand -- let alone speak -- a lick of French. This nation's official bilingualism, to many people in the country, does not mean too much in daily life. The only thing I know is it is practically impossible to survive in Quebec by only knowing English; the same goes for living in the rest of the country being Francophone. That said, thanks to those bilingual food labels and government building signs -- after all, we are still a bilingual country officially -- I could at least read and understand limited French. A few weeks ago, I was in Montreal looking for a place to park my car. After circling the area for about ten minutes, I came across a sign that read "stationnement gratuit". Recalling my extremely limited understanding of the language, "stationnement" is "parking", and "gratuit" is "free". Free parking! Who knew reading food labels and government building signs after all these years could save me seven dollars at a parking meter? Being able to look at something and understanding what it means can go a long way. When I first requested the Edifier S1000DB, I had the impression they were small desktop speakers no more than 20cm in height. As it turned out, they were massive units standing 34.3cm tall and weighs nearly 20 pounds each. Just speaking from experience, seeing something of this size puts them in a totally different performance grade than I first expected. But will it perform according to what we expect of its class? Well, I will be happy to be your Edifier S1000DB size-to-performance interprète today.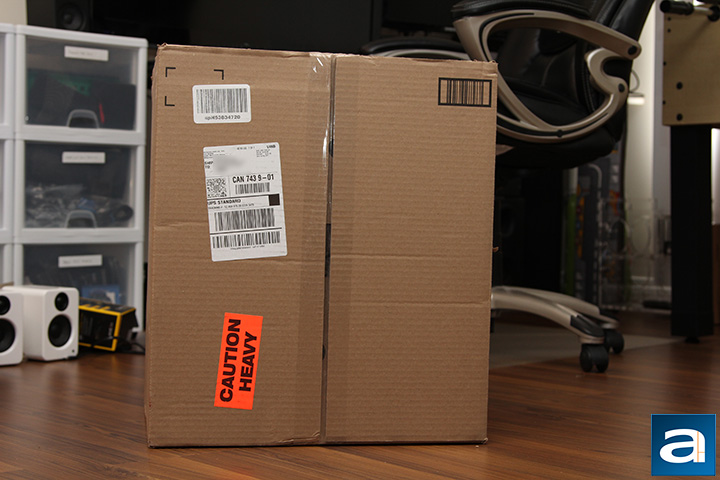 Our review unit of the Edifier S1000DB came in a large brown corrugated cardboard box from Amazon Canada Fulfillment Services in Mississauga, Ontario, Canada. An orange label with the text "Caution Heavy" is affixed to the package, simply because the package is indeed quite heavy. According to the product listing on Amazon, the official shipping weight is 42.8lbs. Using UPS Standard, the big box arrived in pristine condition to us here in Calgary, Alberta for our review today.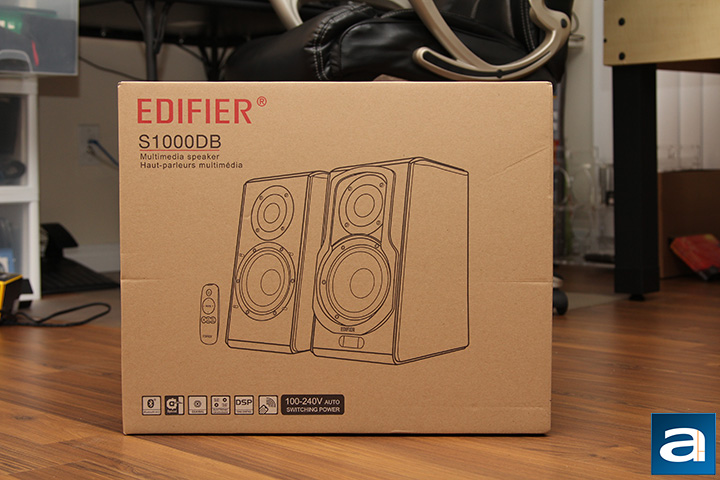 Encased inside the shipping box is the Edifier S1000DB's retail box, which does not look too different than the one in the previous photo, thanks to its raw cardboard finish. As you can see in our photo above, occupying the majority of the space in the principle side of the box is an outline of the speaker pair and the included remote at 3/4 angle. Edifier's logo can be found at the upper left hand corner in red; situated right below that is the model number and product description in both English and French (And here is where I learn more French, haha). An array of icons highlighting its Bluetooth 4.0, optical, and coaxial inputs, along with features like its electronic crossover, DSP tone control, remote control, and 100-240V auto switching power supply can be found along the bottom. Specifications, box contents, and even a frequency response chart is printed on various remaining sides of the box.
Speaking of specifications, before we move on, let us take a look at the provided information, as obtained from the manufacturer's website:
Power output: RMS 25W×2 (Treble) + 35W×2 (Mid-range and bass) = 120W
Signal to noise ratio: ≥85dBA
Frequency response: 48Hz~20KHz (±4dB)
Input sensitivity: PC: 900 ± 50mV | AUX: 700 ± 50mV; OPT, COX: 350 mFFs ± 50 mFFs Dimensions: 8in x 13.5in x 10.5in (WxHxD)
Input type: PC/Auxiliary/Optical/Coaxial/Bluetooth
Mid-range and bass driver:5.5 inch
Treble driver: 1 inch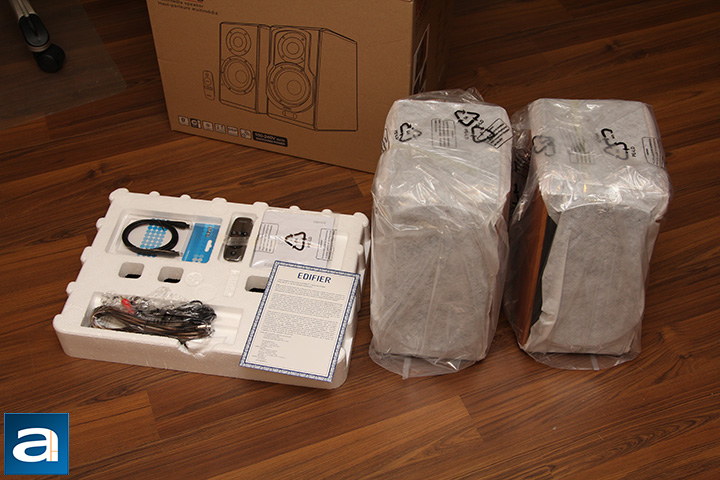 Upon opening the box, you will be greeted by a Styrofoam tray containing all the accessories in its partitions. The Styrofoam tray doubles as a bracket that holds the speakers in place underneath it; where each speaker is neatly wrapped in several layers of foam and plastic to ensure everything arrives to you in pristine condition.
Out of the box, the following items are included:
1x Active speaker
1x Passive speaker
1x Remote control
1x Speaker connecting cable
1x 3.5mm to dual RCA audio cable
1x Fiber optical connecting cable
1x User manual
1x Warranty guide
---
Page Index
1. Introduction, Packaging, Specifications
2.
Physical Look - Hardware
3.
Subjective Audio Analysis
4.
Conclusion