By: Ben Joubert
May 5, 2017
Google cancelled an intriguing idea not too long ago; it was called Project Ara. The idea originally started on Kickstarter, a place where plenty of cool but difficult to implement ideas come from. Although there are quite a few good ideas on Kickstarter, this project, like many others, failed due to impractical implementation in the current market. To many of us, a modular smartphone is a great idea. When one feature breaks or is slowing down, then it would be simple and easy to replace -- much like switching out a graphics card or RAM, it can be done quickly and easily. Most importantly, replacements are not as expensive as an entirely new system. I thought it was a great idea, because flexibility in different areas is always appreciated, especially since I care about some components of a phone more than others. I would love such a modular design, however implementing it into the market is quite tough. Manufacturers generally do not want to be paying for individual parts, which they then just sell for a slight profit. Instead, selling complete phones, knowing everyone will buy them, makes more sense for the bottom line. Some industries might benefit more from some modularity, and it has seen some success in the computer enthusiast market, such as some of Cooler Master's cases. However, EpicGear has taken modularity of a mouse to a new degree. The EpicGear MorphA X, which is up for review today, has plenty of neat little features. Almost the entire mouse can be changed from its outer shell to the type of switches it uses. Is this a good or bad implementation of a modular product? Can it be successful? Read on to find out!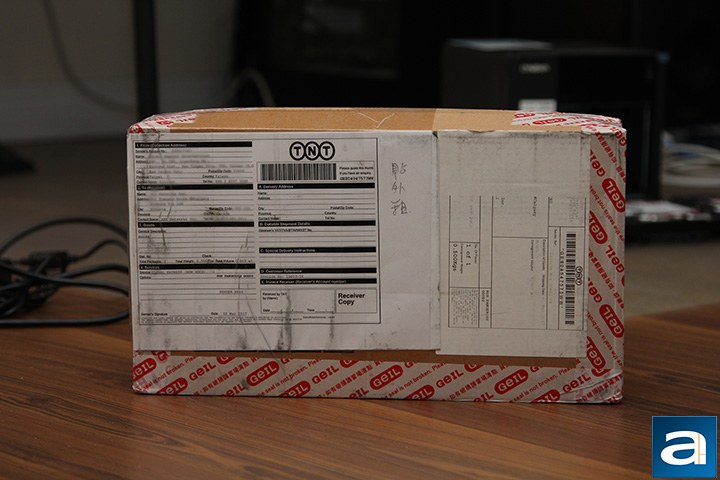 The EpicGear MorphA X arrived via TNT Express to us here in Calgary, Alberta. As you can see from the above picture, it arrived in good condition with little damage to the exterior shipping box. The corners are a bit beat up, but the overall box is in good condition. It is always comforting to see the shipping box fared well during transportation, ensuring the retail container inside probably also fared well, and its contents have been kept safely inside. Some tape surrounded the edges of the box, keeping it well kept together to prevent the shipping box from falling apart. I think TNT did a good job at transporting the contents safe and intact.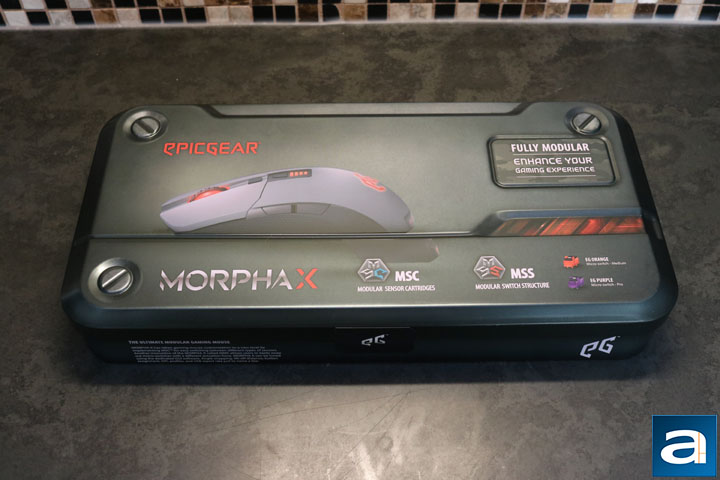 The retail box is something different. I do not think I can call it a regular box anymore because it is made out of metal, so let us call it a tin can. Anyway, I think the metal construction is quite cool, giving it a bit more of a valuable feel. Modularity is definitely the main selling point of the EpicGear MorphA X, and the retail container drives to the point immediately. On the front is a side view of the mouse, while to the right is a full modular design advertised. The name "MorphA X" is found below the mouse, while on the same level, different switches that can be used for the mouse is featured. Overall, the retail tin's grey color scheme and design looks good; definitely driving home a gaming theme.
Before we move on, here are the technical specifications as obtained from the manufacturer's website:
Specifications
EG MSC™ - Modular-Sensor-Cartridge: 12000 dpi IR LED sensor cartridge, 8200 dpi laser sensor cartridge
EG MSS™ - Modular-Switch-Structure: EG Orange – medium, EG Purple – pro (from light to heavy)
Adjustable lift-off distance with auto-calibration feature
Adjustable angle-snapping
Customizable RGB LED colors
On-the-fly sensitivity change
Adjustable report rate: 125~1000Hz
Optical sensor cartridge: Up to 250ips tracking speed & 50G acceleration
Laser sensor cartridge: Up to 150ips tracking speed & 30G acceleration
AFM Ambient Lighting mode
7 longevity buttons with 6 programmable
Lock-down function
5 gaming profiles with dedicated LED color assignment
Ultra swift big-size PTFE mouse feet
1.8 meter X-braided cable with gold plated USB connector
Approx. size in mm: 126.5(L) x 66.5(W) x 40(H)
Approx. weight: 92.6g excluding sensors, cable & weights
Adjustable weight & balance system: 5g x 4 weights, 20g in total
2 year manufacture warranty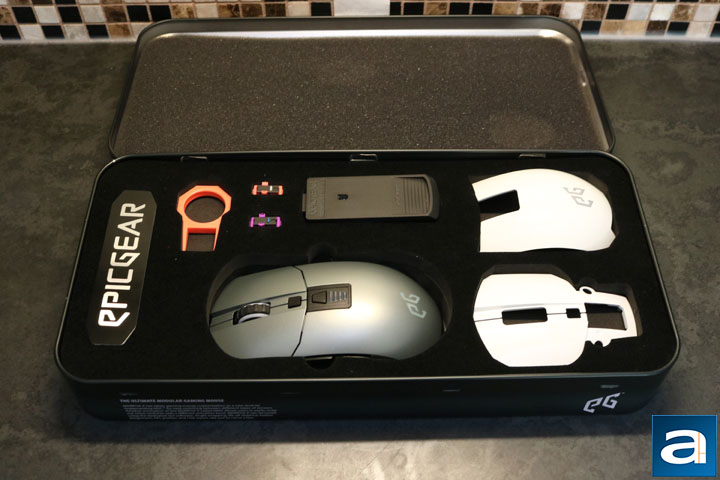 After opening up the lid, I was met with a foam cover to protect the top components. Since the retail container is entirely metal, the product is already quite a bit safer than a cardboard box. The thin foam padding ensures no surface damage as well as some cushioning, since the container can also cause some damage if everything is not kept in place. Otherwise, all the components are nicely laid out while also being tightly packaged to prevent any of them from moving around. Overall, I found the packaging to be well thought out and do a very good job in protecting the EpicGear MorphA X and all its modular components.
---
Page Index
1. Introduction, Packaging, Specifications
2.
A Closer Look - Hardware and Software
3.
Subjective Performance Tests
4.
Conclusion