By: Aaron Lai
March 1, 2018
If there is one game that a lot of people at my church know, it is a little card game called Dutch Blitz. Now being honest, I actually was surprised at how few people at my workplace knew how to play Dutch Blitz, but like its tagline, I can assure you it is a vonderful goot game! In essence, the game is centered on trying to get rid of your cards as fast as possible before everyone else can. Without explaining any more of the game, I think it is actually a really good game just because of its accessibility. Not only is it a straightforward game to learn due to its simplicity, but it really is not limited to any age. However, to make this game more difficult and involve more than just the normal four player limitation, some of the people thought it would make for a good game if it was larger. By scaling Dutch Blitz up, this incorporates a lot more elements compared to the original game. This is because players now have to move a lot more to move the cards as well as to just see the playing field. I personally really like the larger version that was made, because it adds a different factor of complexity to an already enjoyable game. When we come to today's review unit of the Fractal Design Meshify C Mini, you can tell this case is also a scaled version of the original Meshify C, except in the opposite direction. Lauded for its excellent airflow capabilities, it seems others have wanted this case in a smaller version, so Fractal Design has done exactly such. Will there be any complexities or changes that come out of this smaller design? And will it keep the same things we liked about the original? Read on to find out!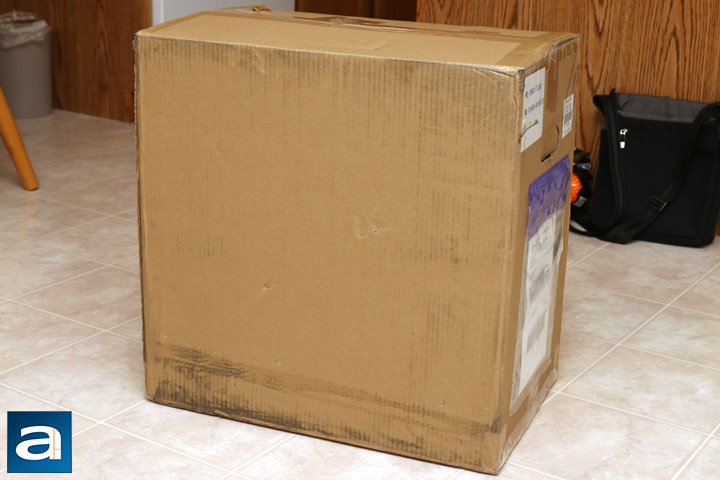 Today's review unit of the Fractal Design Meshify C Mini arrived from Fractal Design's warehouse in Farmers Branch, Texas, USA. Shipping with FedEx International Ground, this package arrived to our APH Networks offices here in Calgary, Alberta, Canada. As you can see from the packaging, it arrived in relatively good condition. There are a few notable holes, though this is nothing to be concerned about. You might be wondering why this box is completely blank. Due to the size of cases, we are generally used to seeing the retail container and the shipping container be the same box. However, today's review unit actually arrived to us before it was released to the public. To protect it from being leaked before announcement, the retail container was hidden, even from the shipping company.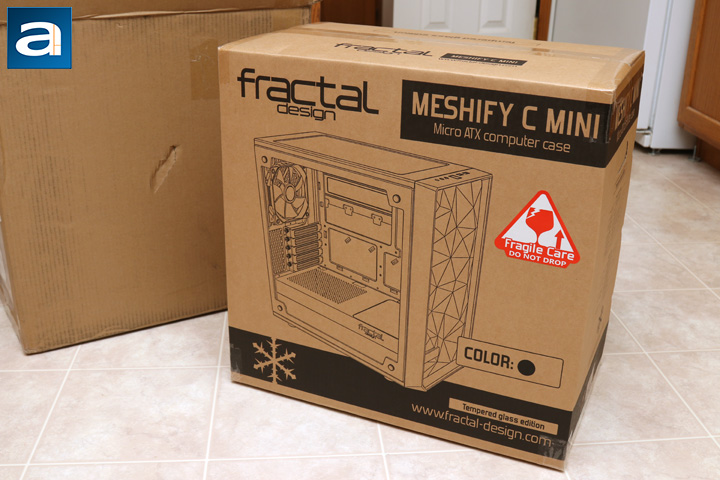 Inside, the retail container itself is a standard state of affairs, with the same brown corrugated cardboard box we have seen from Fractal Design in the past. A black print of the Meshify C Mini exists on the front, with a table of specifications around the sides. Overall, it looks exactly like the Meshify C's retail container, except smaller. Otherwise, a huge white and red sticker is on the box to show this product is fragile as it has a tempered glass panel. I grabbed a pair of scissors and let the case out of the box.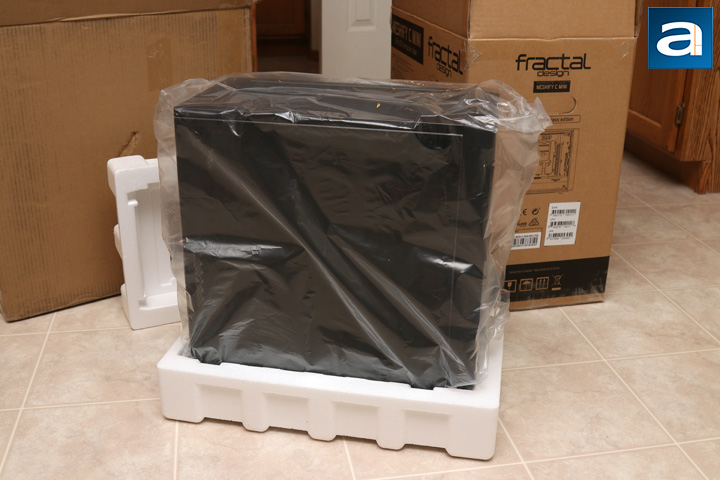 Out of the box, we have the Meshify C Mini wrapped in a plastic bag and held between two large foam brackets. The bag itself is good in preventing any surface scratches during shipping. The foam brackets also help in preventing any major damage from happening also. Furthermore, the glass window on the side is sealed in plastic on both sides to ensure there are no scratches on this pane. Otherwise, we have a small installation manual explaining how to install your parts into the case. Fractal Design is one of the better manufacturers in providing clear and concise instructions with their cases. Of course, you readers are probably more interested in the case, so we will throw aside all these other things and take a closer look at the Fractal Design Meshify C Mini.
Before doing so, you can peruse the features and specifications of the product, as obtained from the manufacturer:
Features
- Tinted tempered glass side panel offers full edge-to-edge visibility
- Distinctive new styling with stealthy black-on-black aesthetic
- Angular mesh front panel maximizes air intake
- Performance and capacity of a larger tower in a remarkably compact mATX size
- Open air interior creates an unobstructed airflow path from intake to exhaust
- Flexible storage options for up to 5 drives, all fully concealed
- Superior cable management with full length PSU shroud, intuitive routing and over two dozen tie-down locations
- Three radiator positions with support for up to 280 mm rads in front and 240 mm up top
Specifications
- Case Material: Steel, Tempered Glass
- Case Color: Black
- Fan Color: Black
- Power LED color: Blue
- Disk Activity LED Color: Blue
- Motherboard Compatibility: MicroATX, Mini-ITX
- Power Supply Type: ATX
- External 5.25" Drive Bays: 0
- 2.5"/3.5" Universal Drive Bays: 2
- Dedicated 2.5" Drive Mounts: 3
- Expansion Slots: 5
- Front Ports: 2 x USB 3.0, Audio I/O
- Max PSU Length: 175 mm or less recommended
- Max GPU Length: 315 mm with front fan mounted
- Max CPU Cooler Height: 172 mm
- Cable Routing Space: 15-35 mm
- Case dimensions (LxWxH): 409 x 217 x 412 mm
- Case dimensions without feet/protrusions/screws: 395 x 212 x 399 mm
- Left Side Panel: Tinted tempered glass
- Right Side Panel: Steel
- Cable Routing Grommets: Yes
- Fixed Velcro Straps: Yes
- Captive Thumbscrews: Right side panel, SSD brackets
Fan Positions
- Fans Included: 2 x Fractal Design Dynamic X2 GP-12 120 mm
- Fans Supported: 7
- Front: 3 x 120 mm or 2 x 140 mm (1 x 120 mm preinstalled)
- Rear: 1 x 120 mm (1 x 120 mm preinstalled)
- Top: 2 x 120/140 mm
- Bottom: 1 x 120 mm
Water Cooling Support
- Front: 280/240/140/120 mm radiators (max 144 mm width)
- Top: 240/120 mm radiators (max 40 mm motherboard component height)
- Rear: 120 mm radiators (max 125 mm width)
---
Page Index
1. Introduction, Packaging, Specifications
2.
Physical Look - Outside
3.
Physical Look - Inside
4.
Installation and Conclusion