By: Aaron Lai
October 6, 2017
After working for a year, I have pretty much been taking the exact same route to and from work. I take Deerfoot Trail down to my office, while taking slower routes like Memorial Drive and Crowchild Trail to get back home. My rationale is the path I take in the morning generally has free flowing traffic. As it is a freeway, I can travel down it pretty fast. However, by the afternoon, Deerfoot is all backed up, and it makes sense for me to take the relatively smaller roads. The biggest issue comes when my timing changes, as it affects which way is faster. Even when I have Google Maps open, I often ignore its suggestions and continue with the same paths, even if they result in longer commutes. Humans are creatures of habit and when we find something that works, we tend to stick to it. When you look at the computing world, I can definitely say Fractal Design has been a company of habit. If you take a look at their past Fractal Design Define lineup, including the R3, R4, R5, S, and C, we have had a very similar look in all of these cases. This includes a brushed solid front panel, boxy edges, and practically zero curves. There are definitely variances between the aforementioned models. However, Fractal Design has consistently kept the same design language throughout their Define lineup. Today, we have a product in a new lineup with the Fractal Design Meshify C. Gone is the solid front panel, sound dampening material, and even the conservative design, and in its place is a whole different beast of a case. Does the Meshify C still carry the same Scandinavian attention to detail and finish? Does it still hold true to the Fractal Design quality we love? Let us read on to find out!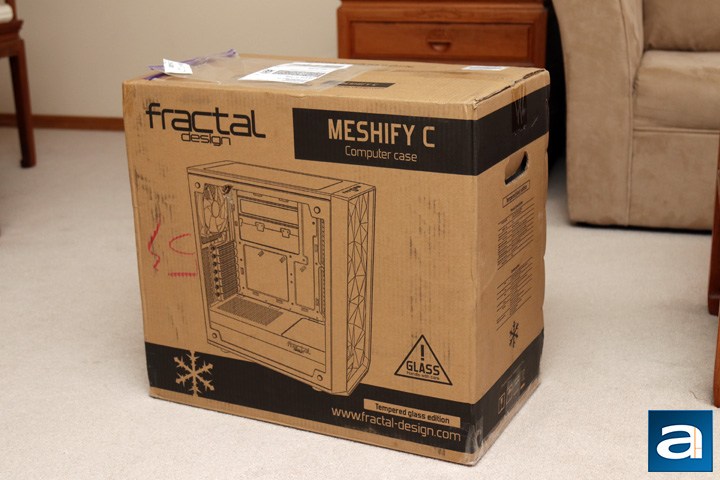 Today's review unit of the Fractal Design Meshify C arrived from the manufacturer's USA headquarters in Dallas, Texas, USA. Shipping with UPS Standard, this package arrived to our APH Networks offices here in Calgary, Alberta, Canada. As you can see from the packaging, it arrived in relatively good condition with no noticeable dents or scratches. The retail container itself is a standard state of affairs, with the same brown corrugated cardboard box we have seen from Fractal Design in the past. A black outline print of the Meshify C exists on the front, with a table of specifications around the sides.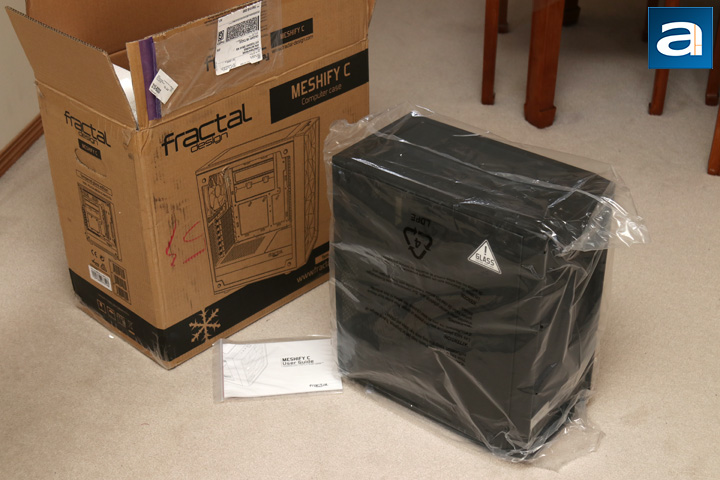 Out of the box, we have the Meshify C wrapped in a plastic bag and held between two large foam brackets. The bag itself is good in preventing any surface scratches during shipping. The foam brackets also help in preventing any major damage from happening also. Furthermore, the glass window on the side is sealed in plastic on both sides to ensure there are no scratches on this pane. Just to note, the Meshify C is one of the first Fractal Design cases to get the tempered glass treatment. Otherwise, we have a small installation manual explaining how to install your parts into the case. Fractal Design is one of the better manufacturers in providing clear and concise instructions, but of course, you readers are probably more interested in the case, so we will throw aside all these other things and take a closer look at the Fractal Design Meshify C.
Before doing so, you can peruse the features and specifications of the product, as obtained from the manufacturer's website:
Features
- Streamlined high-airflow design
- The performance and capacity of a larger tower in a remarkably compact mid-tower size
- Newly designed angular mesh front panel maximizes air intake
- Tinted tempered glass side panel for a clean looking exterior with full interior visibility
- Distinctive new styling with stealthy black-on-black aesthetic
- Flexible storage options with room for up to 5 drives
- Sturdy steel drive trays with vibration-dampening rubber grommets cushion hard drives for smooth, quiet and reliable operation
- Two pre-installed Fractal Design Dynamic X2 GP-12 120 mm fans deliver optimum airflow with minimal noise
- Open interior layout creates an unobstructed airflow path from front intake to rear exhaust
- Easy-to-clean filters on the front, top, and base with full PSU coverage and convenient front access
- Full-length power supply shroud conceals drive cage and excess cabling for unrestricted airflow and a clean looking interior
- Up to 35 mm of space behind motherboard plate with grommeted pass-throughs for clean cable routing
Specifications
3.5" or 2.5" Drive capacity: 2
Dedicated 2.5" drive capacity: 3 (maximum 2.5" drive thickness is 12mm)
Expansion slots: 7
Motherboard compatibility: ATX, mATX, ITX
Power supply type: ATX
Total fan mounts: 7
Front fan: 3x 120 or 2x 140 1x Dynamic X2 GP-12 included
Top fan: 2x 120/140
Rear fan: 1x 120 1x Dynamic X2 GP-12 included
Bottom fan: 1x 120
Side fan: No
Dust filters: Bottom fan + PSU Front fans Top fans
Front radiator: 120/240/360mm 140/280mm
Top radiator: 120/240mm (max component height on motherboard 40mm)
Rear radiator: 120mm (max width 125mm)
Power supply depth limit: Maximum 175mm recommended
Graphics card length limit: Max 315mm with front fan mounted
CPU cooler height limit: 172mm
Cable routing: 15-35mm space
Cable routing grommets: Yes
Fixed velcro straps: Yes
Captive thumbscrews: Right side panel SSD brackets
Left side panel: Tempered Glass
Case dimensions (LxWxH): 395 x 212 x 440mm
Case dimensions - with feet/protrusions/screws: 409 x 217 x 453mm
Net weight: 6.5 kg
Package dimensions (LxWxH): 543 x 295 x 484mm
Package weight: 7.9 kg
---
Page Index
1. Introduction, Packaging, Specifications
2.
Physical Look - Outside
3.
Physical Look - Inside
4.
Installation and Conclusion