By: Jadon Lee
July 10, 2020
Another online semester has been completed at the University of Calgary and many students are beginning to move into the summer semester. Continuing into the summer semester sounded quite attractive given it is another online semester, which would give me the opportunity to sit in the comforts of my home and study. Although this option was tempting and many other students have opted to take it, I have gladly decided to take a couple of months off from school to extend my work hours. It is always nice to have a little more money in your pocket, especially considering how expensive things can get. Something I noticed when planning out my PC build was that cases were pricier than I thought they would be. All of the budget-conscious options would look like a literal metal box, while the more appealing cases would cost double or even triple the cost at times. What makes these better-looking cases cost so much more compared to these budget cases? Firstly, most aesthetic looking cases will have at least one tempered glass side panel. Second, RGB will always cost more money compared to regular parts. This brings to question, what can we do to avoid having an eyesore of a PC while saving some money? We can look for cheaper cases that come with some of these more premium features. Is finding a cheap case with premium features even possible? I am not too sure, but hopefully, with the help of FSP, we can figure out this question with the CMT260 ATX case. How will the CMT260 stack up in terms of both functionality and aesthetics? Keep reading to find out!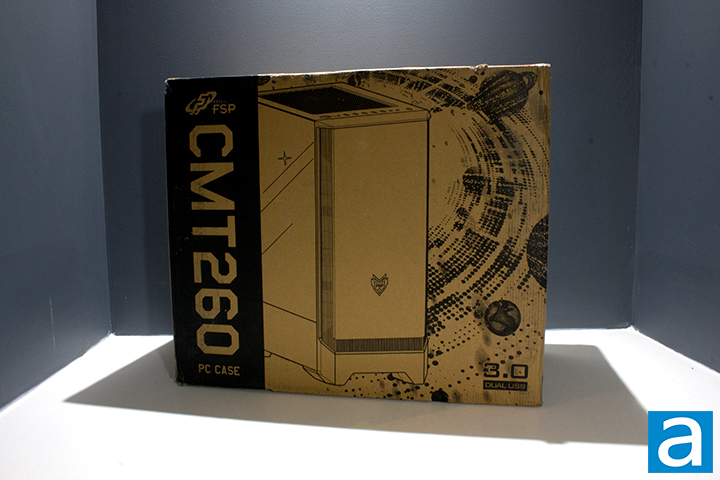 The FSP CMT260 arrived via FedEx International Ground shipping in its retail box from Chino, California alongside the CST110, which I will review in a few weeks from now. The retail box had very few marks and scuffs, but the package arrived in one piece. FedEx had successfully performed its task at hand to ensure the safety of the contents.
As seen in the photo above, FSP uses a brown corrugated cardboard box with black ink to display all content about the CMT260. On the front of the retail box, the design is generally basic; having FSP's logo proudly displayed right above the case's name on the left. On the right of the text is an image of the general design of the case itself and follows up in the bottom right corner showing how this case has dual USB 3.0. In the current standard of cases, USB 3.0 is not too big of a deal, as most cases nowadays do have USB 3.0 or even USB Type-C. The right side of the retail box dives into the specifications of the case, while the left side of the box speaks directly to the case's features. The back of the box displays a diagram of the case taken apart with three fans. This diagram could be misleading as this case only comes with one preinstalled fan as an exhaust. That is enough with the box, let us move on unbox this CMT260.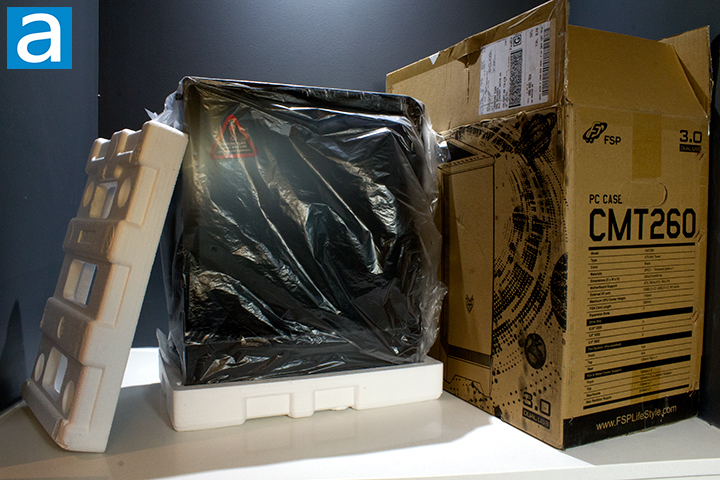 FSP used two large Styrofoam blocks on the top and bottom of the case to absorb any impact that may have occurred in the delivery. This is very important for any case with tempered glass panels. The case itself was wrapped in plastic to prevent scratches. There was another additional layer of plastic on the glass panels to prevent dust or prints that would dirty the glass. Inside the case are all the screws needed for installation, some zip ties, extra brackets, a speaker, as well as an instruction manual. The packaging did its job in preventing any damage to the case.
Before we continue, here are the specification for the FSP CMT260, as posted on the manufacturer's site:
Model Name: CMT260
Type: ATX Mid Tower
Color: Black
Materials: SPCC, Tempered glass x 1
Dimensions DxWxH (mm): 380 x 210 x 452mm
Maximum CPU Cooler Height: 170mm
VGA Card Length: 325mm
Expansion Slots: 7
MotherBoard Support: ATX, Micro ATX, Mini-ITX
External I/O port: USB3.0 x 2, USB2.0 x 2, HD Audio
Power supply Type: 150mm ATX
3.5" HDD: 2
2.5" SSD: 2
Fan Including(pre-install): 120mm Fan x 1
Fan&Water Cooler Supply Front: 120mm x 3
Top: 120 x 2 or 240mm Radiator x 1
Rear: 120mm
Max Radiator Support: 240mm x 1
---
Page Index
1. Introduction, Packaging, Specifications
2.
Physical Look - Outside
3.
Physical Look - Inside
4.
Installation and Conclusion