Page 10 - Overclocking and Conclusion
Ever since Intel's second generation Core processors hit the market, it really made a reviewer's job a lot easier. For the lazy bunch of us, overclocking memory used to involve fine tuning of the front side bus or base clock of the processor to precisely measure the maximum attainable RAM speed. Since Sandy Bridge and Ivy Bridge's base clock is practically locked down, and for practical purposes, capped voltage at 1.65V, the only practical way of testing this is to see if the tested modules can notch up an entire step. With the G.Skill Ares F3-1866C10D-16GAB 2x8GB, the short answer is a simple 'no'. When I told my colleague Preston about it, his reply was, in a master-of-the-obvious fashion, "You don't say!" Trying to bump a DDR3-1866 2x8GB kit to DDR3-2133 is a bit of a stretch, even after raising the voltage from 1.5V to 1.65V, and loosening the latencies from 10-11-10-30 to 12-12-12-36.
-----------------------------------------
Okay, since we have started off this review looking for the truth, let us end this review with the truth, and only the truth. The truth is, the G.Skill Ares F3-1866C10D-16GAB 2x8GB does not overclock. It does not come in super low latencies. It does not blow anyone out of the water in benchmarks. It does not contribute to world peace and solve the Euro debt crisis. Clear as mud? Good. Now, let me tell you what the G.Skill Ares DDR3-1866 2x8GB kit really is. It has the highest consumer DDR3 memory module density at press time. It operates at a relatively fast frequency. It delivers consistent performance across the board. It has low profile heatspreaders for maximum compatibility. It comes with G.Skill's excellent reputation for reliability, backed by their excellent warranty, and arrives in a reasonable price. If you have about $280 in your pocket right now, slap two sets of these into your computer, and voila! 32GB of awesomeness at your disposal. Not sure why you would need that much unless you do something really, really intense, but who can resist this awesomeness? At the end of the day, if you can find a reason why G.Skill's latest large capacity enthusiast RAM's price is not justified, feel free to take your money somewhere else. But I believe wise consumers such as yourself will, in fact, make a wise decision in the end.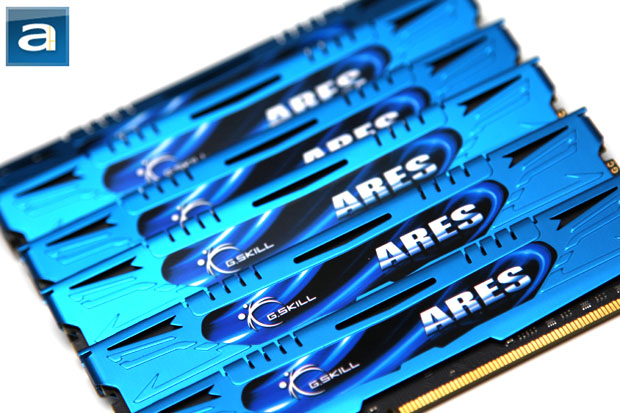 G.Skill provided this product to APH Networks for the purpose of evaluation.

APH:Renewal Award
Since April 30, 2007, Number Ratings have been dropped for all CPUs, motherboards, RAM, SSD/HDDs, and graphics cards. This is to ensure the most appropriate ratings reflected without the inherent limits of using numbers. Everything else will continue using the Number Rating System.
More information in our Review Focus.
While the G.Skill Ares F3-1866C10D-16GAB 2x8GB will not fix world problems, it will satisfy all those who has a desire for only the best of the best.
Do you have any comments or questions about the G.Skill Ares F3-1866C10D-16GAB 2x8GB RAM? Drop by our Forums. Registration is free, and it only takes a minute!
---
Page Index
1.
Introduction, Packaging, Specifications
2.
A Closer Look, Installation, Test System
3.
Benchmark: AIDA64 CPU
4.
Benchmark: AIDA64 FPU
5.
Benchmark: AIDA64 Memory
6.
Benchmark: PCMark 7
7.
Benchmark: 3DMark 11
8.
Benchmark: PassMark PerformanceTest 7.0
9.
Benchmark: SuperPI 1M, Cinebench R11.5
10. Overclocking and Conclusion