Page 6 - Benchmark: PCMark Vantage
About PCMark Vantage
PCMark Vantage is a PC benchmark suite designed for Windows Vista offering one-click simplicity for casual users and detailed, professional grade testing for industry, press and enthusiasts.
A PCMark score is a measure of your computer's performance across a variety of common tasks such as viewing and editing photos, video, music and other media, gaming, communications, productivity and security. From desktops and laptops to workstations and gaming rigs, by comparing your PCMark Vantage score with other similar systems you can find the hardware and software bottlenecks that stop you getting more from your PC.
PCMark Consumer Scenarios
- Digital Memories 1 & 2
- TV and Movies 1 & 2
- Gaming 1 & 2
- Music 1 & 2
- Communication 1 & 2
- Productivity 1 & 2
From: Developer's Page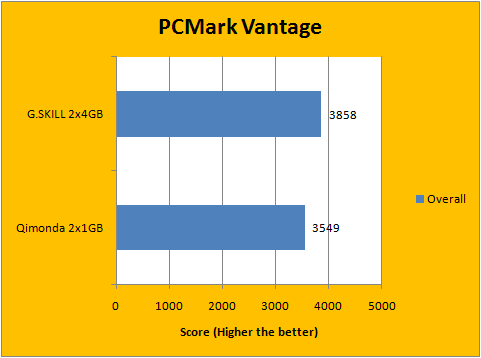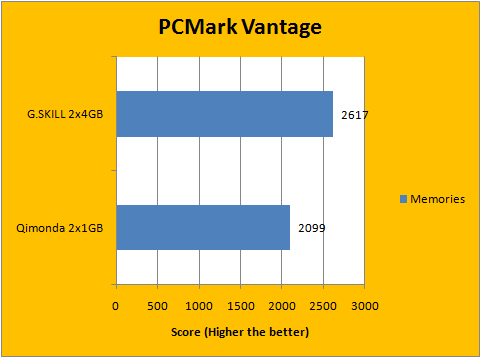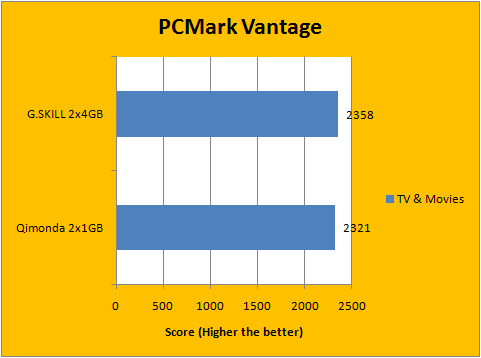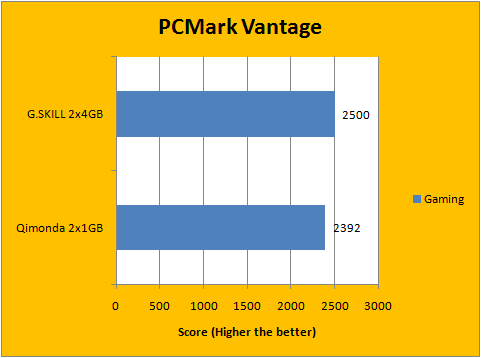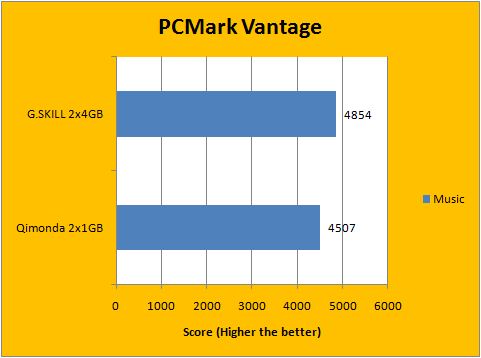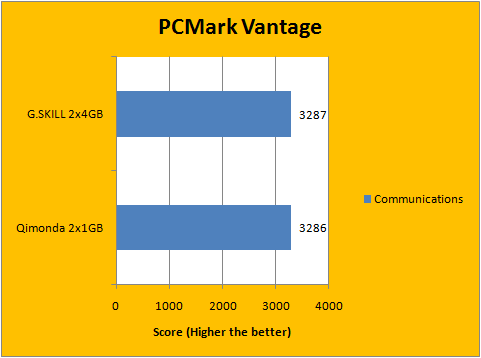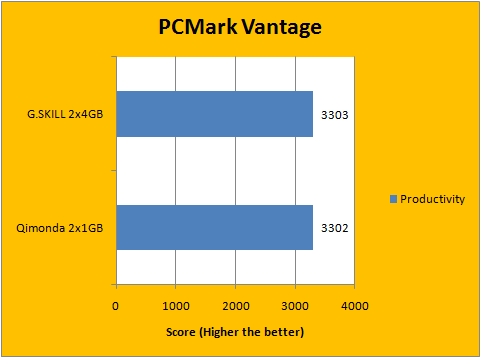 Our seven sections of Futuremark's PCMark Vantage benchmarking suite was where a lot of significant differences were recorded. Since scoring of PCMark Vantage -- run in 64-bit mode -- is actually influenced to an extent by the amount of memory in the system for most subscores, the G.SKILL F3-8500CL7D-8GBSQ 2x4GB RAM posted good performance increases. Posted gains of the G.SKILL kit were +24.7% Memories, +1.6% TV & Movies, +4.5% Gaming, +7.7% Music, and +8.7% overall. Negligible differences were recorded for Communications and Productivity.
---
1.
Introduction, Packaging, Specifications
2.
A Closer Look, Installation, Test System
3.
Benchmark: EVEREST CPU
4.
Benchmark: EVEREST FPU
5.
Benchmark: EVEREST Memory
6. Benchmark: PCMark Vantage
7.
Benchmark: 3DMark06 Professional
8.
Benchmark: SuperPI, Cinebench R10; Conclusion