By: Aaron Lai
November 2, 2018
I used to really enjoy going grocery shopping with my parents, especially since it was where all the food was. Another thing I found interesting was the many different brands found there. Obviously, we have the highly marketed brands, which are all under major umbrella corporations like PepsiCo, Kellogg's, or Unilever. On the other hand, my parents would often select the generic brands sold in these grocery stores. Since we did most of our shopping at Superstore, their generic brand is quite well-known and is called "no name". Marked with a bright yellow packaging and lowercase, boldface Helvetica lettering, this brand is probably the best recognized generic brand. The reason we purchased the generic option was because it was often marked down in terms of price while still replicating the branded product fairly well, making it a viable alternative. Today, we have a solid state drive from a company that is on the opposite side of generic branding. With a name like Gigabyte, most computer enthusiasts and system builders already know of this brand for their motherboards and graphics cards. Even with this big name, entering a new market space means they do not have the same reputation in this area. We have already seen the low priced option from their UD PRO, but today we have a more performance-directed drive combined with a lower price. Is this the complete viable alternative we want or does it face some stiff competition? Let us read on to find out!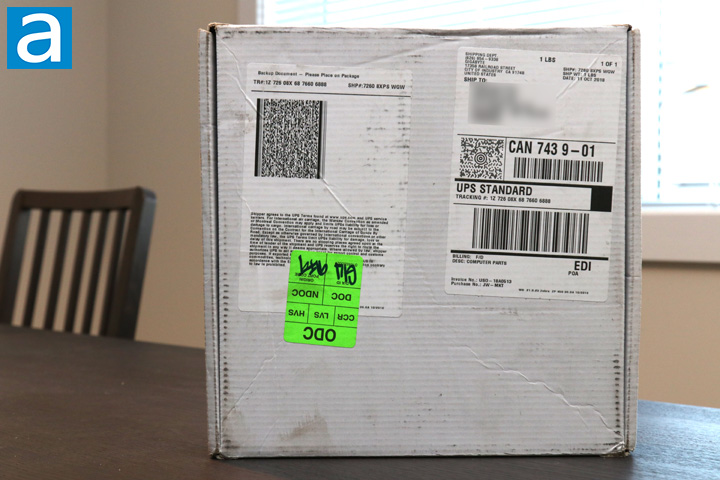 Our review unit of the Gigabyte M.2 PCIe SSD 256GB arrived via UPS and their standard ground service. Just like the previous SSD they sent us, Gigabyte sent us a box using a retail container flipped inside out. As such, we do not have the standard brown corrugated cardboard box but a white one. This box is actually an inverted Gigabyte H110 mATX motherboard box. Otherwise, this box traveled from City of Industry, California and arrived at our APH Networks Calgary location in average condition. They also packaged the SSD with many packing peanuts to ensure everything is in working order. As a side rant, I hope less people keep using these foam peanuts, because they become quite messy to clean up.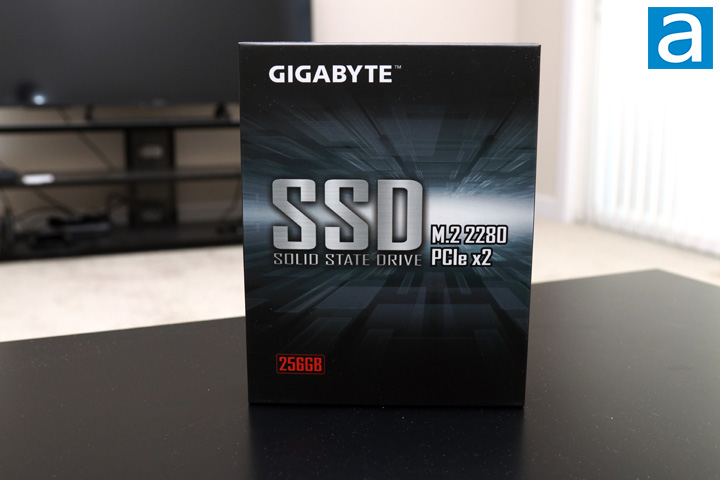 If you saw the review of the UD PRO, you will realize their M.2 SSD looks pretty similar, at least from the retail container. Gigabyte is taking a more conservative approach with their first collection of drives, which is not necessarily a bad thing. The background of the box shows off a neat pattern with the description of the product in the middle. As you can tell by the title, Gigabyte has not really given this drive a specific name, but rather just a longer descriptor. From the front, you can see this is a M.2 drive in the 2280 format, and it uses PCIe x2. We will see how this affects performance later on in our review. Otherwise, around the back we have some more information about the drive, including some speed numbers and certification information. There really is not much else to talk about, so let us move on.
Before we do so, I have grabbed the specifications from the manufacturer's website for your perusal:
Interface: PCI-Express 3.0 x2, NVMe 1.3
Form Factor: M.2 2280
Total Capacity: 256GB
Warranty: Limited 3-year or 200TBW
NAND: NAND Flash
External DDR Cache: N/A
Sequential Read MB/s: Up to 1200 MB/s
Sequential Write MB/s: Up to 800 MB/s
Random Read IOPS: Up to 80K
Random Write IOPS: Up to 150K
Dimension (W x H x L): 80 x 22 x 2.3 mm
Mean time between failure (MTBF): 1.5M hours
Power Consumption (Active): Average R : 2200mW, W : 2100mW
Power Consumption (Idle): 50mW
Temperature (Operating): 0°C to 70°C
Temperature (Storage): -40°C to 85°C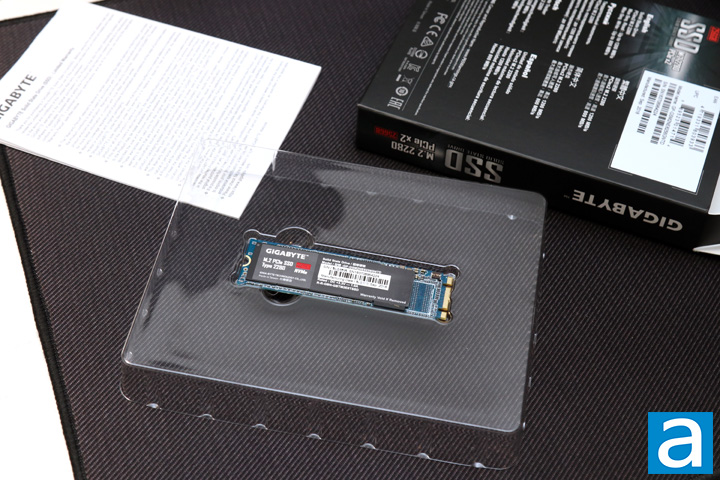 Out of the box, we have the gum-stick sized Gigabyte M.2 PCIe SSD 256GB placed in a clear plastic shell. We also have a manual with some minimal installation instructions and warranty information. As with the UD PRO, this drive also comes with a limited three year warranty or up to a total of 200TB written. Personally, I think the length time of the warranty is a bit short, even if this drive is targeting a more budget-minded audience. The warrantied endurance of the drive is good as I would be surprised if people are writing that much data in less than three years. Otherwise, there is not much else to talk about here, so let us take a closer look at the M.2 PCIe SSD itself.
---
Page Index
1. Introduction, Packaging, Specifications
2.
A Closer Look, Test System
3.
Benchmark: AIDA64 Disk Benchmark
4.
Benchmark: ATTO Disk Benchmark
5.
Benchmark: Crystal Disk Mark 3.0
6.
Benchmark: HD Tach 3.0.1.0
7.
Benchmark: HD Tune Pro 4.60
8.
Benchmark: PassMark PerformanceTest 9.0
9.
Benchmark: PCMark Vantage
10.
Benchmark: PCMark 8
11.
Conclusion