By: Jonathan Kwan
August 9, 2019
"You look like you are dressed up for work," my friend commented as he saw me at a rafting event last month. For those who do not know me, thinking I showed up to a rafting trip in dress pants and tie would have been the completely wrong impression. I simply wore a T-shirt, shorts, and flip flops. Of course, most places would probably frown at people showing up to work in such attire even if they do not have an official dress code, but being someone who does research at the university and is not teaching a course in the summer, how I dress really has no impact in the work I do. I do think, however, this implicitly acknowledges the fact the way we dress affect how people see us, and thus affecting our credibility, even though it should not make any difference in of itself. In a lot of ways, this is similar to how keyboards work. Up until the start of this decade, most gaming keyboards were membrane-based like the Logitech G19, where differences came down to gimmicks like LCD screens. When the mechanical keyboard rolled in, people started caring about the switches underneath, but still, there was a missing puzzle piece. Now, people even care about the keycaps. Even if they seem ostentatious like what we wear to work, we here at APH Networks has argued for years it makes a difference, whether it is the way your keyboard looks and, in some ways, how it feels. Today, we will take a look at the HyperX Double Shot PBT Keycaps. The white color will certainly change the way your keyboard looks, but it also feels different for those who know. Read on to find out if they are any good!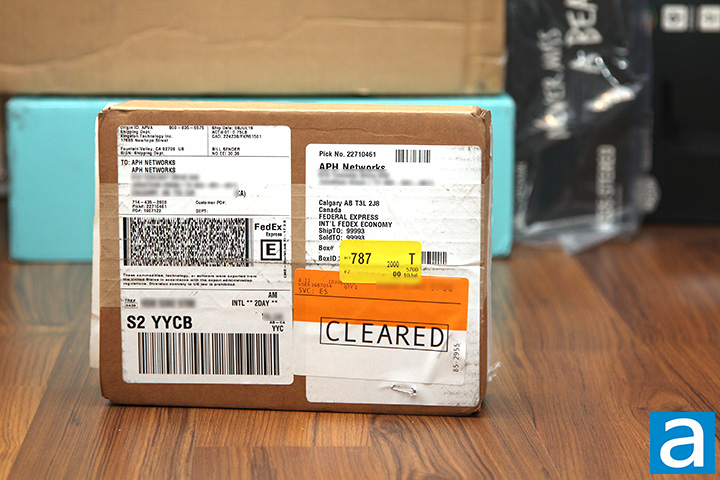 Our review unit of the HyperX Double Shot PBT Keycaps arrived in a small brown corrugated cardboard box from the company's American headquarters in Fountain Valley, California, USA last month. This box is a familiar sight to us here at APH Networks, considering they use this to ship us most of their memory kits and solid state drives. Using FedEx International Economy, the package was dropped off to us here in Calgary, Alberta, Canada for our review today and arrived in excellent condition.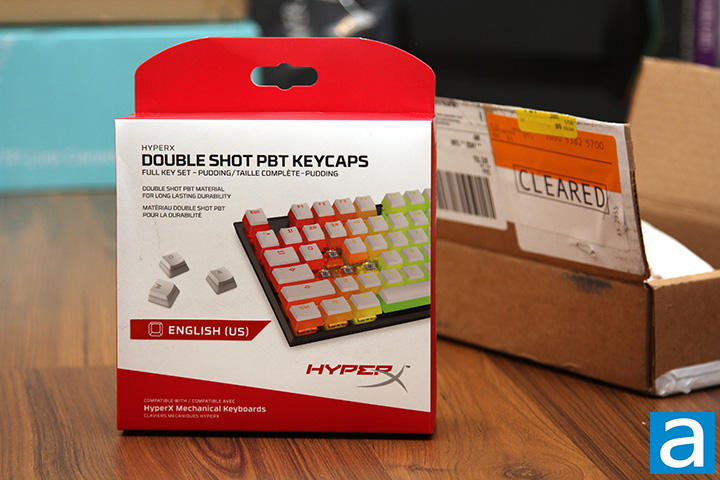 As always, our HyperX Double Shot PBT Keycaps came in retail packaging. This box art is a bit of a departure from HyperX products we have reviewed in the past. The typical red and black color scheme is now replaced by a red and white color scheme; while it is not a radical departure from the company's usual palette selection, it looks a lot cleaner without sacrificing brand identity in my opinion. As you can see in our photo above, a shot of the RGB version of the HyperX Alloy FPS keyboard using the Double Shot PBT Keycaps is present. The model and product type, HyperX Double Shot PBT Keycaps Full Key Set - Pudding, is printed at the upper left-hand corner. Miscellaneous information like the English (US) layout and compatibility with HyperX Mechanical Keyboard can be found on this side as well. Feature highlights presented in many different languages can be found at the back of the box.
Before we move on, let us take a look at the specifications of the HyperX Double Shot PBT Keycaps (White), as obtained from the manufacturer's website:
Layout: English US (104 Keys)
Material: PBT
Color: White + Translucent White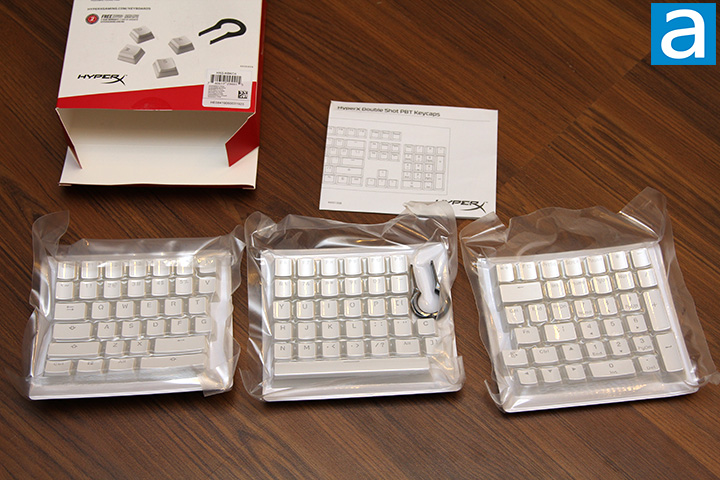 Out of the box, you will receive three vacuum-sealed bag of keycaps along with a keyboard layout diagram. The diagram is a convenient reference after you pulled all the original keycaps off and you are putting new ones on. The keycaps in each vacuum-sealed bag are backed by a cardboard insert to give the packaging a little more strength, and the keycaps are arranged in close order corresponding to an actual keyboard for easy setup. A HyperX-branded plastic keycap puller is included for easy swapping. Personally, I think a metal wire-based puller would have been better, since plastic ones sometimes have a hard time pulling, not to mention the tabs at the bottom could wear out quickly.
Here is a closer look at some of the keycaps. If you are unfamiliar with different types of keycaps, the most common one found are made out of acrylonitrile butadiene styrene (ABS) plastic. The HyperX Double Shot PBT Keycaps we are reviewing today, as its name suggests, are made out of polybutylene terephthalate (PBT), which are stiffer, harder, and has better color retention. Compared to the stock ABS plastic keycaps, the PBT keycaps have a thicker top, but the sides are of the same thickness. The pudding design with sides that are translucent white are there for better light spreading and diffusing compared to opaque models, while the top is solid white. The white version is actually a new release from the company. It is also available in solid black with translucent white sides if that is your jam.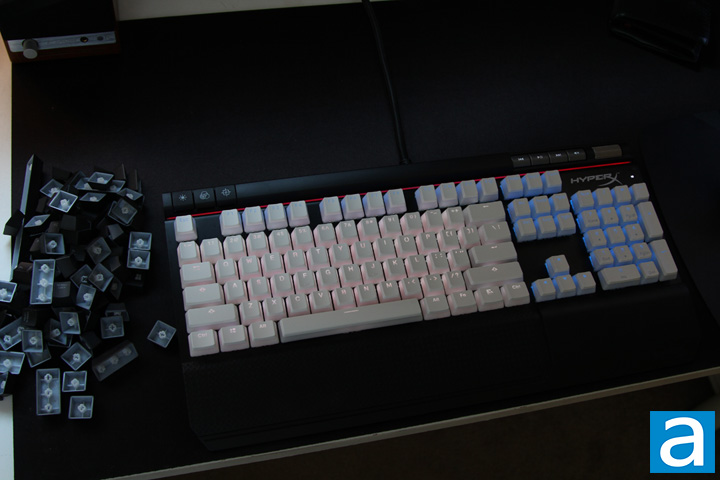 I do not know what else I could reasonably discuss about the HyperX Double Shot PBT Keycaps, so I got down to work and replaced all the keycaps on my HyperX Alloy Elite RGB with HyperX Double Shot PBT Keycaps. The included plastic keycap remover is standard fare and the process is relatively simple for those who are familiar with standard Cherry MX stems. Simply pull off everything, give your keyboard a good cleaning if necessary, and put the new keycaps on. After about fifteen minutes of work, the job is complete as you can see in my above photo. The HyperX Alloy Elite RGB is one of my favorite keyboards since I got it, and it has been my daily driver on my main desktop computer for quite a while now. The laser etching on the keycaps are top-notch with clear and legible font. The inscriptions are mostly printed on the top line with few exceptions to best accommodate opaque Cherry MX stems. The translucent sides provide more diffused light on the side.
-----------------------------------------
In my HyperX Alloy Elite RGB review in April 2018, I mentioned using PBT keycaps would be a big improvement in user experience over the original ABS keycaps. The keyboard is still one of my favorite keyboards of all time, and the lack of PBT keycaps was one of the few real complaints I have had in my original review -- if you count that as a real complaint -- about an otherwise nearly perfectly executed product. Well, here is the solution: The HyperX Double Shot PBT Keycaps seals the deal to deliver yet another winning punch for the company. The double shot PBT keycaps feature top notch laser etching with clear and legible font, while the plastic itself is of excellent stiffness and hardness as one would expect. The pudding design is also an upgrade, in my opinion, over the stock opaque black keycaps from the factory for better use of the keyboard's RGB backlighting. For about $25 at press time, the HyperX Double Shot PBT Keycaps costs as much as an economy keyboard and almost 25% of an actual HyperX Alloy Elite RGB, but I guess you got to pay to play, haha. I just wish it came stock from the factory, especially with the company's higher end model. Other than that, a wire clip-based puller would have been better. If you are looking to make the most of your HyperX keyboard, this kit will make your already excellent keyboard even better.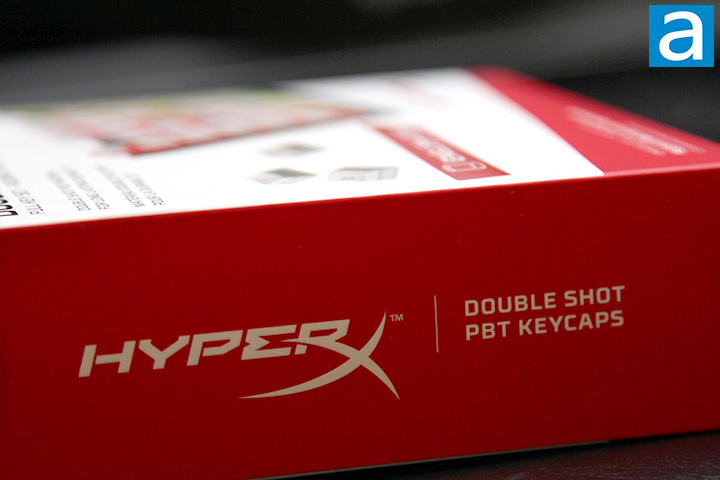 HyperX provided this product to APH Networks for the purpose of evaluation.
APH Review Focus Summary:
8/10 means Definitely a very good product with drawbacks that are not likely going to matter to the end user.
-- Final APH Numeric Rating is 8.0/10
Please note that the APH Numeric Rating system is based off our proprietary guidelines in the Review Focus, and should not be compared to other sites.
The HyperX Double Shot PBT Keycaps (White) gives your HyperX keyboard an upgrade in feel and in looks.
Do you have any comments or questions about the HyperX Double Shot PBT Keycaps (White)? Drop by our Forums. Registration is free, and it only takes a minute!