By: Aaron Lai
May 26, 2017
At the beginning of this month, I went to San Francisco for a week with a friend, and it was a pretty fun experience. We got to see all the touristy places around the city in addition to finding some lesser known spots. However, the months leading up to this trip was not an easy one. As I had never been to San Francisco before, there was a lot of things I did not know. My friend whom I was traveling with was quite busy in the months leading up, so I was tasked with doing some of the planning and figuring out of places to visit. While the larger questions of places to visit and to eat were quickly completed, the logistical challenges, like how to go from place to place, took a bit more time. Trying to figure out and navigate San Francisco's public transportation was a bit of a challenge, especially when they had things like six different bus stops at one intersection. Other challenging tasks involved figuring out how to schedule the right amount of time for attractions. Considering this was the first time I have ever done any sort of planning for a trip, it was fun, but also full of learning experiences. It may not have been the easiest of trips to travel on, but I think it will help me for future trips. Now, the HyperX brand is not an amateur in the gaming peripherals business, and they have been building out their portfolio. Today, we have their Pulsefire FPS, the first HyperX mouse, so I have to wonder, will this mouse be an excellent contender right out of the gate, or will there be growing pains in the process? I guess we will find out as we look at today's review!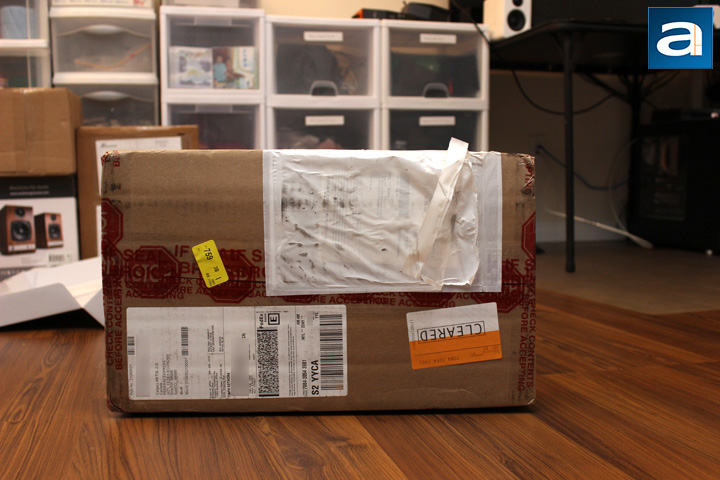 Today's review unit of the HyperX Pulsefire FPS arrived from their offices in Fountain Valley, California. For your reference, Fountain Valley is a small suburban city in Orange County. Other large manufacturers such as D-Link Corporation and Hyundai Motor America call this place home, but Kingston Technology as a whole employs more than both of these companies combined as of 2009. Otherwise, the corrugated cardboard box arrived in relatively good condition. Traveling with FedEx's 2Day International service, there were barely any dents or bruises on the box to cause for any alarm. Otherwise, the products were also sheltered with some brown packing paper to prevent any further damage during shipping.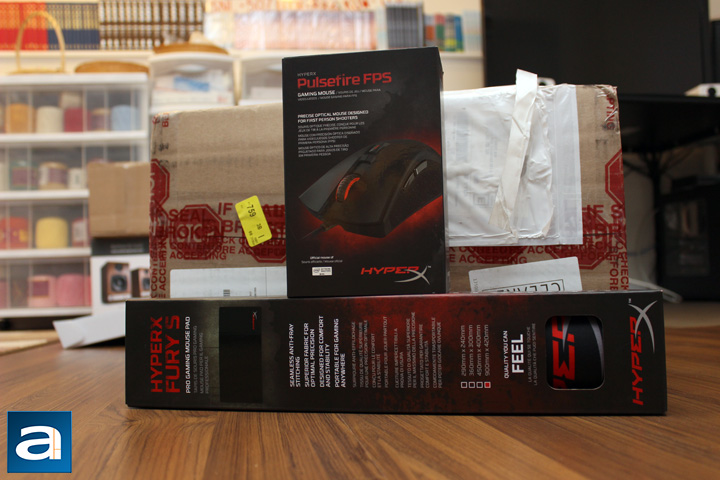 Out of the box, we have the two HyperX products shipping today. In addition to the Pulsefire FPS, we also have the HyperX Fury S. Both of these products' retail containers fall in line with all the other HyperX products we have seen, at least in terms of the black and red design. As for the Pulsefire FPS, you can see there once again is no mention of Kingston, as this is from their gaming division of products. The front has some features in multiple languages, while the side has some more specifications. As indicated by the name and a blurb on the front panel, this mouse is specifically made for first person shooter games, though we will see if this is the case later on. One thing I have always liked about HyperX and their products is their attention to detail when it comes to packaging. It usually is something that feels really premium, even if it does not necessarily cost a fortune. The HyperX Pulsefire FPS is a similar story, with a sleeve covering a sleek black box.
Before moving on, I grabbed the specifications from the manufacturer for your perusal:
Specifications
Ergonomic: Right handed
Sensor: PixArt PMW3310
Resolution: 400/800/1600/3200 DPI
Speed: 130ips
Acceleration: 30g
Buttons: 6
Left / Right switches: Omron
Left / Right durability: 20 million clicks
Backlight Single color: Red
Connection type: USB 2.0
Polling rate: 1000Hz
USB data format: 16 bits/axis
Dynamic coefficient of friction: 0.16µ1
Static coefficient of friction: 0.21µ1
Cable type: Braided
Weight (without cable): 95g
Weight (with cable): 120g
Cable length: 1.8m
Dimensions: 127.54mm x 41.91mm x 71.07mm (L x H x W)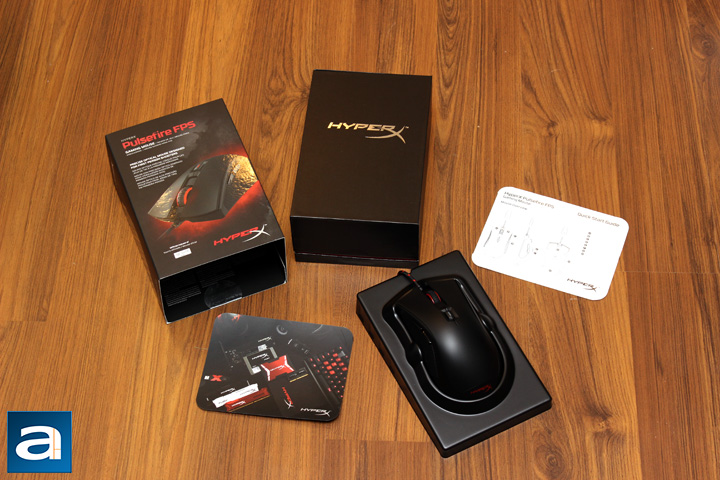 Out of the HyperX Pulsefire FPS box, we have a few things to note. As previously mentioned, the front panel is just a sleeve, and underneath is a clean black box with HyperX printed in silver on it. Opening up this clamshell case allows us to get to the Pulsefire FPS held in a plastic frame. Otherwise, there is a small pamphlet to explain to users what a plug and play mouse is, haha. In all seriousness, it also goes over some of the specifics when using the mouse, though I will explain them later on. There is also a small card from the HyperX team. Just for your information, the Pulsefire FPS comes with a two year warranty, which is pretty standard for these sort of peripherals.
---
Page Index
1. Introduction, Packaging, Specifications
2.
A Closer Look - Hardware
3.
Subjective Performance Tests
4.
Conclusion