By: Ben Joubert
September 22, 2017
There are many rites of passage in many places around the world. It can be seen in some cultures, or even companies, where they have a sort of ceremony for people who accomplish something new. In Canada, we have a ceremony for the engineering students when they graduate, which they are reasonably secretive about. Rites of passage can take many different forms. When I went to high school in South Africa, there was an initiation process for all the new students, which was similar to a rite of passage -- almost a sort of challenge you need to go through to be part of the school. I found the entire process laughable. It was almost like, "Yeah, you need to go through all these uncomfortable challenges so that you will be proud of the school you are a part of now." All the different stuff we were put through was meant to make us uncomfortable to somehow build up the team within the house. The school had nine houses and every student was placed into a house, kind of like Harry Potter. Each house leader put students through different tasks. Should the school not have done something good for the students to make them proud of the school? The entire process was simply ridiculous in my opinion. APH Networks does not have a rite of passage. However, in the past year, there has been a type of product everyone on staff have reviewed except for me. That class of product is a computer chassis with a tempered glass window. I have not been able to get my hands on an elegant looking glass paneled computer case until today. Today, we have the In Win 101 computer case, which offers a sharp modern look and lots of cooling options. Read on to find out about everything else this case has to offer!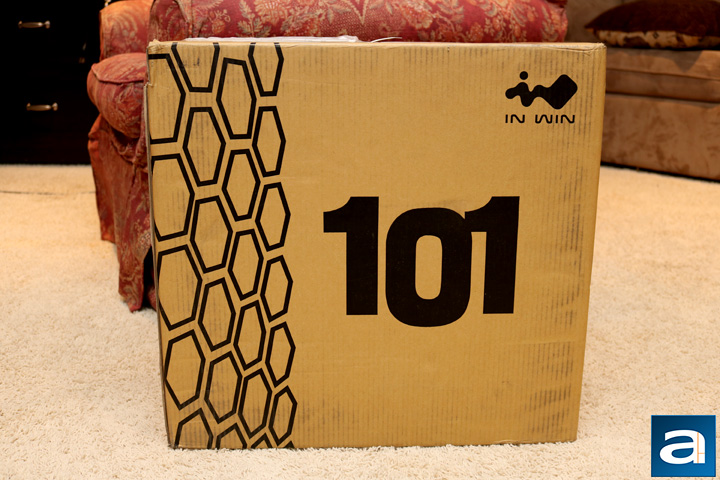 The In Win 101 arrived all the way from California, USA to our sunny Calgary, Alberta, Canada. It was transported via FedEx International Ground and arrived in mostly good condition. There was an ugly dent on one side of the box, which pierced straight through. Other than that, there was no major damage found anywhere else on the box. As usual, the shipping box is also the retail box for the computer case. As such, there is some information found on the sides. The one side has all the features and specifications listed as well as which color of case is found inside. The other side is left blank. The front and back look identical. There are two color options for the In Win 101; either black or white. The black version has a red LED, while the white version has a blue LED. Today, we have the white version of the case, which I like more than the black version.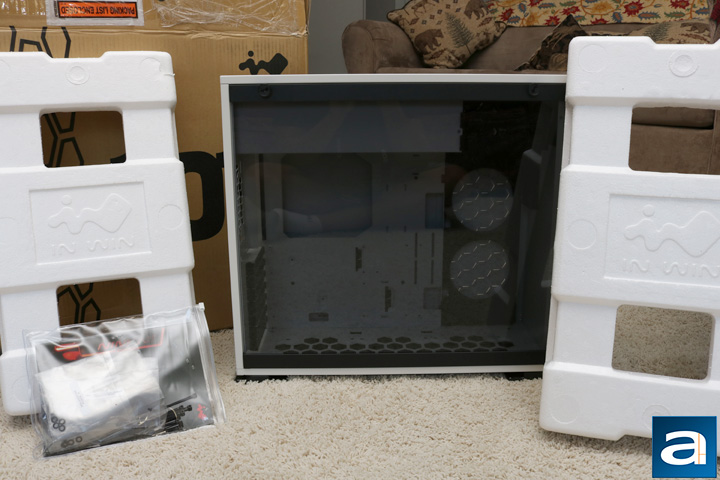 The steps taken to ensure the safety of the In Win 101 was sufficient. After opening up the box, I was met with two Styrofoam blocks on either side of the case, and the chassis was also placed in a plastic bag. The Styrofoam blocks did a good job in keeping the case from moving around, while the plastic bag prevented dust or some more serious damage to the surface like scratches. Unfortunately, there was no covering for the tempered glass, but the glass was clean when I received it. Also found in the packaging was a medium sized plastic bag. Inside of this bag was the manual and the screws for installation, as well as some zip ties for cable management. Regardless of the ugly dent in the shipping box, everything still arrived in good condition.
Before we move on, here are some specifications, as obtained from the manufacturer's website:
Specifications
Model: 101
Color: Black, White
Case Type: Mid Tower
Material: SECC, ABS, PC, Tempered Glass
M/B Compatibility: 12" x 10.5" ATX, Micro-ATX, Mini-ITX
Expansion Slots: PCI-E x 7
Maximum Compatibility: VGA Card Length : 421mm (Maximum)
VGA Card Length: 305mm (With Side Radiator)
CPU Heatsink Height: 160mm
Front Ports: 2 x USB 3.0, HD Audio
Internal Drive Bays: 2 x 3.5"; 2 x 2.5"; or 4 x 2.5 ")
Thermal Solution Compatibility: 1 x 120mm Rear Fan / 120 mm Radiator
2 x 120mm Side Fan / 240mm Radiator
3 x 120mm Bottom Fan / 360mm Radiator
Power Supply Compatibility PSII: ATX12V - Length up to 200mm
Product Dimension
Product dimension: 445 x 220 x 480 mm (17.5" x 8.7" x 18.9")
With screw & handle height: 445 x 226 x 480 mm (17.5" x 8.7" x 18.9")
Package Dimension: 532 x 282 x 506mm (20.9" x 11.1" x 19.9")
Net Weight: 7.35kg / 16.2lb
Gross Weight: 8.65kg / 19.1lb
---
Page Index
1. Introduction, Packaging, Specifications
2.
Physical Look - Outside
3.
Physical Look - Inside
4.
Installation and Conclusion