By: Aaron Lai
March 20, 2015
As you may have read in the forums, I recently purchased a Dell U2414H to pair with my current LG 24EA53V-P. I have always been a big fan of having dual displays, as it increases productivity through multitasking. Even if you are just using multiple monitors for different internet browser windows, it still is much easier to swing your head around than to minimize and maximize windows. When I purchased my first LG monitor, I was ecstatic to just get an IPS display for the first time at a relatively good price. However, the Dell cost quite a lot more. You might ask, "Both of the monitors use a similar-sized LG in-plane switching panel. Why would you pay more?" This is a valid question, but I will say it is unfair to compare the two products. With the Dell U2414H, there are a lot of extras, like a sturdy height adjustable and rotatable stand, multiple DisplayPort inputs, HDMI, and USB 3.0. These features, as well as others, make the monitor worth the extra Benjamin. That being said, the LG monitor has served me well during my time of owning it, and I find no need to actually have to swap it to match the thin bezel of the U2414H. Thus, on my table today are two differently priced products serving the same purpose, but with different implementations and features. Obviously to get more features and glam, you will have to pay more for them, but the LG proves we can get quality products at a cheaper price. Shifting my focus a bit, I see a similar story with the Bluetooth speakers I have. With the Inateck BTSP-10 Plus resting on my table as well, I already know this is a lower priced product of $50 at press time, but how will the product compare? Will it live up to, or even surpass its expected performance? And how will it fare APH Networks' audio testing? These questions will be answered in today's review, so read on to find out!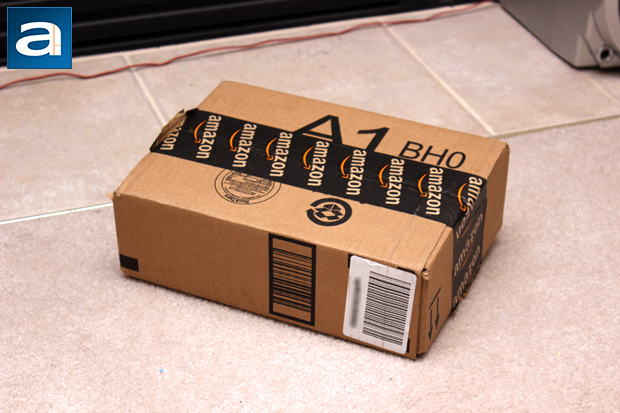 Today's review unit of the Inateck BTSP-10 Plus arrived via Canada Post Expedited. Using their quick service, Canada Post actually delivered this from Amazon, since the manufacturer just ordered one for us via the popular online retailer. This is made clearer by the large Amazon packing tape around the openings on both sides. Majority of Inateck's business is done through Amazon, rather than setting up their own online store. This business model should work quite well, as many are familiar with shopping on the gargantuan online store, and it creates more exposure for the company itself. Otherwise, Canada Post has once again done an excellent job of delivering this product with zero bumps or bruises. So I pulled out my handy utility knife and got to work.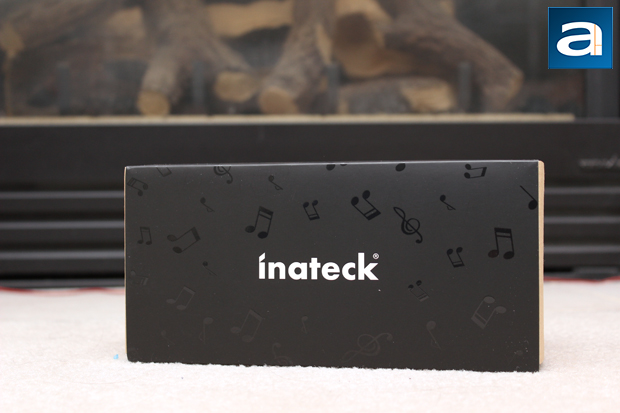 Sometimes, when it comes to design, there is minimalism, and then there is just downright nothingness. Pulling out the retail box of the Inateck BTSP-10 Plus reveals a pretty blank design. However, this is not a big deal. The entire design is printed on black paper sleeve, which wraps around the container. Inateck's logo and name is printed front and center, with many musical notes and symbols like eighth notes, sixteenth notes and treble clefs. Luckily, there was no treble trouble pulling off the sleeve, to reveal an even more generic brown corrugated cardboard box, marked only by Inateck's logo. Now if these items sold in your standard brick and mortar store, this might be an issue, since potential customers would have no idea what they are looking at. However, since this is done solely through Amazon, most buyers would know the specifications and features, as they can find it on the internet page. Unless you order dozens of Amazon products daily, you probably can keep track of what you are purchasing.
In the case you have yet to see the online storefront, I have attached the specifications, as obtained from the manufacturer's page:
Specifications
Bluetooth: V4.0, CSR 8635
Battery: Packed with a 2100 mAh built-in rechargeable battery enables a 9-15 hours of playtime.
Weight: 13.75 oz/390 g
Size: Height: 2 in./5 cm
Width: 2.4 in./6 cm
Length: 6.5 in./16.5 cm
In the Box: A BTSP-10Plus x1, A USB Changing Cable x1, A 3.5mm Audio Cable x1, A Manual x1, A Carrying Bag x1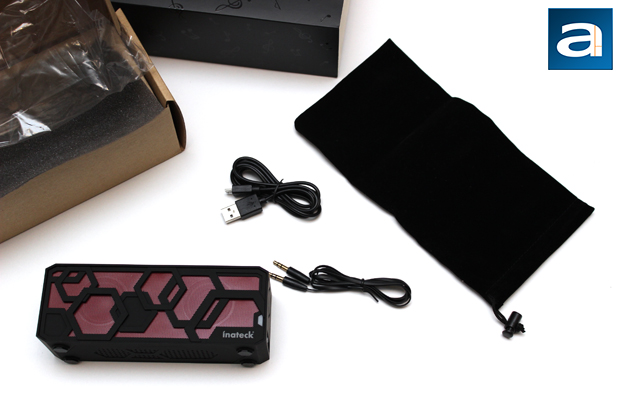 I flipped up the lid, and I was greeted with a thin protective foam layer. Underneath this layer was the Inateck BTSP-10 Plus wrapped in a small plastic bag, and held in a cardboard carton tray. The Inateck BTSP-10 Plus came with three other accessories to note. There is a male-to-male micro USB to USB 2.0 cable, presumably used for charging the BTSP-10 Plus. There is also a 3.5mm flat-wire auxiliary cable, used to plug your non-Bluetooth devices into the speaker. Finally, there is a nice felt carrying pouch to store your BTSP-10 Plus in on the go. There also is a small paper manual for the basic functions and features of the Bluetooth speaker.
---
Page Index
1. Introduction, Packaging, Specifications
2.
Physical Look - Hardware
3.
Subjective Audio Analysis
4.
Conclusion