Page 3 - Subjective Audio Analysis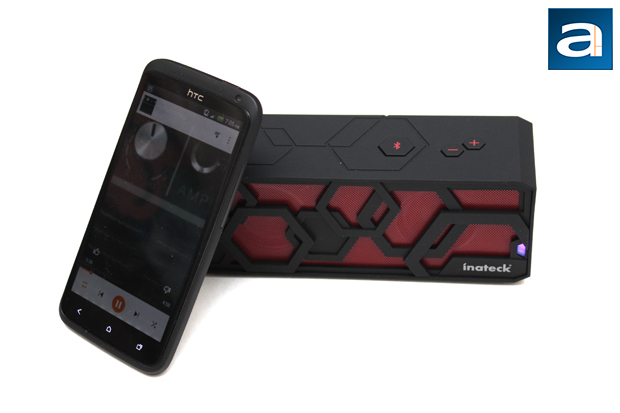 As with all the audio products we review here at APH Networks, it takes quite a bit of experience and training of the ears before we can begin making a fair judgment. Even for the best of audiophiles, it can be hard to produce an exact and accurate evaluation of a product, without a thoroughly familiar product to use as simultaneous reference. While I will not claim to be the reviewer of all reviewers for audio devices, I can say quite a few other computer review sites have editors lacking in training for reviewing anything audio related. Give them anything and all you will get is some vague description of "decent bass, average midrange, awesome treble, clean sound, 10/10". Do not get me wrong though; there are knowledgeable audio reviewers out there on respected online media outlets, but they are far and few.
As with the Inateck BTSP-10 Plus, I will put this speaker through a series of subjective tests, and try to come up with the most objective rating as possible (As ironic as it sounds). The tests were conducted over Bluetooth 4.0 on my computer. I recently purchased an Inateck Bluetooth USB adapter, so I was able to stream audio directly from my computer, running Windows 8.1. I have also used Bluetooth 4.0 HTC One X+ running Android 4.1.1 Jelly Bean, with all audio enhancements disabled, as well as Bluetooth 3.0 on my Google Nexus 7 (2012) running Android 5.0.1 Lollipop. Since this is a digital transmission, the source does not affect sound quality, and so their results have been combined together. As this is also a wired capable device, I plugged my Creative Zen 4GB into the BTSP-10 Plus for a brief while. After over sufficient break-in time, we put the Inateck BTSP-10 Plus to the test. All tracks are FLAC or LAME encoded MP3s at 192kbps or higher.
Before continuing however, I should put these results into context. The Inateck BTSP-10 Plus is a compact, battery powered, Bluetooth speaker, retailing for around $50 USD at press release. To even assume they would compare to other speakers we have received, such as the Audioengine A2+ or the B2 would be completely ridiculous, and frankly, out of line. Rather, you would be looking at similar products such as the Adesso Xtream S2 for comparison. The real market for the BTSP-10 Plus is for those looking to provide some extra oomph to your tablet or smartphones, since those devices, for the most part, do not give a lot of sound output. Using the Inateck speakers will allow people to dance out to their jam in the living room, or make a phone call while cooking in the kitchen. Thus, keep these in mind as I give my perspective for the BTSP-10 Plus.
Oddly, I bring up the Adesso Xtream S2 as a product to compare to, but to be honest, these two speakers sound very similar, with very similar, if not exactly the same characteristics. Starting where I normally begin with, let us take a look at the three ranges: Bass, midrange, and treble. At the low end, it is rather lacking. Keeping in mind the small size, bass requires more powerful speakers to more move air. These drivers on the other hand are not only small at 3W, but they are intended to produce a full range of sound, so expecting decent bass would be foolhardy. However, I should say the low frequencies, while light, are present nonetheless. Since you are missing out on the 20 to 50 Hz output, you will hear the lowest end bottom out. However, for what is there, you still get a good character of bass, with a rounded output. The lightness overall, plus a bit of a hollowness could be improved on, but our result today is still reasonable, with respect to the physical and driver limitations.
As for the midrange, you can tell this center frequency has been boosted, especially near the high midrange, just under the treble. This is completely as I would expect, since this gives the BTSP-10 Plus a louder-than-expected experience. Thus vocals, guitars, and piano sounds are clear but artificial. It lacks the natural sounding wood resonance from acoustic guitars, or from a grand piano. The other downside is a hollow sounding midrange, which lacks the substance found in more expensive speakers. One caveat to this is these type of characteristics will prove favorable for voice calls, as you will get more than ample volume to hear your friend on the other side of the line.
When it goes to the higher range of treble, you can hear a relatively sharp drop off, especially near the highest heights. It is recessed, like Alberta's economy, and attenuated. Altogether, this creates an ominous or even dark sounding set of speakers. Overall, treble is still present, but the balance between all three is still less than I would like. I would consider myself favoring more bass more often than not, but with the Inateck BTSP-10 Plus, I would like to see some more treble. High hat clashes come off as a bit clashy, for a lack of better terms. The sound produced in the treble however is still mostly wet but, much like the bass, the lack of intensity is a major source of the problem.
As for the overall package, I think the three paragraphs above will give you a good idea for characteristics. As I have referred to before in past audio reviews, audio products should produce a balanced pyramid of sound power. The foundation is made with the bass, and the midrange would be in the middle. Supported by these two frequencies is the treble at the top. While the treble is quite small, the bass is also lacking, which means the boosted midrange is unsupported. To draw it out on a frequency graph would be similar to drawing a nice flipped V. Again, with respect to the size and price, this is pretty much as I would expect. Most audiophiles would agree however this overall effect is not favorable. Layering is also an issue, with sounds in similar frequency ranges getting mashed together in one melting pot. This means the output of similar frequencies start blending together, and becomes hard to differentiate between instruments. Classical music, especially large orchestral pieces will start revealing these problems, since so many instruments are operating in a similar frequency range at any given moment. When it comes to sound cohesion, the layering problem has a positive side effect, since everything sounds together. Unfortunately, this is too together, and just gives off a blended output, rather than a clean one. Transitions between layers are also decent, but again because nothing is differentiable, I would only expect this to be true.
When it comes to imaging, I really cannot give the BTSP-10 Plus much credit. Again, this is a very small speaker and a budget price, and it produces a very directional sound. If Harry Styles and his gang of five wanted to brand anything when it comes to Bluetooth speakers, then the BTSP-10 Plus would be an excellent choice, since the output comes from one direction. Close your eyes, and you will know exactly where the speaker sits. You can tell the speaker tries to implement a bit of depth into the sound, but at most I would label this as a 1.5D in terms of dimension. I never expected the Inateck BTSP-10 Plus to be good for soundstaging, and this is the exact result I received in the end.
During daily usage, the Inateck BTSP-10 Plus was straightforward and easy to use. There were a few minor things to note, however. After seeing the ARCTIC P614 BT come with near field communication, or NFC, for pairing, it would be nice to see the same functionality in the Inateck speakers. This is not a deal breaker, but more a nice to have. Secondly, I was not able to get the full thirty three feet of range as advertised without experiencing dropped transmission or output lag, but it could possibly be a problem more with my source. One thing I was impressed was the lack of lag in audio output, usually evident when streaming audio from videos. However this also speaks volumes to the advancement of Bluetooth technology as a whole, and not just the speaker itself. Playing my favorite rhythm game Cytus still exhibited a bit of lag, but this is much less than the other Bluetooth products I have reviewed.
---
Page Index
1.
Introduction, Packaging, Specifications
2.
Physical Look - Hardware
3. Subjective Audio Analysis
4.
Conclusion