By: Kenneth Kwok
Edited by Jonathan Kwan
September 13, 2008
It's quite popular nowadays for consumers and enthusiasts alike to own at least one or two external hard drives and hot swap them for data logistic purposes. Unfortunately, most of these devices are limited to either eSATA, USB or Firewire on the external interface. These products certainly make mass data storage devices more portable and accessible, but its nature makes it only a temporary means of physical storage (Placing it on your desk and using it in a permanent fashion doesn't really cut it). For those users that want the convenience of an external drive and performance of an internal drive, but without the fixed format of an internal drive, an internal hot swapping bay may be a viable solution -- making it extremely convenient to swap hard drives, yet taken into a semi-permanent space. Let's say you have five people who want to use a single computer, but do not want to mess around with the data on one hard drive, and penta-booting is not an appropriate way of solving this problem. Solution: Have five hard drives, one for each user, and let each user plug in their own hard drive for their own usage session. That may not be everyone's case, but hey -- we're just giving a possible scenario. Today, we will be taking a look at the iStarUSA T5F-SS, an internal SATA hard drive hot swap bay. I have to admit I never heard of iStarUSA before writing this review, but they do seem to be a long standing maker of OEM and ODM products.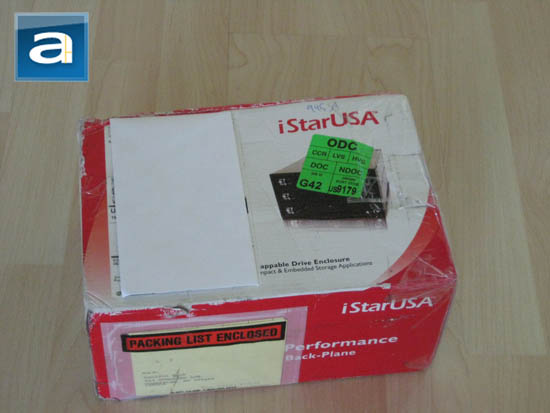 Our review unit of the T5F-SS came in a badly damaged, basically recycled iStarUSA BPU-230 box. Instead of using a standard corrugated shipping cardboard box, they opted out for (re)using an iStarUSA box for shipping. Initially, I thought iStarUSA might have sent me the wrong product, but I was pleasantly surprised that it contained the T5F-SS. The box itself was padded with cut-out foam pieces, which made the transportation of its contents safer.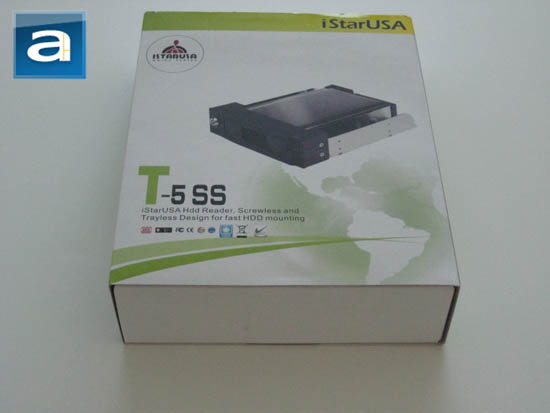 The iStarUSA T5F-SS came in retail packaging. It has a pretty generic color scheme of green on white. The top right has the iStarUSA label in bold font. A picture of the product is shown on the middle of the box. The overall effect of the box isn't exactly unique, but it does offer a generic, I mean, "clean" design.
Before we move on, let's take a look at the specifications as obtained from iStarUSA's site:
Model Number: T5F-SS
RoHS Compliance Version: Yes
Standard Drive Bays: 5.25" Drive: 1
Cooling Fan: 1x40mm
Interface: SAS / SATA I/II
Connectors: 2 x SATA Connectors
4 Pin Power: Connector
Materials: Frame: Metal
Front Panel: Plastic
LED Display: HDD Activity
Security: Key Lock
Certification: TUV, CSA, CUL/ UL, CE
Packaging Information: Mobile Rack, Manual, Keys, and Screws
Dimensions (W x H x D): 146 x 40 x 190 mm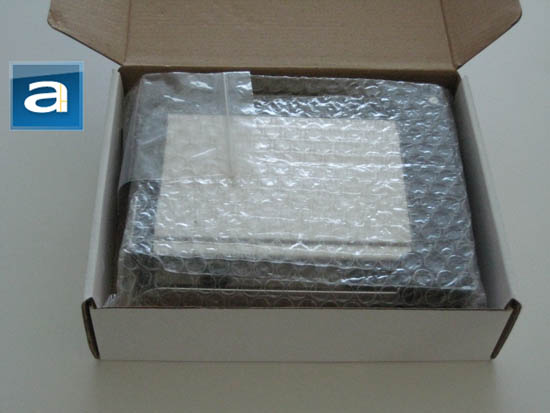 iStarUSA used really simplistic packaging -- and we don't mean by the design (Well, that too) -- as mentioned earlier. A white box can be easily slid out the side; opened via 2 flaps on the side, and contains the instructions, the screws, the keys and the drive bay itself. The box is small enough that the tray inside will not move around.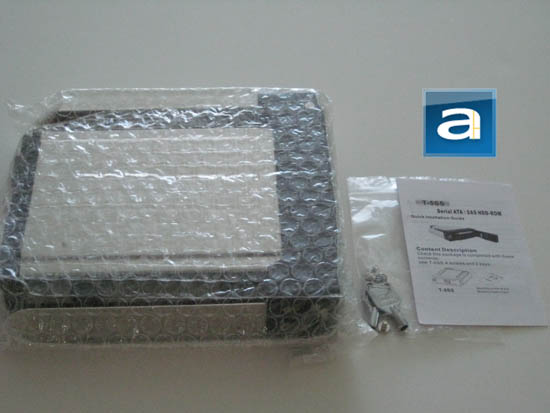 iStarUSA's T5F-SS hot swap drive bay is wrapped in bubble wrap for the packaging, and is placed just above all the other miscellaneous accessories. The included keys are used to lock and unlock the front panel; to discourage theft and prevent accidental full removal of the hard drive. This features allow users access to drives only when the user has the key to open the front panel.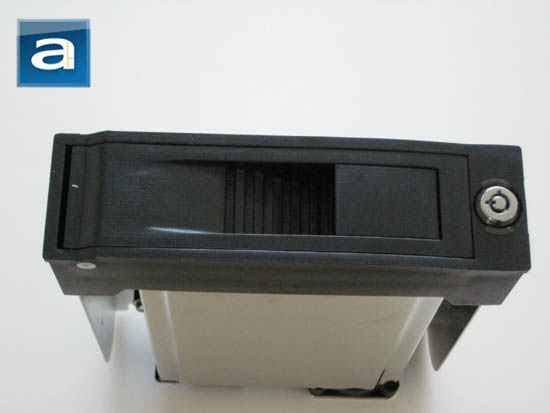 The iStarUSA T5F-SS has a black plastic faceplate, which is also available in both white and silver. This front includes a easy open flap and also a lock for locking the hard drive in for various purposes, as mentioned earlier. The iStarUSA T5F-SS is designed to fit into standard 5.25" drive bays, and accommodate 3.5" SATA hard drives. The rest of the body is made of aluminum. The compartment for the hard drive is completely enclosed by both the aluminum shell and the plastic cover. By using aluminum, it retains a degree of both being lightweight as well as the ability to dissipate heat generated by the hard disk drive when turned on. The front cover can be easily opened using a spring lock.
Both sides of the iStarUSA T5F-SS has arrays and sets of mounting holes drilled on the thin aluminum side panels. This design permits the iStarUSA T5F-SS to be installed in either orientation into the case 5.25" drive bay (Normal or upside down). In essence, the way the T5F-SS is be mounted can be changed to suit the preference of the user -- usually, for cabling reasons.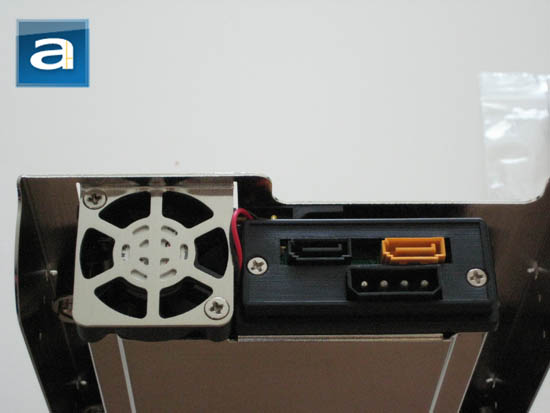 The back of the SATA internal hard drive hot swap bay has a fan implemented at the back. For data, 1 SATA port, 1 SAS port, and one standard molex connector is placed for connecting to your motherboard and obtaining power, respectively. The fan is used to draw warm away from the hard drive and into your computer case, as the TSF-SS is almost completely unventilated otherwise -- therefore requires active cooling. The black connector is used for SAS while the yellow connector is used for SATA.
As its aluminum build allows for some passive cooling to take effect, where the heat is conducted through the aluminum, the inclusion of the fan provides active cooling for heat to dissipate at a more efficient rate; as the iStarUSA T5F-SS' 3.5 drive bay is solid/unventilated passive cooling will not do the job adequately. The measured diameter of the fan is 3.5cm. Unfortunately, like majority of fans of this size, it comes at the price of noise -- this one is not particularly loud, but it's definitely audible at a given distance. There's no vibrational dampeners on both the inside or the outside of the iStarUSA T5F-SS, therefore in relation to noise -- it may generate more of such due to the lack of rubber dampeners.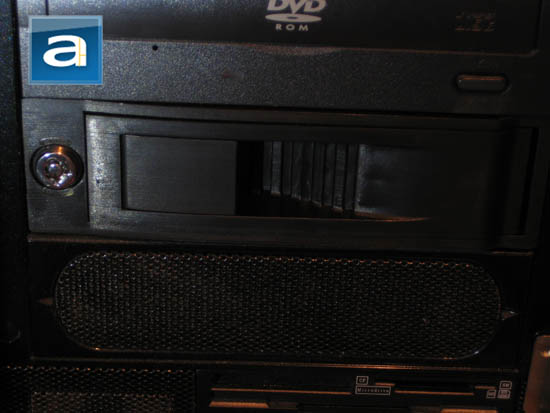 Installation of the T5F-SS is fairly straightforward; everything required to install the iStarUSA T5F-SS is to plug it into an empty 5.25 inch bay in your case. Afterwards, secure by putting on the screws, or if your case's 5.25" bays are tool free -- secure correspondingly. On the other side of the unit, the power cable, and SATA or SAS cable needs to be connected. Voila, the "hard" part is now done -- it's installed the same way as any standard 5.25" drive would have been.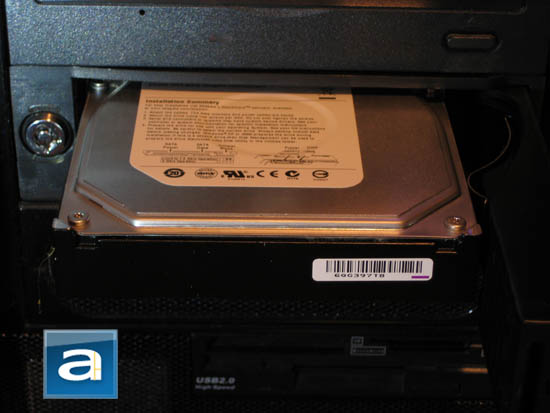 Usage of the iStarUSA T5F-SS is also fairly simplistic, as expected from products of this nature haha. The purpose of this product is allow the user to easily insert and remove the hard drive as desired, and that's all that is required for it to work in the first place. However, there are some small features that make this task much more accessible and convenient. The first feature is the spring lock mechanism, which allows the user to open the drive bay cover outwards by simply pulling out a handle. Another feature would be the 'popback' when you open the front cover using the spring lock. In this way, the user is able to pull out the inserted hard drive easily and painlessly. This also makes inserting the hard drive easier as well; this lock will allow the user to all the way in and closing the cover indicates implicitly indicates that the user has done it right. The third and final feature highlight that I would like to discuss is the key lock feature; while it will not protect from theft, it will discourage such activity as well as preventing accidental full removal of the drive.
-----------------------------------------
The iStarUSA T5F-SS cannot be exactly classified as a unique product -- but what really is truly unique anyways? What we're concerned about is its great features such as the implementation of both SAS and SATA drive compatibility. Inclusion of a spring lock mechanism and key lock mechanism allows for both ease of use, convenience, and many practical qualities. The build quality of the iStarUSA T5F-SS is generally good; one thing is that the included manual has many contradictions as well as weird spelling errors. One of the potential 'problems' noticed is related to the mounting aluminum panels on the sides -- where they are a bit on the thin side for probably more than desired flexibility. Also, there's no vibrational dampeners included to muffle noise generated by the vibrations of the hard drive -- the whole thing is all aluminum and plastic. Installation is a cinch. The fan itself is audible over other components evidently at average distance. Generally, it's nothing that's extremely exciting or offers revolutionary looks, but hey -- we don't expect such for products of this nature. It does its job well, and excels in certain areas. If the previously listed downfalls were fixed, then it would make more commendable internal 5.25" to 3.25" SATA hard swap enclosure.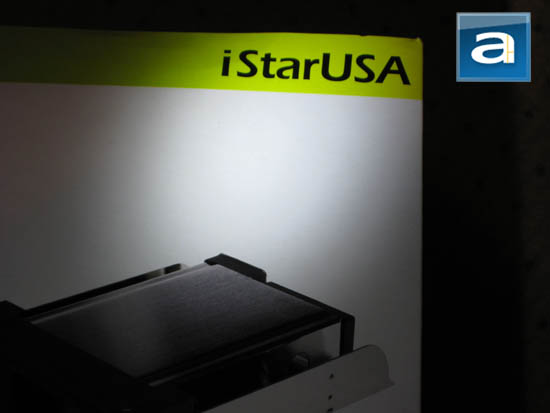 APH Review Focus Summary:
7/10 means Great product with many advantages and certain insignificant drawbacks; but should be considered before purchasing.
8/10 means Definitely a very good product with drawbacks that aren't likely going to matter to the end user.
-- Final APH Numeric Rating is 7.1/10
Please note that the APH Numeric Rating system is based off our proprietary guidelines in the Review Focus, and should not be compared to other sites.
The iStarUSA T5F-SS gives any computer an internal SATA hard drive hot swap bay instantly, and does its job as expected.
Do you have any comments or questions about the iStarUSA T5F-SS? Drop by our Forums. Registration is free, and it only takes a minute!