By: Ben Joubert
September 15, 2017
I recently arrived back in Calgary from a nice long vacation. As usual, after I arrived, I went straight to the baggage carousel. The Calgary airport offers a neat little ETA timer for when your luggage will arrive. Unfortunately, the timer was still a bit high when I reached the carousel. Fortunately, I was not too bothered about it, since I still had to wait for my ride to arrive. After waiting a couple of minutes, I received a phone call from my friend, and I told him where I was so he could meet me there. A few more minutes passed, and I could see him walking almost directly toward me. At his point, I had no doubt he would see me. However, I was mistaken. After another minute, he walked almost right past me, and I had to call out to him. Often times, when we are so focused on finding something in a specific location, we will easily miss what we are looking for if it is in the near vicinity. I have actually also had similar experiences in audio products, where I have had to go back to ensure I did not miss what the overall sound was. It is very easy to focus in too much on a specific frequency, and then miss how all of the frequencies come together to make a full and rounded sound. Today, we have the Kanto YU4 desktop powered speakers, which I have taken my time in evaluating to ensure I am not too focused to be blinded, causing me to miss out on the full experience. Read on to find out about it!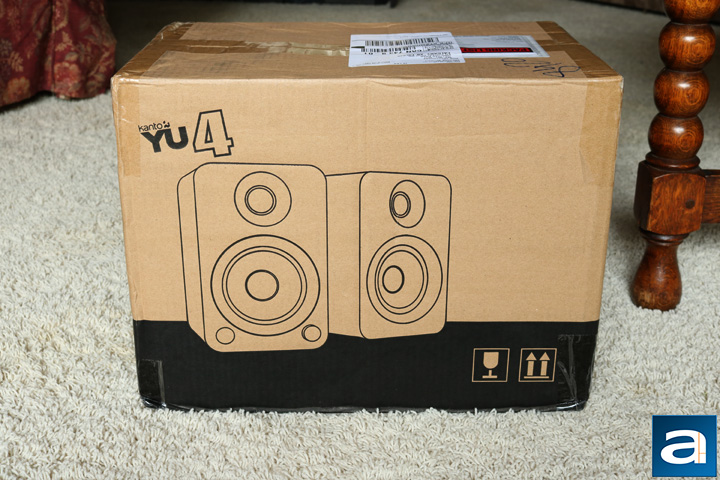 The Kanto YU4 arrived in a rather large brown corrugated shipping box. It actually did not have to travel far, as it shipped from Coquitlam, British Columbia, Canada via UPS Standard to Calgary, Alberta. With such a short travel distance, it is expected that there was not much damage done to the shipping package, which is true. The box arrived in great condition. As usual, the edges and corners were a bit beat up, but nothing to raise any concern over. Otherwise, the shipping box is specifically designed for these speakers, as the Kanto YU4 branding can be found on the front, with some pictures of the product.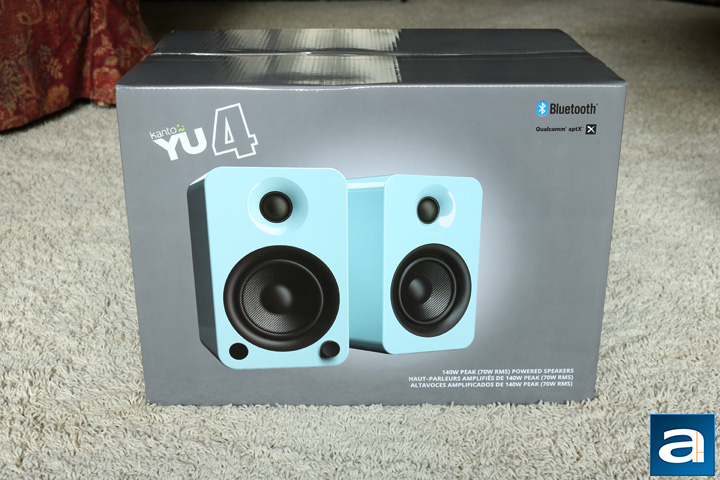 With the Kanto branding on the shipping box, I half expected it to be the retail box like with computer cases. However, I was mistaken. After opening the shipping box, I found the retail packaging sitting nice and tight inside. The retail box has a light gray color on every side, which actually balances quite well with the light blue color of the speakers. At the top left, we find the Kanto YU4 branding, while the top right and bottom right has some features. The back of the box has another big picture of the speakers, with a tag line stating it is the actual size of the product, which is really useful. One of the sides has all the specifications. Overall, I quite like the retail packaging, as it gets the product information across effectively.
Before we move on, here are some specifications, as obtained from the manufacturer's website:
Specifications
General:
Tweeters: 1 inch Silk Dome
Woofers: 4 inch Kevlar®
Remote: Included
Audio:
Amplifier Type: Class D
Nominal Impedance: 4 Ohm
Frequency Response: 60 Hz – 20 kHz
Total Harmonic Distortion: < 0.25%
Crossover System: 2-way
Crossover Frequency: 2.0 kHz
Inputs and Outputs:
Inputs: 1 x 3.5mm mini-jack AUX | 1 x RCA L/R with Phono Switch Inputs | 2 x Optical (TOSLINK) | 1 x Bluetooth™ with Qualcomm® aptX™
Outputs: 1 x Subwoofer | 1 x USB Charge 5V 1A
Speaker Terminals: Left and Right Binding Posts
Input Voltage / Frequency: 100V 60 Hz /240V 50 Hz (auto switching)
Input Sensitivity: 560 mV
Power:
Power Output: 140W Peak Power (70 Watts Total RMS)
Standby Power Consumption: < 0.5 W
Weights and Measurements:
Dimensions (each speaker): 5.5" W x 7.5" D x 8.7" H (14 x 19 x 22 cm)
Net Weight (active): 6.9 lb (3.2 kg)
Net Weight (passive): 5.5 lb (2.5 kg)
Gross Weight: 16.5 lb (7.5 kg) (boxed pair)
Shipping Box Dimensions: 16.7″ x 13.2″ x 11.3″ (42.5 x 33.5 x 28.7 cm)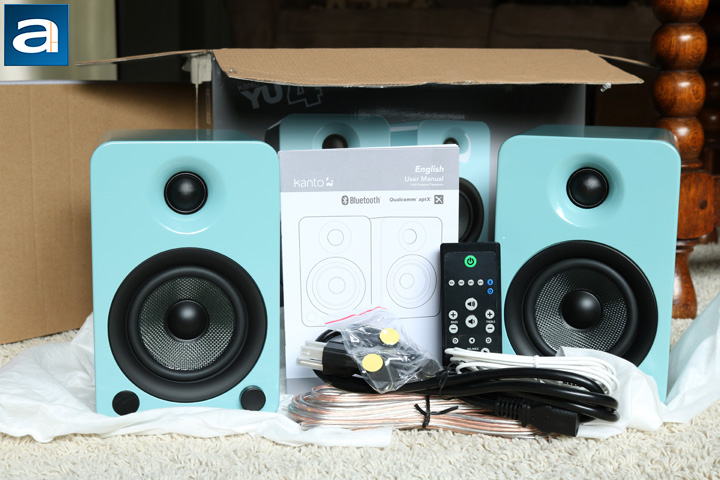 I am always careful with expensive speakers, and shipping them somewhere makes me a bit nervous. As such, I always appreciate if a lot of care was placed in ensuring the product's safety. Kanto delivered on this, and I was not disappointed in the steps taken to keep the speakers safe. After opening the retail box, I was met with a cardboard cover. On the back of this cover, there was polystyrene cut into two blocks, which fits the speakers to keep them in place. The speakers themselves are in cloth bags, protecting them from any surface damage and unwanted fingerprints. Found in between the speakers is a medium sized cardboard box. This box houses all the cables for set up, remote, and some padded feet, while the box itself is another preventative measure to stop the speakers from bouncing against each other.
Here is a list of the contents inside the retail box in addition to the speakers themselves:
Remote with batteries
Power cord
Speaker Wire
3.5mm Auxiliary Cable
Rubber feet
Manual
---
Page Index
1. Introduction, Packaging, Specifications
2.
A Closer Look - Hardware
3.
Subjective Audio Tests
4.
Conclusion