By: Aaron Lai
November 4, 2016
A few weeks back, I was driving home after a long day at work. I was waiting in a left turn lane, when I peered over my shoulder and spotted a girl singing and dancing in her car while waiting at the red light. I felt like I knew who she was, but I could not put a name on her. I also kept staring because she just kept dancing. She then suddenly turned over and looked at me. We locked eyes, and the next few seconds felt like an eternity as I tried to figure out who she was. It was not only until she recognized me, smiled, and waved at me, did I realize who she was. I waved back sheepishly, feeling the red rush to my face. It turns out she was a girl from my church, and I actually tutored her in mathematics when she was in high school. To be fair, I have not seen her since then. Taking a look back at this moment makes me laugh at my derpiness, but I also realize it was not anything physical that made me recognize who she was, but rather it was her demeanor and behavior. I have always thought of her as a bubbly and happy go-lucky girl, and her reaction in the situation was pretty much par for the course. It is pretty interesting to see how people can age and change physically, but their natural personality does not deviate as much. When Kingston sent us their HyperX Cloud Stinger, I did a double take at this headset. For once, this is Kingston targeting a different market with a more wallet-friendly pair of gaming headphones. Much like people, companies too often have their own DNA or fingerprints seen throughout their products. Thus, I have to wonder, will we see a similar feel in their budget-minded Kingston HyperX Cloud Stinger as compared to other headsets? Or will there be big changes to see and hear about? Read on to find out!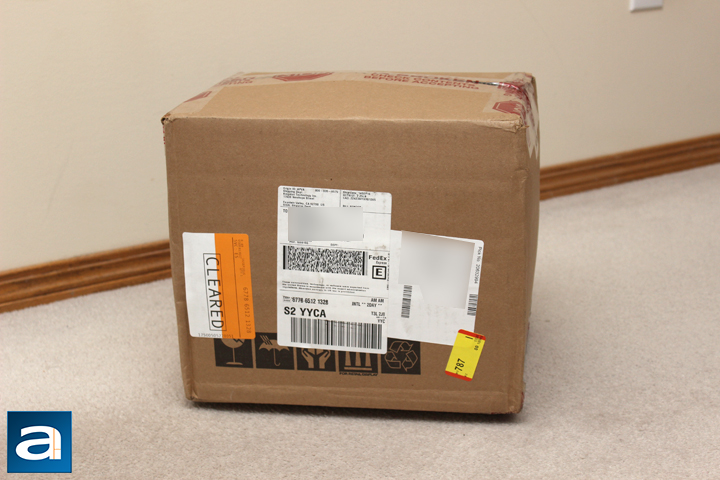 Today's review unit of the Kingston HyperX Cloud Stinger arrived via FedEx International 2Day. Kingston was quite eager in sending us this unit, hence the faster service. Arriving from Kingston's offices in Fountain Valley, California, this parcel traveled more than twelve hundred miles, or almost two thousand kilometers, to get to the APH Networks offices here in Calgary, Alberta. Thankfully, this box was stuffed with as many plastic airbags to the point where the box bulged out. Even without this precaution though, FedEx has done an excellent job in ensuring the box was not damaged in any crucial way.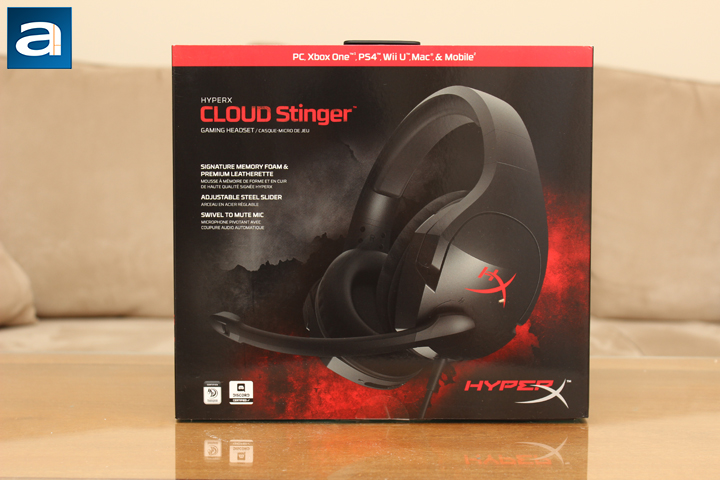 Out of the corrugated cardboard box is the Kingston HyperX Cloud Stinger's retail container. When I saw it at first, I thought the box seemed a bit too flat and also too wide. The front shows off the HyperX Cloud Stinger in a scaled down size. The left side holds some features of this headset, including the memory foam, adjustable steel sliders, and a swivel to mute microphone. At the top is a list of compatible devices, including PC, Xbox One, PS4, Wii U, Mac, and mobile platforms. At the back there are even more features in both English and French. Otherwise, the box is relatively clean. Just like all of the other Kingston HyperX Clouds we have received in the past, these graphics are just printed on an outer shell. Sliding off this sleeve reveals a plain black box, which holds the Cloud Stinger we have been waiting for.
But first, I have grabbed the specifications from the manufacturer's website for your perusal:
Specifications
Headset
- Driver: Dynamic, 50mm with neodymium magnets
- Type: Circumaural, Closed back
- Frequency response: 18Hz-23,000Hz
- Impedance: 30 Ω
- Sound pressure level: 102 ± 3dBSPL/mW at 1kHz
- T.H.D.: < 2%
- Input power: Rated 30mW, Maximum 500mW
- Weight: 275g
- Cable length and type: Headset (1.3m) + Extension Y-cable(1.7m)
- Connection: Headset - 3.5mm plug (4 pole) + extension cable - 3.5mm stereo and mic plugs
Microphone
- Element: Electret condenser microphone
- Polar pattern: Uni-directional, Noise-canceling
- Frequency response: 50Hz~18,000Hz
- Sensitivity: -40 dBV (0dB=1V/Pa,1kHz)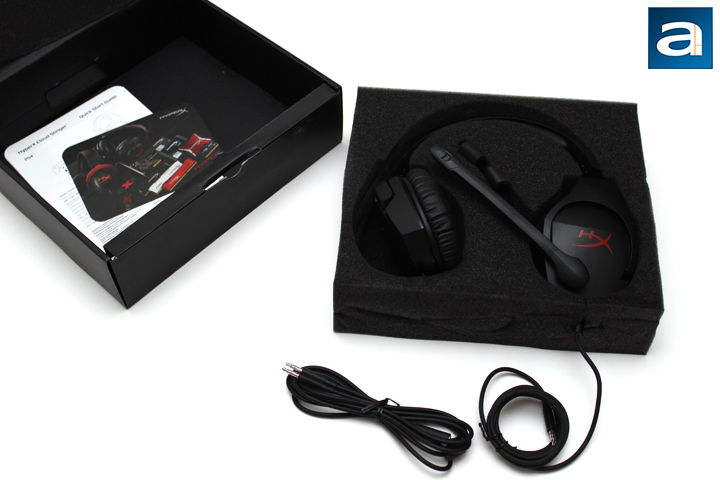 Thankfully, this black box can be opened, and inside is pretty much everything you expect. For one, there is the Kingston HyperX Cloud Stinger headset, wrapped up nicely in a fitted foam bracket. Otherwise, the only other accessory in the box is an extension cable. There are also two pieces of documentation included. One is a small quick start guide, which explains the different features and which plugs to use with different devices. Obviously, this is more helpful with things like consoles, but using this headset is about as easy as plugging in and going. Anyway, let us take a closer look at the headset itself.
---
Page Index
1. Introduction, Packaging, Specifications
2.
Physical Look - Hardware
3.
Subjective Audio Analysis
4.
Conclusion