By: Jonathan Kwan
November 30, 2012
The wonderful thing about language is that, despite the fact every word has its objective definition (or definitions), its actual meaning can be greatly altered by its context, culture, and even the tone of the speaker. For example, in the 14th century, the word "girl" is a gender-neutral term -- young males were called "knave girls", and young females were called "gay girls". Nowadays, referring to someone as a "gay girl" turns out to be completely different thing. As words change over time, the context of which it is used is also very important. In many ways, the word "predator" can be used in both a positive and negative sense. It is a symbol of power and authority over the lesser, and as any animal would understand, it is much better to be the hunter than the hunted. However, this symbol of power and authority is not always carried through in such a manner. For example, if we affix the word "child" in front of it, don't be surprised if you find the name Jimmy Savile popping up occasionally. As we pull together three computer RAM reviews this week, the Kingston HyperX Predator KHX18C9T2K2/16X 2x8GB is something to approach with a little bit of caution. Operating with a medium-grade speed and a very large capacity, does its aggressive appearance provide a case for earth shattering performance that preys on the competition, or should we be scared for all the wrong reasons? Read on to find out!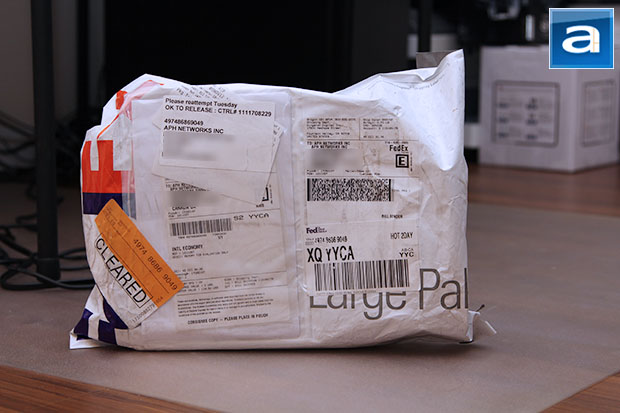 Our review unit of the Kingston HyperX Predator KHX18C9T2K2/16X 2x8GB dual channel kit arrived in a FedEx Large Pak made from Tyvek polyethylene -- at least, that is what I think it is. Of course, the soft material transfers any bumps and bruises straight through. To ensure everything arrives safely, the good people at Kingston provided extra protection by adding an extra layer of protection with a small, brown corrugated cardboard box inside. Using the International Economy service, a bit of a hiccup came up in between, which is quite a rarity from FedEx. Thankfully, with a quick phone call, a redelivery was rescheduled (We missed the delivery due to negligence of the driver), and the slick RAM package arrived into our hands, albeit a few days late. Without further adieu, let's see what the latest HyperX brand has in store for us today.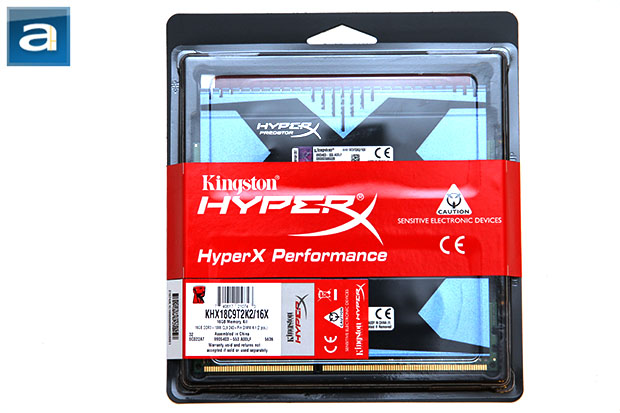 Upon looking at the real meat of the package, we were happy to discover the company uses relatively simple retail packaging that is easy to open. As always, unlike standard clamshell or blister packaging with inserts implemented by many other memory manufacturers, Kingston resorted to using the tried-and-true method of having a PET shell and clear plastic cover. You won't find any fancy window inserts either; everything you need to know about this product is printed on the sticker in front. Another large label with the Kingston HyperX branding seals the package shut. As you can see in our photo above, the two modules that make up the Kingston HyperX Predator KHX18C9T2K2/16X 2x8GB are placed horizontally next to each other behind the clear plastic cover, so we can enjoy looking at the fancy looking heatsinks without opening even opening it.
Before we move on, let's take a look at the product description of the Kingston HyperX Predator KHX18C9T2K2/16X 2x8GB DDR3 RAM, as obtained from the manufacturer's website:
- JEDEC: DDR3-1600 CL11-11-11 @1.5V
- XMP Profile #1: D3-1866 CL9-10-9 @1.5V
- XMP Profile #2: D3-1600 CL9-9-9 @1.5V
- CL(IDD): 11 cycles
- Row Cycle Time (tRCmin): 48.125ns (min.)
- Refresh to Active/Refresh Command Time (tRFCmin): 260ns (min.)
- Row Active Time (tRASmin): 35ns (min.)
- Maximum Operating Power: 2.580 W
- UL Rating: 94 V - 0
- Operating Temperature: 0 C to 85 C
- Storage Temperature: -55 C to +100 C
- JEDEC standard 1.5V (1.425V ~ 1.575V) Power Supply
- VDDQ = 1.5V (1.425V ~ 1.575V)
- 800MHz fCK for 1600Mb/sec/pin
- 8 independent internal bank
- Programmable CAS Latency: 11, 10, 9, 8, 7, 6
- Programmable Additive Latency: 0, CL - 2, or CL - 1 clock
- 8-bit pre-fetch
- Burst Length: 8 (Interleave without any limit, sequential with starting address "000" only), 4 with tCCD = 4 which does not allow seamless read or write [either on the fly using A12 or MRS]
- Bi-directional Differential Data Strobe
- Internal(self) calibration : Internal self calibration through ZQ pin (RZQ : 240 ohm ± 1%)
- On Die Termination using ODT pin
- Average Refresh Period 7.8us at lower than TCASE 85°C, 3.9us at 85°C < TCASE < 95°C
- Asynchronous Reset
- PCB : Height 2.122" (53.90mm) w/ heatsink, double sided component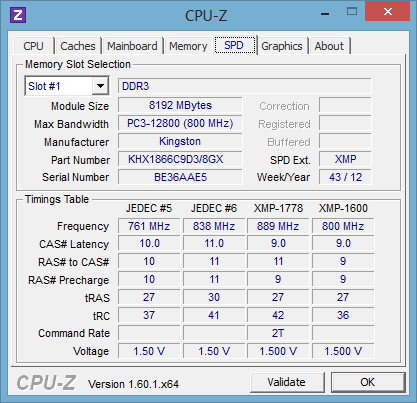 A screenshot of the memory tab in CPU-Z with Kingston's HyperX Predator KHX18C9T2K2/16X 2x8GB installed. The SPD timings table in CPU-Z reads standard JEDEC specifications programmed into the memory, as well as Intel XMP data for running the memory at various speeds. Using the latest BIOS revision, our Intel Desktop Board DZ77GA-70K motherboard used for testing had no issues detecting and working with the Kingston RAM right out of the box. The Kingston HyperX Predator KHX18C9T2K2/16X 2x8GB retails for approximately $130 at press time.
---
Page Index
1. Introduction, Packaging, Specifications
2.
A Closer Look, Installation, Test System
3.
Benchmark: AIDA64 CPU
4.
Benchmark: AIDA64 FPU
5.
Benchmark: AIDA64 Memory
6.
Benchmark: PCMark 7
7.
Benchmark: 3DMark 11
8.
Benchmark: PassMark PerformanceTest 7.0
9.
Benchmark: SuperPI 1M, Cinebench R11.5
10.
Overclocking and Conclusion