By: Jeremy To
December 30, 2011
When it comes to manufacturing computer cases, every manufacturer has its strengths. Thermaltake and Cooler Master have been known to produce excellent PC and gaming enthusiast cases that provide superb cooling with great value. SilverStone has been known to produce cases focusing on design inspiration and quality. Lian Li is a manufacturer that designs fully aluminum cases with some of, if not the best, quality for enthusiasts and professional workstations alike. However, what we see all the more common nowadays, is several of these manufacturers have created sub-brands or subsidiaries that focuses on different goals. Thermaltake created the sub-brand Tt eSPORTS that focuses on fully featured and fully equipped gaming gear for eSports use. Cooler Master created CM Storm back in 2009 that zooms in on "arming the gaming revolution" with a futuristic military based thematic approach on chassis and gaming gear. Lastly, Lian Li created the subsidiary LanCool, also back in 2009, aimed at creating aluminum chassis much like their original line-up, but at a more affordable price. Today, we are looking at the LanCool PC-K9 from Lian Li's subsidiary LanCool. The big question for us today is, has Lian Li kept up their build quality aluminum characteristic designs, while keeping it at a more affordable price? Well, you will have read on to find out!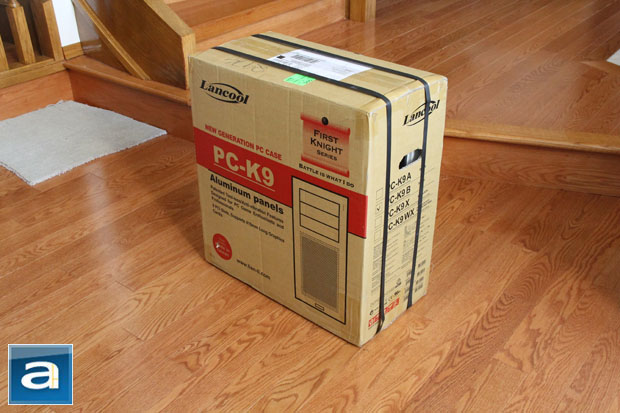 Our review unit the LanCool PC-K9 chassis arrived in its retail box without any additional shipping material. The package was not shipped from its headquarters, but instead, from company's distributors in Washington, USA -- that's a first. Since the retail boxes of chassis are normally built with shipping in mind, they usually do not need to be packaged with an additional corrugated box. The retail box of the LanCool PC-K9 is no different, as it arrived at our Calgary, Alberta office with no more than its bare retail box supported with two additional plastic braces. Handled by UPS Standard, the packaged arrived in excellent condition with no more than the standard bump and bruise.
As far as the exterior look and design of the retail packaging is concerned, we can already see that Lian Li has cut costs in this area. The retail box is just a brown corrugated box with little design element. Besides the small red accents, the box is purely colorless. The front and back of the package has the exact same print and design, rather than other retail boxes that feature the product on the front, and specifications on the back. To put it frankly, many would find this extremely bland, haha. I, however, would rather have a less inspirational retail box like the one above, and pay an extra five dollars less -- just sayin'. On the side is a checklist as to which version of the case you have received. Today's unit is the 'B' version, which means the external features a black anodized finished. Other versions include a silver anodized exterior finish (PC-K9 A), a black exterior and interior anodized finishing (PC-K9 X), and lastly, a black exterior and interior anodized finishing with a windowed side panel (PC-K9 WX). As well, the specifications are listed on the sides of the box.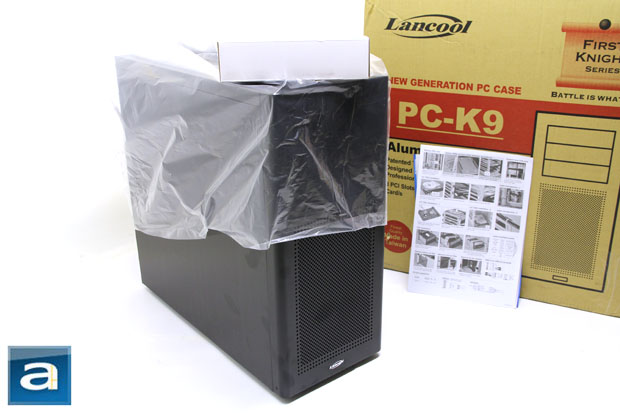 Standard to all chassis, the LanCool PC-K9 is protected between two large Styrofoam brackets, while being wrapped in a plastic bag to protect the finish from scratches during transport. On top of the case is a small pile of manuals. The accessories are placed inside the case. As aforementioned, the case version I have received to review today is the exterior black version. My colleague Jonathan reviewed the Lian Li PC-Z60 a few months ago, and showed a slight disapproval towards the silver finished version he received. Of course, keep in mind that exterior looks is strictly an opinion based topic, and we here at APH Networks promise to evaluate it as objectively as possible.
Before we move on, let's take a look at the specifications of the LanCool PC-K9 ATX chassis, as obtained from the retail box and the manufacturer's website:
Model: PC-K9
Case Type: Mid tower chassis
Dimensions: (W) 210mm x (H) 472mm x (D) 505mm
Front bezel Material: Aluminum
Color: Black / Silver
Side Panel: Aluminum
Body Material: SECC Steel
Net Weight: 8.28KG
5.25" drive bay (External): 3
3.5" drive bay (External): None
HDD bay: 3.5" HDD x 6 / 2.5" HDD x 4
Expansion Slot: 8
Motherboard: ATX / Micro-ATX / Mini-ITX
System Fan (Front): 140mm Fan x 2
System Fan (Top): None
System Fan (Rear): 120mm Fan x 1
I/O Ports: USB3.0 x 2 / HD Audio
Maximum Compatibility: VGA Card length: 415mm; PSU length: 240mm; CPU Cooler height: 160mm
---
Page Index
1. Introduction, Packaging, Specifications
2.
Physical Look - Outside
3.
Physical Look - Inside
4.
Installation and Conclusion