By: Jonathan Kwan
October 14, 2011
There was once this saying, "In the beginning God created the heavens and the earth, and the rest was made in China". About ten years ago, when I was still in elementary school and did not know any better, I was at my friend's house, who was showing off his latest custom built machine. His computer system certainly carried the performance and the price -- spending nearly $3000 in total, it was a lot of money, even by today's standards. However, I have always wondered why he cheapened out on the case that boldly said "Lian Li" across the front. You know, Lian Li sounded like some ripoff brand from China, so why would anyone spend so much money on a computer only to put it all into a cheap knockoff chassis? However, as time moved on, I sooner or later realized Lian Li is not what I think they are. For one thing, they manufacture all their cases in Taiwan (So to respond to the quote in the opening of this paragraph, while God created the heavens and the earth in the beginning, not everything was actually made in China). Secondly, they are one of the most renowned chassis manufacturers in the world, specializing in exquisite all aluminum cases every true computer enthusiast desires. About two years ago, I have reviewed the Lian Li PC-Q07 mini-ITX computer case. The PC-Q07 has a beautiful clean design and brilliant quality one would expect from Lian Li. Fast forward to today, we have yet another Lian Li case here at APH Networks for testing. With the latest Diamond series PC-Z60 ATX mid-tower sitting next to me right now, does it hold true to Lian Li's long tradition of excellence? Read on to find out!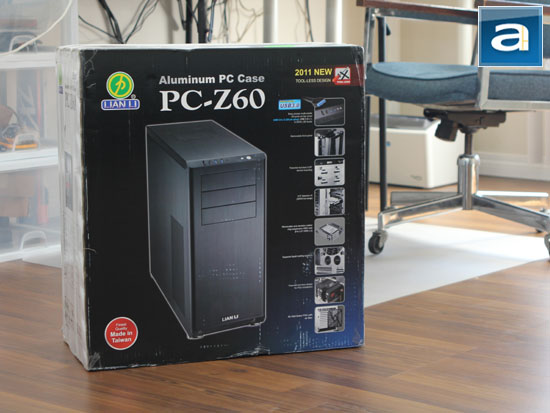 Our review unit of the Lian Li PC-Z60 ATX computer case arrived in its retail box without any additional shipping material from one of the company's distributors in California, USA. Normally, chassis retail boxes are built with shipping in mind, and the PC-Z60's is no exception. Using UPS Standard, everything was handled appropriately, and it landed on our doorstep here in Calgary, Alberta, Canada in absolutely pristine condition. As far as the exterior look of the retail packaging is concerned, it is nothing out of the ordinary; it gets the job done right, and that is exactly what I am looking for. After all, have you ever looked at a product in a store, but after examining it in detail for fifteen minutes, you still have no idea what it is, and what it does? With Lian Li's branding and chassis model number prominently displayed across the top, profile view of the PC-Z60 in the middle, and an array of feature highlights along the right, everything is as straightforward as it can get. Further information such as the color and specifications of the case can be found on various sides of the box. My only complaint? In my personal opinion, the black version shown in the photo looks a lot better than silver one I have received, and that made me kind of jealous, haha.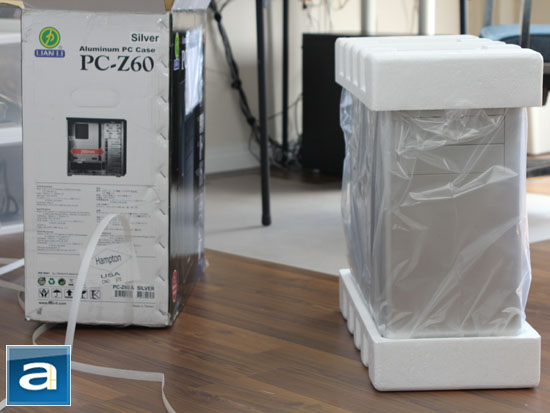 Clipped between two large Styrofoam brackets at the top and bottom is the Lian Li PC-Z60 aluminum computer case. The accessories are placed inside the case, just like every single one I have reviewed in the past. As I have alluded to in the previous paragraph, the particular unit we have received for review is the silver version; the chassis is also available in black. I am slightly biased towards the more conservative black design, but I promise you I will keep my evaluation objective throughout this review. With that in mind, we can see the PC-Z60 wrapped inside a large plastic bag to prevent any scratches from occurring during transport, as shown in our photo above.
Before we move on, let's take a look at the specifications of Lian Li's PC-Z60 mid-tower, as obtained from the manufacturer's website:
Model: PC-Z60
Case Type: Mid tower chassis
Dimensions: (W) 210mm x (H) 472mm x (D) 480mm
Front bezel Material: Aluminum + Plastic
Color: Black / Silver
Side Panel: Aluminum
Body Material: Aluminum
5.25" drive bay (External): 3
3.5" drive bay (External): None
HDD bay: 3.5" HDD (Sata hot swap) x 6 / 2.5" HDD x 2
Expansion Slot: 8
Motherboard: ATX / Micro-ATX / Mini-ITX
System Fan (Front): 120mm Fan x 2
System Fan (Top): 140mm Fan x 1
System Fan (Rear): 120mm Fan x 1
I/O Ports: USB 3.0 x 2 / USB 2.0 x 1 / e-SATA x 1 / HD Audio
Maximum Compatibility: VGA Card length: 288mm; PSU length: 240mm; CPU cooler height: 160mm
---
Page Index
1. Introduction, Packaging, Specifications
2.
Physical Look - Outside
3.
Physical Look - Inside
4.
Installation and Conclusion