Page 2 - Physical Look - Outside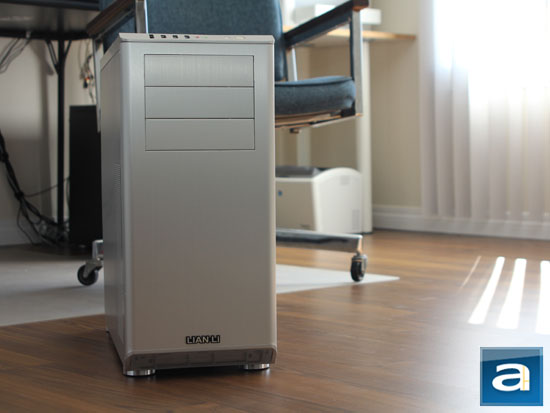 Mnmlst. Yep, that's right. Unmistakably Lian Li, the PC-Z60 shows its face with a beautifully constructed brushed aluminum front panel, with clean, well rounded corners, and a sleek array of front panel connectors angled off at the top. Our silver version of the latest addition to the company's Diamond series mid-tower cases only has three external 5.25" drive bays in the front -- and subsequently, Lian Li's logo at the bottom, and that's pretty much everything. If you remove the front panel, you will gain access to the hot swap capable hard drive rack. But as far as its looks are concerned, simplicity is the key. No fancy designs. No front door. Just Lian Li. I can write more, but I will let my photo above speak for itself.
While there are no 3.5" external drive bay adapters out of the box, it is really not a big issue in my opinion. After all, I don't recall anyone still using floppy disks -- but because my particular Lian Li PC-Z60 is silver in color, I would definitely have appreciated it if it came with optical drive covers. It is not really a big issue if you have the black version, since optical drives don't really come in any other color anyway. But that is the very problem. Even though it is not particularly ugly, if you install a black optical drive into this case, it does look kind of odd. Take a glimpse at Page 4 of this review to see what I am talking about.
According to my measurements, the Lian Li PC-Z60 comes in at 21cm width, 47.5cm height, and 49cm depth. These dimensions are about right for an ATX computer case. On the other hand, it tips the scales at only about 15 pounds, which is incredibly lightweight. The reason for it being able to reside in the featherweight class is because it is built completely out of aluminum. If you ever get a hold of one of the side panels, you would swear the wind would blow it away if you are standing outside on a windy day.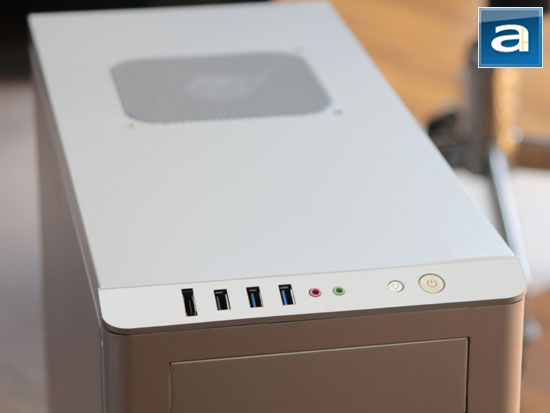 Angled at 45 degrees at the top of the case is the usual array of front panel buttons and connectors. It is not only very convenient to access (Especially if your computer is on the floor), but I think this is quite unique in appearance as well. Having something like the Patriot Supersonic Magnum running off the front panel USB 3.0 ports is certainly not something you see every day. To list everything present on the Lian Li PC-Z60's front panel starting from the left, we have one eSATA, one USB 2.0, two USB 3.0, two 3.5mm jacks for microphone and headphone, reset button, and power button. The Lian Li PC-Z60's USB 3.0 ports are connected internally. However, if your motherboard does not have any internal USB 3.0 headers, a USB 2.0 adapter is included. Both the power and reset buttons are pretty large, but thankfully, it sits completely flush with the case, so you are quite unlikely to activate them accidentally. Additionally, because they are angled off at the top as shown above, neither kicking feet nor flinging hands are likely to cause any screaming anger in frustration. A red HDD LED and blue power LED is integrated into the reset and power button, respectively; so if you are one of those complaining that the Lian Li PC-Z60 has no lights, you are definitely doing something wrong, haha.
One complaint I have is the way the top fan is attached to the PC-Z60. As you can see in our photo above, one opening at the top provides exhaust ventilation for its included 140mm fan. Now knowing how much I loathe top mounted fans without filters due to dust management issues, this Lian Li midtower not only provides nothing in this regard, but you are also forced to have the fan installed -- unless you want to leave a gaping hole at the top of your $200 case. The reason is because the metal mesh is attached to the top panel by four screws in conjunction with the fan's attachment holes, so unless you have appropriate nuts handy, the fan is going to stay in place no matter what. While companies like Fractal Design allows some flexibility in this area, Lian Li doesn't; this is certainly one area of improvement I would like to see in future revisions. Actually, I would even accept dust filters as a proper solution like the Cooler Master 690 II series of cases.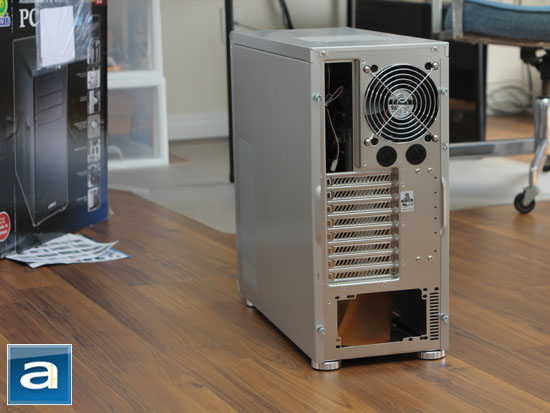 Remaining true in color to match the rest of the chassis, the back of our silver Lian Li PC-Z60 makes no effort to hide its aluminum nature -- definitely one of those things where you can be proud of the cash you have coughed up for classic Lian Li quality and craftsmanship. The layout is pretty much standard for a case with a bottom mounted power supply bay. We can expectantly spot an included black colored 120mm fan placed adjacent to the motherboard I/O backplate, with two pre-drilled water cooling holes next to each other right under. Your fingers are protected from the rear exhaust fan by a high quality, low air resistance fan grille. Obviously, it is cheaper to punch holes into the rear panel to save on production costs, but Lian Li's removable grille is a classic case of what to expect when you buy a high end chassis from the company. The expansion slot covers are fully ventilated as well, as shown in our photo above.
Both side panels are held closed by two thumbscrews each, with rubber washers in between to dampen vibration. A beveled handle protrudes from the back of the Lian Li PC-Z60 for the user's convenience, with a lock attachment hole on the left side panel for those who needs to leave their computer in public places. The side panels are designed to be a mirror image of each other; with ventilation openings implemented near the front of the chassis. Behind the right side panel are two 120mm fans to draw in air over the hard drive cage, while the left side panel has no corresponding active cooling system installed. Again, I found this design kind of odd, because while it does provide additional cooling over your the drive rack, hard disks are definitely not the first thing we need to worry about when it comes to keeping things cool -- a traditional front intake, rear exhaust setup makes much more sense in my opinion. Secondly, the fan filters are installed on the fans rather than the grille, so dust will still enter the from the both side no matter what. You will see what I am talking about on the next page, where we will go into further detail about the PC-Z60's interior design.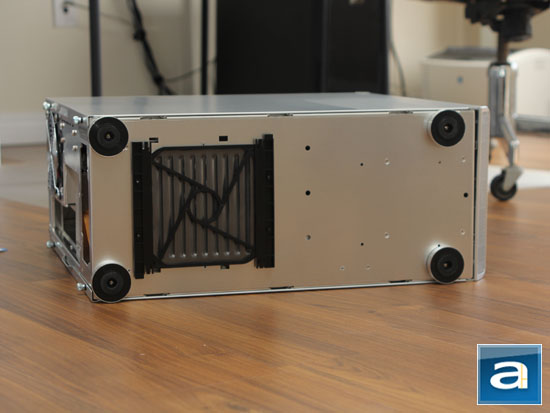 Large, shiny plastic legs with rubber bottom resembling those commonly found on home electronics can be seen on the Lian Li PC-Z60 as well. Combined with a 1.5 cm rise above the residing surface, like every other air intake, the company has a removable fan filter here to reduce dust from entering your power supply -- especially of those featuring a bottom mounted fan.
While I do not agree with every idea present on the PC-Z60, the execution in manufacturing quality is simply flawless. It certainly lives up to the company's excellent reputation; bringing pride and definition to what they promote as "Finest Quality -- Made in Taiwan". All the panels fit together extremely well with minimal panel gaps. Despite being incredibly lightweight, nothing feels flimsy or cheap. Sharp edges are out of the question. The amount of attention to detail is truly matchless. Overall, the Lian Li PC-Z60 is a fine example of what a company known for craftsmanship in manufacturing some of the best aluminum cases in the market is capable of doing.
---
Page Index
1.
Introduction, Packaging, Specifications
2. Physical Look - Outside
3.
Physical Look - Inside
4.
Installation and Conclusion