Page 4 - Installation and Conclusion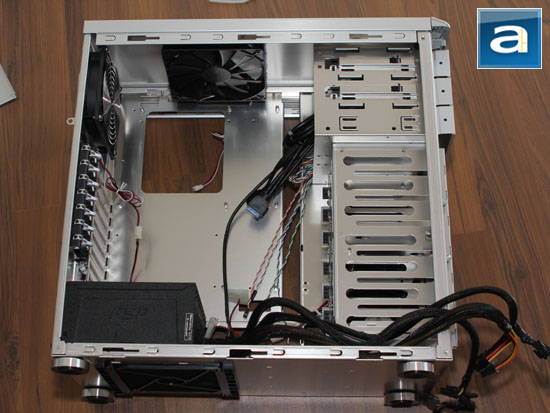 The installation process is extremely straightforward with the Lian Li PC-Z60. For the most part, it is very easy to work with as far as a standard mid-tower is concerned. Out of preference, I installed the power supply first, followed by my ASUS P8P67 PRO motherboard. The power supply used is a FSP AURUM CM Gold 650W reviewed by yours truly in late July this year. It appears to me the PSU intake vent's location is not completely aligned, as shown in our photo above. However, this is nothing to get overly worried about, because the additional 1 cm raise the PC-Z60 provides is sufficient enough for allowing airflow into the power supply anyway. Lian Li also includes tool-free PSU installation bracket, but it is not very secure (The company actually recommends you to attach the screws at the back if you intended on traveling with your system). To be honest, this is one component that does not come out of the computer frequently, so I went with the good old screwdriver route, and moved on with the rest of the installation process.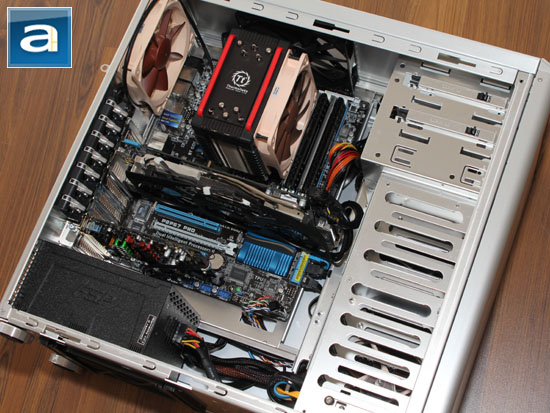 The rest of the installation process came and went just as smoothly, as I continued to install the rest of my components. You can even install your motherboard with thumbscrews, but for an extra touch of security, I kept my screwdriver handy. The only exception to this otherwise smooth process rolled around when I pulled the EPS 8-pin cable from my FSP AURUM CM Gold to its intended location from behind the motherboard. The top opening on the tray corresponding to this connector is simply too small for such an obtuse input angle; the solution is simply to detach the upper panel. Fortunately, with the removal of only a few screws, it came off, and everything is quite straightforward from this point on.
The rest of the procedure is quite tool-free in nature. This includes all add-on cards, optical drives, and hard drives. All mechanisms were design quite well, as discussed on the previous page. To recap, expansion card installation requires a simple clip engagement. Optical drive installation involves a quick swing of the locking lever. Hard drive installation is just a matter of attaching one rail to both sides of your device. The only exception boils down to 2.5" hard drives, which requires four screws each on a separate included tray. As you can see in our photo above, I have a Gigabyte Radeon HD 6870 SOC installed, and although it is a pretty long card, it fits well with room to spare.
The Lian Li PC-Z60 takes on a different approach to cable management compared to cases like the Fractal Design Define R3 and Xigmatek Elysium. While the two listed chassis has a motherboard tray that extends full length on all sides, with openings on it to route cables through, the PC-Z60's tray only goes a limited width and height. This leaves a gap at the bottom and on the right, enabling all cables to go back and forth behind the motherboard tray anytime, anywhere. The disadvantage of this is while it is easier to connect everything together, it is harder to manage a perfectly optimized appearance. There are still a few small holes for wires to go through, but they are few and far in between.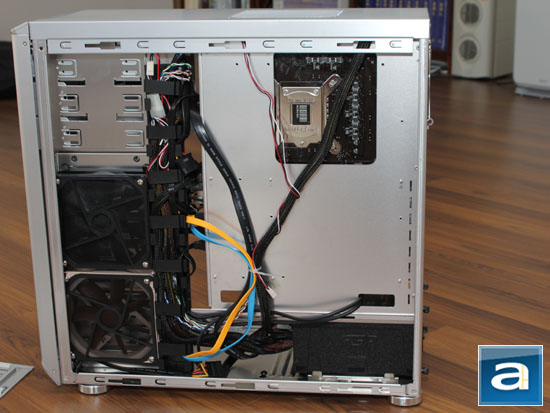 Now we don't normally take pictures of the back of the motherboard tray post-installation, since there is usually nothing interesting to talk about. However, in this particular case -- no pun intended -- there are a few things I want to point out. Although there is not a lot of room between the motherboard tray and the right side panel, most cables can be guided through the vertical track located between the motherboard tray and drive rack, as shown in our photo above. I am not a big fan of its complete plastic construction, since it is too flexible to clip the cables down securely. That said, I have not seen such a feature in other comparable products in the past, and I think it is an extremely good idea that should be implemented more often.
Secondly, as I have talked about earlier in this review, the opening on the motherboard tray to accommodate aftermarket heatsinks with their own backplates is not large enough. It should have no problems working with older motherboards; unfortunately the average Intel CPU socket location has shifted since late 2009. For a chassis released in 2011, I think Lian Li should have addressed this problem already.
Lastly, I am not a big fan of the fact that Lian Li allows very little flexibility in the cooling system configuration. Yes, every fan slot has an included fan, which is nice. My problem with that is they don't really expect you to take any of them out. It is not a big issue for the rear exhaust fan, since it is almost always left intact. However, as aforementioned, the top fan cannot be removed without leaving a big hole at the top of your case, and that is certainly a concern. Additionally, since the fan filters are attached to the side intake fan rather than the vent on the case panel, unless you want to lose a dust filter, again, you cannot uninstall it. At the end of the day, while you are free to swap out the stock fans for your choice of aftermarket parts (Given they are the same size), if you want to take out some fans such as to reduce noise, it is definitely not in your best interest to do so due to limitations in design.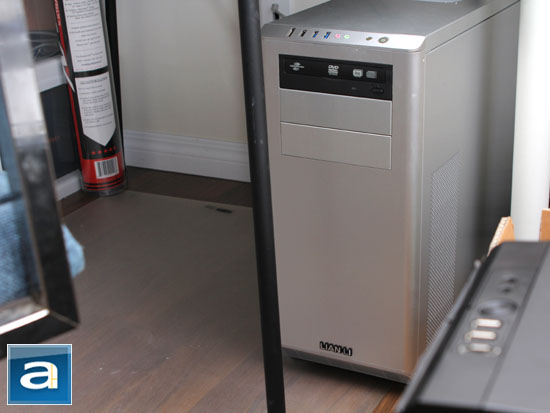 After plugging in everything, our system configured inside the Lian Li PC-Z60 is ready to roll. I hit the power button at the top, and my computer came to life. Your finished system should resemble what I have above, since there is nothing much you can change here anyway, haha. Here is the slightly odd look I was talking about on Page 2 of this review when you have a black optical drive installed in a silver colored case.
On a scale from 0.0 to 10.0 where 0.0 is silent and 10.0 is the loudest, the stock fans would come in at 4.0 subjective sound rating at full blast. All four fans that are included with the Lian Li PC-Z60 spins pretty quickly at stock speeds, but they have a smooth running motor, with no clicking noises observed during operation. Since 3-pin motherboard headers are standard on all of them, you can easily hook them up to your motherboard to reduce their rotational speed. Alternatively, you can plug them all into a fan controller to slow them down. All in all, they are reasonably loud at full speed, but if you want some peace and quietness in your home, then slowing them down a bit is definitely a viable solution without resorting to aftermarket solutions.
-----------------------------------------
If you are wondering what it takes to make an all aluminum chassis that is simply matchless in quality and refinement, the Lian Li PC-Z60 is a fine example of what the company stands for since 1983. Continuing their long tradition of excellence in paying excellent attention to detail in manufacturing, the Lian Li PC-Z60 once again shows us why aluminum cases are so desirable: Besides great looks, it is also extremely lightweight; making it ideal if you ever need to attend LAN parties or go anywhere with your computer. I am also pleased with the PC-Z60's clean exterior design in classic Lian Li fashion, robust tool-free installation system that actually works, internal USB 3.0, innovative integrated cable management system, and a lockable SATA hot swap bay behind the front removable panel for maximum convenience. The case has been an absolute pleasure to use from the time the retail box is opened, to the moment my completed system is turned on. However, there are a few crucial areas that I can see room for improvement. Firstly, at least for the silver colored version, I would like to see some optical drive bay covers. Secondly, the opening at the back of the motherboard tray should be enlarged, or moved to the right place to accommodate aftermarket heatsink backplates with the latest processors. Thirdly, Lian Li should allow more flexibility in changing the cooling configuration inside the PC-Z60. The fans themselves are fine, but they run a little too fast out of the box -- a built in fan controller is a reasonable request for a case carrying such a price tag at press time in my opinion. Fourthly, dust filters should be placed at all intake vents rather than on the fans, and they will need to add one more at the top exhaust location. So what makes the Lian Li PC-Z60? If the Cooler Master Silencio 550 is a case with the right idea but incorrect execution, Fractal Design Define R3 with the right idea and the right execution, then the Lian Li PC-Z60 is a case with some wrong ideas, but with all the right execution.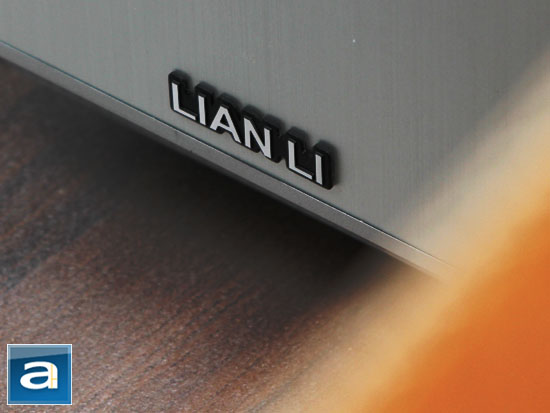 Lian Li provided this product to APH Networks for the purpose of evaluation.
APH Review Focus Summary:
7/10 means Great product with many advantages and certain insignificant drawbacks; but should be considered before purchasing.
-- Final APH Numeric Rating is 7.0/10
Please note that the APH Numeric Rating system is based off our proprietary guidelines in the Review Focus, and should not be compared to other sites.
For a bit over $200 at press time, the aluminum Lian Li PC-Z60 is a fine example of classic Lian Li quality and refinement.
Do you have any comments or questions about the Lian Li PC-Z60? Drop by our Forums. Registration is free, and it only takes a minute!
---
Page Index
1.
Introduction, Packaging, Specifications
2.
Physical Look - Outside
3.
Physical Look - Inside
4. Installation and Conclusion