By: Aaron Lai
March 11, 2022
It is quite easy to see when people are passionate about something as opposed to when they could not care less. This is probably more obvious in person, especially when they talk about their specific subject. Not only is their speech full of variances in tone and emotion, but they also are probably subject matter experts. It is possible this is how they normally talk, but it usually contrasts with how they communicate for other things. Furthermore, they could also go on lengths about this subject, usually adding their own personal stories. For example, I think a few of my friends would tell me about my wealth of knowledge in hockey. I think I still have lots to learn about the game especially when it comes to keeping up with new players, different analytics tools, and other recent news. I also never have personally played ice hockey. However, I think I do have a good sense of the game, especially as I have watched the NHL games for well over fifteen years. As well, while I may not always have much to say about other subjects, I think I always have something to add with respect to hockey. I experienced a similar feeling when I recently was able to chat with the founder of Neat Microphones, Skipper Wise. From my quick half-hour conversation, I was able to get a better context about their company and the microphone industry as a whole. However, it was clear his passion and delight were displayed during our video call and it was great to see a founder with such excitement and pleasure in his work and his products. However, with the Neat King Bee II in our hands, is that passion and spirit manifested in this new microphone? And how does this compare with the other recording devices we have seen in the past? Let us read on to find out!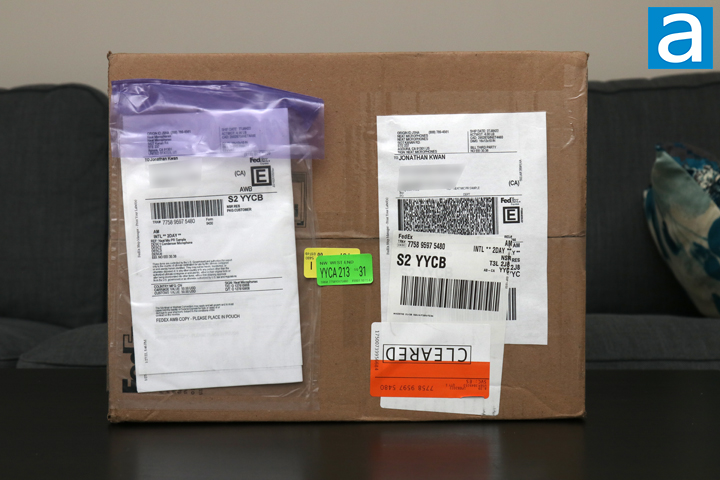 Today's review unit of the Neat King Bee II arrived from Neat's offices in Agoura, California. Traveling with FedEx and their International 2Day service, this large box arrived in excellent condition with no signs of concern, at least with respect to the condition of the corrugated cardboard box. Neat also packed some extra material to keep the internal items safe. It was a bit interesting to not see this microphone come from Turtle Beach's offices, as we have seen from our other two Neat microphones, but it is not too surprising either. Thankfully, everything was packaged securely with no internal damage to the King Bee II.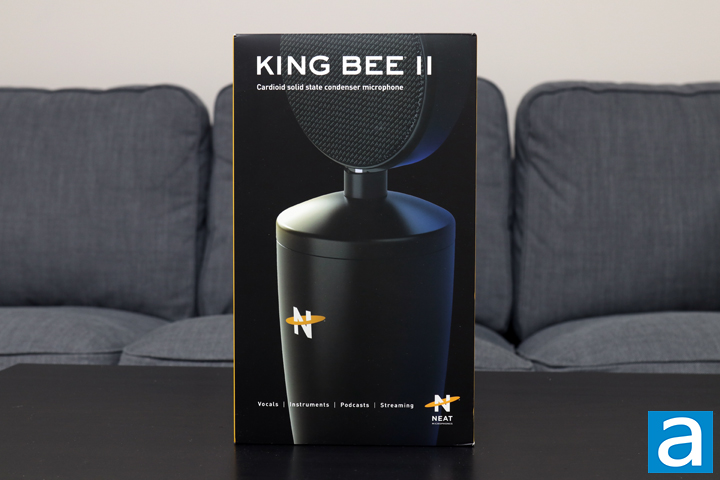 In a very similar look to the Neat Bumblebee II, the retail packaging of the Neat King Bee II comes in a large black and yellow box with a closeup of the microphone displayed on the front. The product name is at the top and a description of "Cardioid solid state condenser microphone" is underneath. The yellow sides show off more angles of the King Bee II, while the back has a few features highlighted. Even so, it is a pretty minimal looking box and its size is the one thing that makes this box stand out.
Before we continue, I have grabbed the specifications from the manufacturer's website for your viewing pleasure:
Features
Cardioid solid state true condenser XLR microphone
Exceptional audio for recording, voiceovers, broadcast & streaming use
Perfect for vocals, drums, electric guitar, piano, & acoustic instruments
Proprietary 34mm large diaphragm gold-sputtered true condenser capsule
Beautifully styled modern design; custom Class A discrete electronics provide amazing clarity and depth
XLR output; includes custom Beekeeper shockmount and Honeycomb pop filter for control of 'plosives'
Specifications
Transducer Type: 34mm center terminated true condenser capsule with external polarization
Polar Pattern: Cardioid
Frequency Response: 16 Hz – 20 kHz
Sensitivity: 26.0 mV/Pa at 1 kHz (1 Pa = 94 dB SPL)
Output Impedance: 50 ohms
Rated Load Impedance: >1k ohms
Maximum SPL: 140 dB SPL (2.5k ohms, 0.5% THD)
S/N Ratio: 89 dB-A (IEC 651)
Noise Level: 6 dB-A (IEC 651)
Dynamic Range: 134 dB (@ 2.5k ohms)
Power Requirement: +48V DC phantom power (IEC 268-15)
Product Dimensions: 8.5" x 3"
Weight in Beekeeper shockmount: 2.47 lbs/1.121 kg
Connectivity: XLR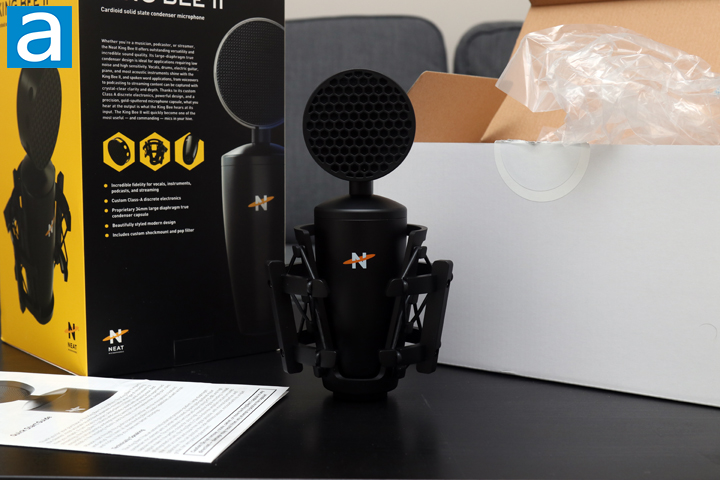 The Neat King Bee II is packaged between two large Styrofoam brackets. Some documentation is included with the microphone, which goes over setup and usage information. The King Bee II comes mounted in the Beekeeper shock mount and with the Honeycomb pop filter on the head. Otherwise, there is not much else to this packaging, so let us take a closer look at the microphone itself.
---
Page Index
1. Introduction, Packaging, Specifications
2.
Physical Look - Hardware
3.
Recording Performance Tests
4.
Conclusion