By: Aaron Lai
January 21, 2022
One Saturday morning, I was sitting in bed watching some videos on my laptop when I received a notification that my credit card had been charged. While I am used to these notifications, as I was in bed and not doing any purchasing, I was a bit puzzled. In addition, I got an email from Wal-Mart saying a grocery order was being delivered to a home in Quebec. As such, I immediately tried to call Wal-Mart to cancel the order, but they said they could not do anything other than suspending my account. Afterwards, I called my credit card company to cancel the card. Thankfully, my credit card company immediately froze everything. As much of a wake-up call this may be, I think I should have been more aware of not saving payment information on websites, having stronger passwords, and enabling two factor authentication where possible. This does sometimes make for a less convenient time for purchasing or browsing in general, but this inconvenience also ensures some peace of mind and not leaking my payment information. While I have really enjoyed taking a look at several dedicated microphones over the past few months, some may see an inconvenience to having a separate unit, especially as many gaming headsets already have one built in. Not only does it take up room on your desk, but it can also translate into dealing with their audio settings on your computer. On the other hand, it is clear these microphones serve a demand and have advantages over one in a headset. How does the Neat Bumblebee II perform and will its advantages outweigh the minor inconveniences a separate unit brings? Let us read on to find out!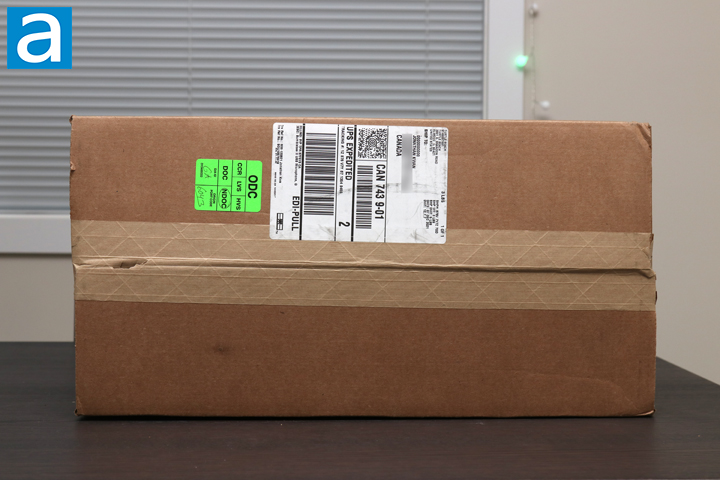 Today's review unit of the Neat Bumblebee II arrived from Turtle Beach's fulfillment offices in Elwood, Illinois. As I mentioned in our Neat Skyline review, Neat Microphones is a company under Turtle Beach, similar to ROCCAT, so it is understandable that this box came from the same place as our other recently reviewed Turtle Beach and ROCCAT products. As usual, they sent us this package via UPS and their Expedited service to our offices in Calgary, Alberta, Canada. This box is quite large for just a single microphone, but it came packed with a bit of packing paper to ensure the contents were not harmed in transit. Thankfully, there were no external signs to indicate any damage, so we can proceed as expected.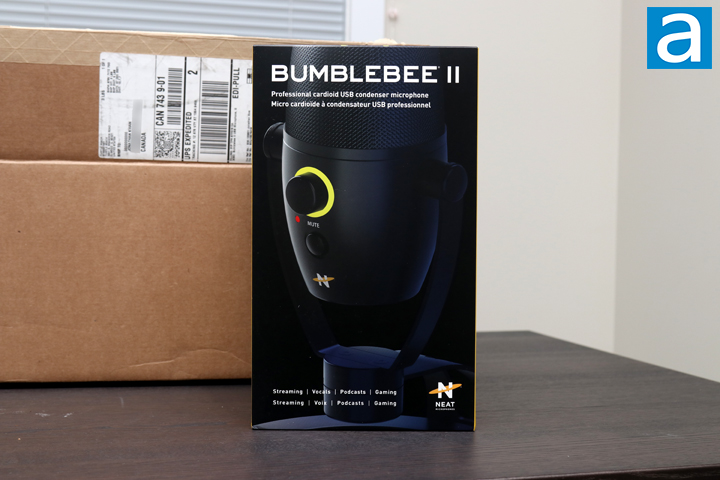 One thing that was deceptive was the fact the Neat Bumblebee II has such a large retail box, at least in relation to the size of the actual unit itself. This box follows a black and yellow color scheme, which is understandable considering the product name of "Bumblebee". The yellow does not really show up much on this front panel, but it is very apparent on the sides. Otherwise, the unit can be found with a close-up image on the front, focused on the controls available on the Bumblebee II. The front contains the product name at the top with a description of "Professional cardioid USB condenser microphone" underneath. You can see the bottom shows off some of the use cases as well as the Neat Microphone logo in the bottom right corner. Around the box, Neat has provided some specifications about the Bumblebee II as well as some more descriptions for reading.
If you are interested, I have obtained the specifications from the manufacturer's website for your viewing pleasure:
Features
Professional desktop USB microphone with clear, full-range 24 bit/96 kHz audio
Ideal for streamers, gamers, podcasters, musicians and conferencing
Cardioid polar pattern rejects unwanted external sounds
Zero latency high fidelity monitoring headphone amp
Mix control for simultaneous monitoring of source and playback
Desk stand is removable for mic stand or boom mounting
USB C output connector — USB Type C to Type A cable included
Specifications
Transducer Type: Permanently polarized 25mm condenser capsule, internally shockmounted
Polar Pattern: Cardioid
Frequency Response: 20 Hz – 20 kHz
Sample Rate: 96 kHz
Bit Depth: 24 bit
Sensitivity: 16.0 mV/Pa at 1 kHz (1 Pa = 94 dB SPL)
Maximum SPL: 128 dB SPL (0.5% THD)
S/N Ratio: 80 dB-A (IEC 651)
Noise Level: 14 dB-A (IEC 651)
Dynamic Range: 114 dB (@2.5k ohms)
Power Requirement: 3.3 V - 5 V
Product Weight: 0.88 lbs. (0.4 kg)
Product Dimensions: 8" x 5"
Connectivity: USB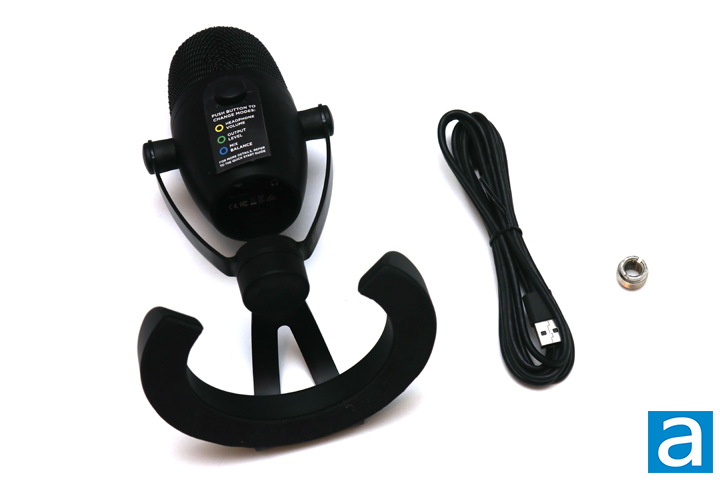 Inside, the Neat Bumblebee II is packaged similarly to the Skyline in the sense that it can be found in between two large white Styrofoam brackets with cutouts for the microphone. It also holds a rubber USB Type-C to Type-A cable and a mount adapter to let you mount your Bumblebee II to third-party microphone arms. The Bumblebee II is already mounted on its own desktop stand. Otherwise, Neat has provided some documentation to guide users through setting up the Bumblebee II as well as some use case information.
---
Page Index
1. Introduction, Packaging, Specifications
2.
Physical Look - Hardware
3.
Recording Performance Tests
4.
Conclusion