Page 3 - Performance Tests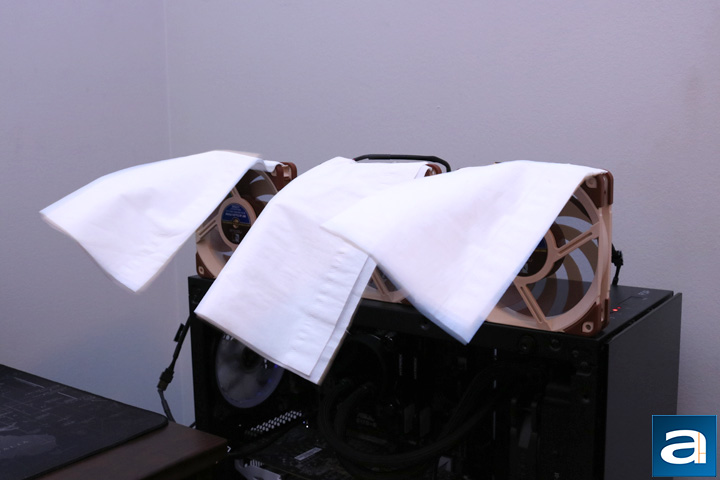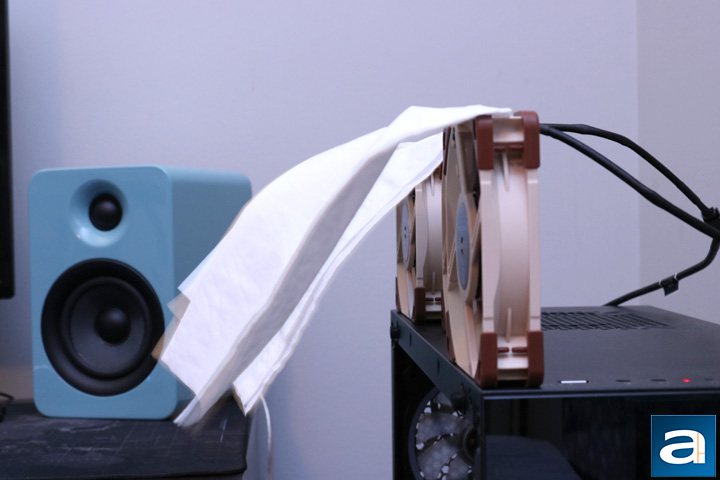 While these tests are not the most objective method for fan testing, they do give us some information of important fan attributes, such as airflow, airflow consistency, and the amount of static pressure generated. The fans are set at the edge of a surface to prevent air from bouncing back, which could hide the true characteristics of the fan.
As you can see in the above two pictures, the three 120 mm fans have performed quite well to lift up the tissue papers, and do so consistently. At the furthest end, we have the PWM fan, in the middle the ULN, and closest is the FLX. All of the fans are cranked up to their maximum speed. The PWM and the FLX had similar results as they are basically the same fan at their maximum speeds. The tissue paper was kept fairly constant with minimal flapping, meaning the airflow consistency is excellent. The ULN in the middle was not able to lift the paper as high, but this was due to the lower RPM of 1200. Otherwise, the specifications listed on the previous page seem to match up really well with what we see here. The middle tissue barely fluttered at all, meaning the static pressure was excellent. Overall, I am impressed with the Noctua NF-A12x25 fans and how they performed in this tissue paper test.
Noctua has been known for selling fans with not just excellent performance, but also with how quiet they are. The Noctua NF-A12x25 fans are no different. Even at full blast, the fans were surprisingly quiet. For the FLX and the PWM versions, at full speed, I would rate the fans a 4.5/10, where zero is silent and ten is loud. However, for more everyday applications at more reasonable speeds, the sound comes in near silent at 2.0/10. The ULN version is even quieter. I would rate it at 4.0/10 at full speed and 2.0/10 at a more reasonable speed. Noctua has again delivered excellent performance without compromising the amount of noise it generates.
---
Page Index
1.
Introduction, Packaging, Specifications
2.
A Closer Look - Hardware
3. Performance Tests
4.
Conclusion