By: Brian Cheung (Guest Writer)
June 12, 2015
If you have read my other reviews, you will find I am quite involved in sports, whether it be playing them or watching it on television. All sports, whether team-based or individual events, have famous rivalries between opponents. This can put friends against friends, and even form match-ups within a family. You have probably heard of many blood relations in the same sport, whether it is the Williams' sisters in tennis, Pau and Marc Gasol in basketball, and my all-time favorite, the four Staal brothers in hockey. I have always been fascinated with professional athletes who compete at the highest level, but a sibling rivalry piques my interest even more. I believe competing against or with your family members brings a little more to the table when it comes to what is at stake. Recently, an article I came across said elite athletes are more likely to be the younger siblings, while pre-elite and non-elite athletes are going to be the first-born. However, this article does say these findings presented are not complete, and further research is required to gain a better understanding of the relationship between sibling characteristics and participation in sports. Thus, while this claim does not always hold true, it does make you think of what other areas this comparison can be applied to. When I received the Noctua NH-L9x65 to review, this is the exact thought I had in mind. Built to be the smaller version of its award-winning siblings, it still has a reputation to live up to. It also claims to be more powerful than its similar sized siblings with modifications to its design. While Noctua claims this, will it actually live up to its claim? Read on to find out!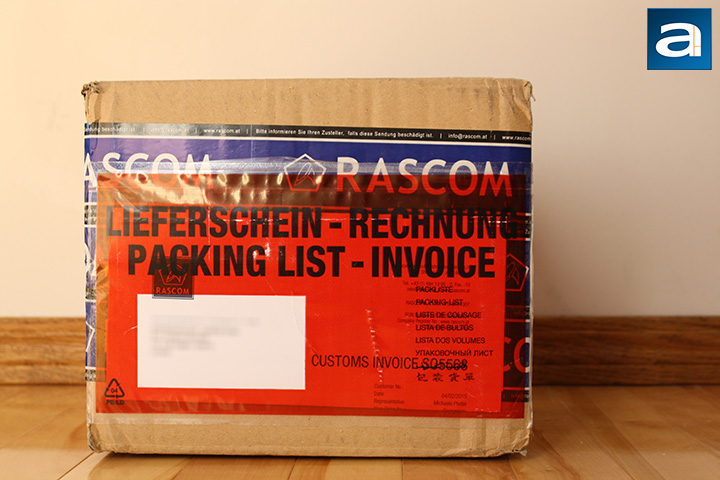 Today's unit of the Noctua NH-L9x65 arrived directly the manufacturer's headquarters in Austria. The package was shipped using UPS to our APH Networks office in Calgary, Alberta. As seen in picture, there were some bumps and bruises on the brown corrugated box, but it did not bother me too much, as the package has traveled many miles to get to our location here in Canada. Like many Noctua packages we have received in the past, this one was no exception to the blue RASCOM tape wrapping the top and the bottom of the box. Without further ado, I grabbed my handy knife, and carefully cut open the tape.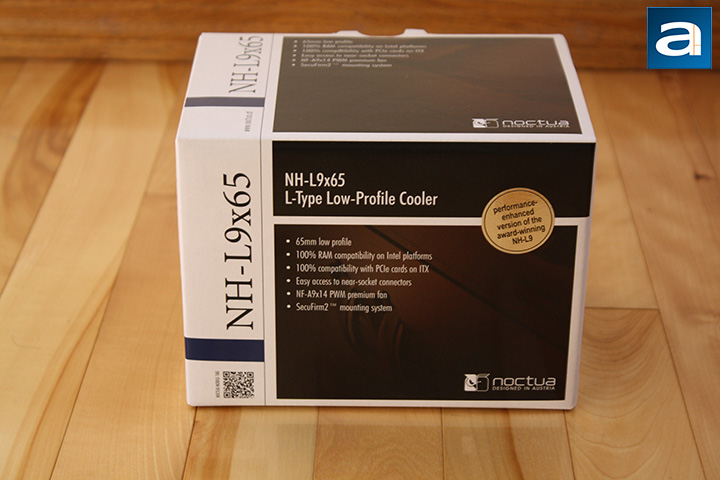 Once I opened the box, I found the retail container holding the NH-L9x65, surrounded in brown wrapping paper. Hence, it was no surprise the box itself was in excellent condition from top to bottom. Noctua is very consistent in the color scheme of their products. The box that holds the contents has a burgundy and white color scheme, which matches the color scheme used on the manufacturer's website. The outside of the box contains specifications, images of the features, and the model number of the product. It is worth mentioning on the box of this model, the lettering of the "NH-L9x65" name is raised, so users would be able to feel it when they run their hands across the box. I have listed more details below, as obtained from the manufacturer's website:
Heatsink Specifications
Socket compatibility: Intel LGA2011-0 & LGA2011-3(Square ILM), LGA1156, LGA1155, LGA1150 & AMD AM2, AM2+, AM3, AM3+, FM1, FM2, FM2+ (backplate required)
Height (without fan): 51 mm
Width (without fan): 95 mm
Depth (without fan): 95 mm
Height (with fan): 65 mm
Width (with fan): 95 mm
Depth (with fan): 95 mm
Weight (without fan): 340 g
Weight (with fan): 413 g
Material: Copper (base and heat-pipes), aluminium (cooling fins), soldered joints & nickel plating
Max. TDP: 140 W/95 W
Fan compatibility: 92x92x14, 92x92x25 (mm)
Scope of delivery:
NF-A9x14 PWM premium fan
Low-Noise Adaptor (L.N.A.)
NT-H1 high-grade thermal compound
SecuFirm2™ Mounting Kit
Noctua Metal Case-Badge
Warranty: 6 Years
Fan Specifications
Model: Noctua NF-A9x14 PWM
Bearing: SSO2
Max. Rotational Speed (+/-10%): 2500 RPM
Max. Rotational Speed with L.N.A. (+/-10%): 1800 RPM
Min. Rotational Speed (PWM, +/-20%): 600 RPM
Max. Airflow: 57.5 m³/h
Max. Airflow with L.N.A.: 40.8 m³/h
Max. Acoustical Noise: 23.6 dB(A)
Max. Acoustical Noise with L.N.A.: 14.8 dB(A)
Input Power: 2.52 W
Voltage Range: 12 V
MTBF: > 150000 hours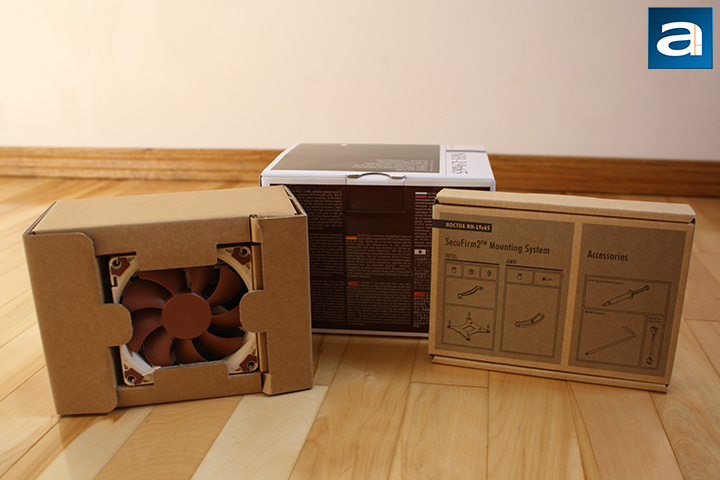 Pulling the tab out and opening up the box, you will find two smaller cardboard containers. One of them contains the accessories, which include the SecuFirm2 mounting kits. This kit is compatible with Intel's LGA2011-x and LGA115x, as well as AMD's AM2, AM2+, AM3, AM3+, FM1, FM2, FM2+ sockets. Other accessories included in the box is a low noise adapter, screwdriver, second set of fan clips, fan corner rubber dampeners, case fan screws, and a Noctua case badge. In addition, the Noctua NH-L9x65 ships with a full sized tube of Noctua's excellent NT-H1 thermal compound, which we have reviewed back in our August 2008 report. The NH-L9x65 heatsink and pre-attached NF-A9x14 fan are stored in the separate cardboard container, as you can see with the top of the exposed fan. Since Noctua has always done such a great job in keeping their packaging tidy, organized, and protective for the contents inside, there is no concerns floating in my mind regarding the exposed fan. Now, let us remove all the cardboard, and get to the cooler itself.
---
Page Index
1. Introduction, Packaging, Specifications
2.
Physical Look - Hardware; Installation
3.
Test Results
4.
Conclusion