By: Jonah Chow (Guest Writer)
September 24, 2021
What comes to mind when you think of new trends in the modern day? Something that sticks out to me is the rise in subscription streaming services. Netflix kicked this off by allowing anyone to watch most of their favorite movies and shows for a reasonable price. Rather than having to pay for each movie or show, Netflix offered a whole catalog of entertainment for a monthly cost. And unlike regular television programming, subscribers had the choice to watch anything they want at any time. It is no surprise that countless other streaming services popped up and became popular too, such as Amazon Prime Video, Crave, and Apple TV+. One of the newer services for me has been Disney Plus. Disney has always been a large corporation centered around entertainment, so naturally, it makes sense for them to jump on their own streaming service platform with all of their old and new movies they created in the last little while, along with their subsidiaries like Lucasfilm or Marvel Studios. When it comes to PC building, passive cooling is a trend that is slowly rising. The main idea is to remove as many sources of noise, which usually include fans. How does a fanless CPU cooler work though? Today, Noctua has their first ever passive cooler, the NH-P1. Like Disney, it only makes sense that Noctua would eventually design and engineer a passive cooler given how proven their track record has been with other cooling products. With that said, does the NH-P1 prove to live up to the reputation of Noctua's other cooling products? Let us read on to find out!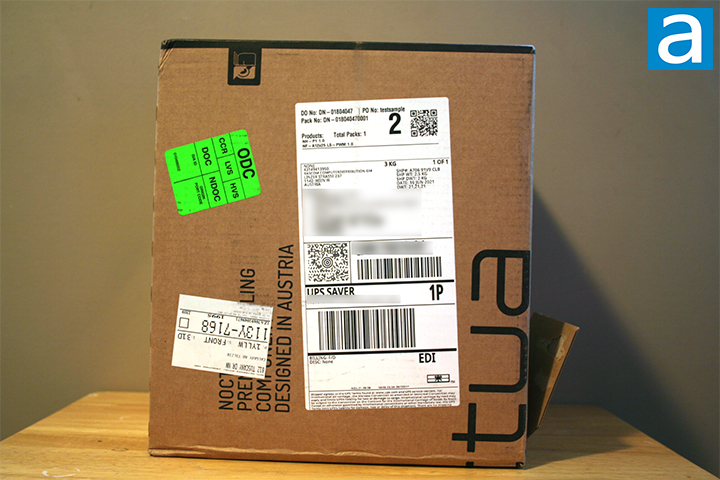 Our review unit of the Noctua NH-P1 arrived via UPS Saver from their headquarters in Vienna, Austria. The shipping package arrived here in Calgary, Alberta, Canada. Other than a few minor dents, the medium-sized brown corrugated cardboard box arrived in good condition. Noctua also sent us their NF-A12x25 LS-PWM fan to pair with this cooler.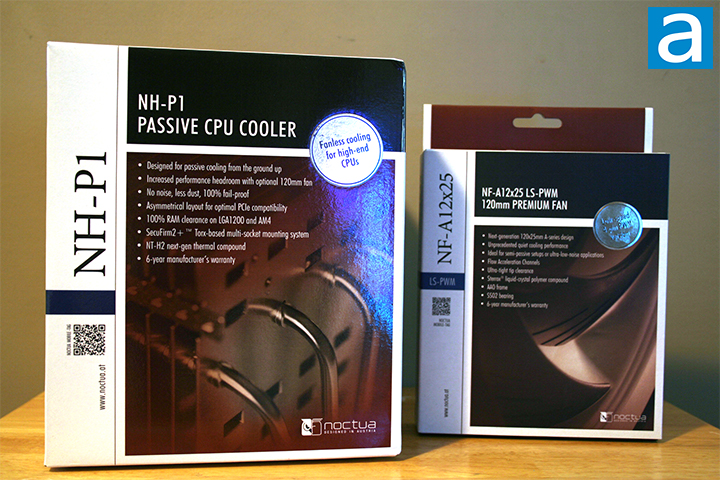 The retail packaging is what you would expect from most Noctua products. The brownish-red color that Noctua is associated with is seen on the retail packaging. A mix of black and white color schemes is prominent on the box as well, with white mainly framing around the information sections. The product name is located on the top and side of the box, with the text "Passive CPU Cooler" below on the top. A part of the cooler can be seen on the front shaded by brown. Technical specifications are located upfront in smaller font. More details can be found on the back and sides of the box. The same applies to the NF-A12x25 LS-PWM retail box, which is another variant of the Noctua NF-A12x25 fans we reviewed back in 2018.
Before we move on, here are the specifications from the manufacturer's website:
Socket compatibility: Intel LGA2066, LGA2011-0 & LGA2011-3 (Square ILM), LGA1200, LGA1156, LGA1155, LGA1151, LGA1150 & AMD AM2, AM2+, AM3, AM3+, FM1, FM2, FM2+ (backplate required), AM4
Height (without fan): 158 mm
Width (without fan): 154 mm
Depth (without fan): 152 mm
Weight (without fan): 1180 g
Material: Copper (base and heat-pipes), aluminum (cooling fins), soldered joints & nickel plating
NSPR: 42
Max. TDP: see NSPR
Fan compatibility: 120x120x25
Scope of delivery: NH-P1 heatsink, SecuFirm2+™ multi-socket mounting system, NT-H2 high-grade thermal compound, NA-CW1 cleaning wipe, NM-SD1 screwdriver, Fan clips for optional 120mm fan, Noctua Metal Case-Badge
Warranty: 6 Years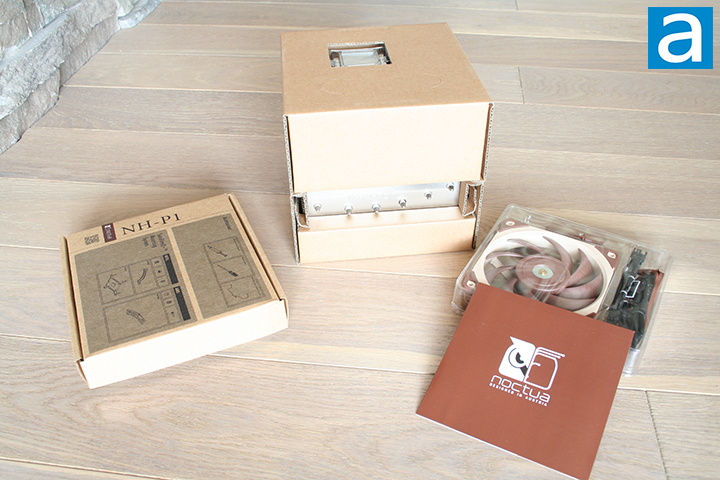 Opening the retail packaging, we are met with the cooler itself and another box containing the installation tools. The NH-P1 is found in a cardboard box for an additional layer of protection. The smaller box contains installation tools to mount onto Intel's LGA1200 and LGA115x sockets along with AMD's AM2, AM2+, AM3, AM3+, FM1, FM2, FM2+, and AM4 sockets. The Intel and AMD mounting tools are in separate bags with labels clearly distinguishing them. Additional tools include a screwdriver, NT-H2 thermal paste, and an installation manual.
---
Page Index
1. Introduction, Packaging, Specifications
2.
Physical Look - Hardware, Installation
3.
Test Results
4.
Conclusion