By: Aaron Lai
July 3, 2020
As you may already know, I have been a fan of our local hockey team, the Calgary Flames, since they went on their huge miracle run in the 2003-2004 season. However, due to the marketing and sales of professional sports, I did not purchase a jersey for myself until a few years back. If you were to look at the past Flames jerseys, they have changed a bit over time. Their logo has been the Flaming C, though for a while they also used the controversial Blasty horse head. I was a huge fan of it, but this was partially because it introduced a full black jersey to the rest of the kit. Before then, we had the standard red, orange yellow, and white colors, which still was a good color palette. The jerseys right before did have some black accents, but the Blasty jersey made it prominent. Since then, the Flames have stopped using their Blasty logo, but black has stayed in the branding, with the exception of their retro throwback jerseys. Recently, one jersey I really liked was the 2019 All-Stars apparel. All of the teams' jerseys made with of recycled marine plastic debris and featured a white, grey, and black color scheme. I think some fans were not too happy about this, since it lacked each teams' colors, but I think it was a very clean and fresh look. Similarly, when you think of Noctua, you probably think of the tan and brown colors that are found on their fans. It has been a controversial color set, especially when many users either want a more subdued look or a full out RGB kit. So, when we saw the NH-D15 chromax.black a month back, I was quite pleased to see the excellent Noctua performance combined with a subdued look. Today, we have the Noctua NH-U12S chromax.black, a cooler we have not seen since 2013. Does this new edition bring the same performance and capabilities, but in a stealthy look? Let us read on to find out!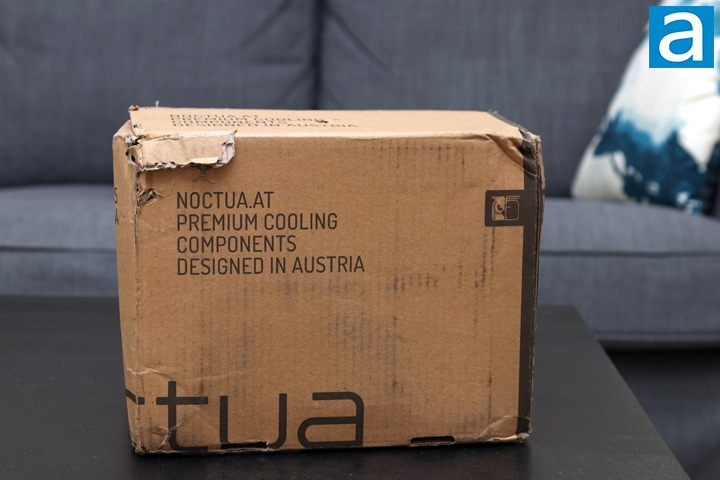 Today's review unit of the Noctua NH-U12S chromax.black arrived directly from Noctua's headquarters in Vienna, Austria. It was shipped in a Noctua branded box, which is something they have done multiple times in the past. From one glance, you can tell this box took quite a beating while traveling to our offices in Calgary, Alberta. There is a large hole on one corner and a notable dent on the other side. This box was shipped with UPS and their Saver service. Thankfully, everything inside is still in good condition.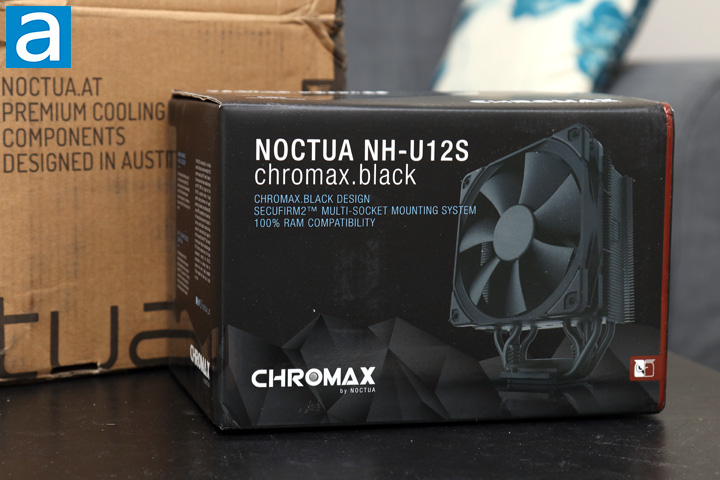 Noctua has not really changed up their retail containers for their vanilla products, but the chromax.black lineup gets an overhaul in terms of box design, which makes it really stand apart from their original colors. As it is in the name, we have a mostly black exterior, with some throwback Noctua brown edges. Even so, I would not fault you for thinking this is from another manufacturer altogether. Otherwise, the front panel shows off the cooler in its blackout look. The box mixes between matte and glossy elements to make the image of the cooler stand out. A few notable features are shown off here including the "chromax.black" design, SecuFirm2 mounting system, and full RAM compatibility. Around the back we have some more information regarding the specifications of the NH-U12S chromax.black. We will look into these features as we continue in our review.
Before we continue, I have grabbed the specifications from Noctua's website for your perusal:
Cooler Specification
Socket compatibility: Intel LGA2066, LGA2011-0 & LGA2011-3 (Square ILM), LGA1200, LGA1156, LGA1155, LGA1151, LGA1150 & AMD AM2, AM2+, AM3, AM3+, FM1, FM2, FM2+ (backplate required), AM4
Height (without fan): 158 mm
Width (without fan): 125 mm
Depth (without fan): 45 mm
Weight (without fan): 580 g
Height (with fan): 158 mm
Width (with fan): 125 mm
Depth (with fan): 71 mm
Weight (with fan): 755 g
Material: Copper (base and heat-pipes), aluminium (cooling fins), soldered joints & nickel plating
Max. TDP: see CPU compatibility list
Fan compatibility: 120x120x25
Scope of delivery:
- Black NH-U12S heatsink
- NF-F12 PWM chromax.black premium fan
- Low-Noise Adaptor (L.N.A.)
- NT-H1 high-grade thermal compound
- Black SecuFirm2™ Mounting Kit
- Black anti-vibration pads and fan-clips for second NF-F12
- Noctua Metal Case-Badge
Warranty: 6 Years
Fan Specification
Model: Noctua NF-F12 PWM chromax.black
Bearing: SSO2
Max. rotational speed (+/- 10%): 1500 RPM
Max. rotational speed with L.N.A. (+/- 10%): 1200 RPM
Min. rotational speed (PWM, +/-20%): 300 RPM
Max. airflow: 93,4 m³/h
Max. airflow with L.N.A.: 74,3 m³/h
Max. acoustical noise: 22,4 dB(A)
Max. acoustical noise with L.N.A.: 18,6 dB(A)
Voltage range: 12 V
MTTF: > 150.000 h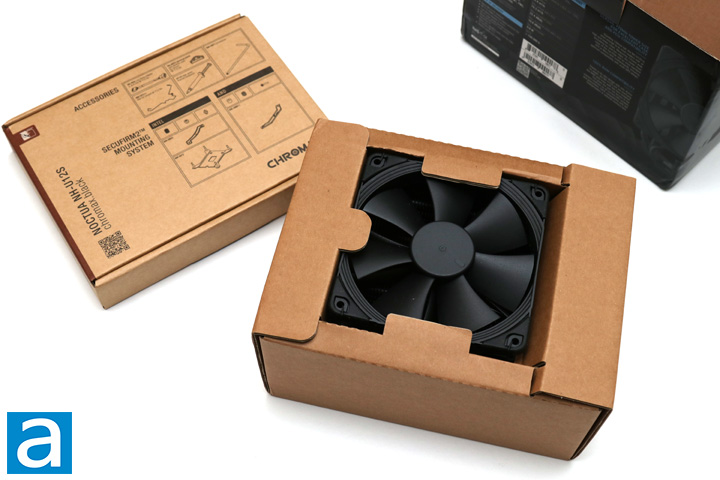 Out of the box, there are two more corrugated cardboard boxes. The larger one shows off the NH-U12S chromax.black heatsink with the single NF-F12 PWM chromax.black fan pre-installed. The smaller box holds the mounting accessories with everything nicely separated into their own bags placed in separate partitions. This does mean the packaging is not necessarily eco-friendly, but it organizes everything very well. The black SecuFirm2 mounting kit allows the Noctua NH-U12S chromax.black to work with Intel's LGA20xx, LGA1200, and LGA115x sockets, as well as AMD's AM2, AM2+, AM3, AM3+, FM1, FM2, FM2+, and AM4 sockets. Full compatibility with processors and their specified thermal design power can be found through Noctua's website. The only notable exclusion from this list is AMD's TR4 or Threadripper 4 socket, which is understandable considering how much larger the processor is.
Accessories inside the box include a low noise adapter, screwdriver, second set of fan clips, set of vibration pads and a case badge. The NH-U12S chromax.black also ships with a 3.5g tube of Noctua's excellent NT-H1 thermal compound, though I am surprised they did not include the newer NT-H2 though. In addition to all this, Noctua has included a manual for three different socket types: Intel LGA 20xx, Intel LGA 115x, and AMD. The instructions are very clear and make installation quite a bit easier. Overall, I really like how Noctua have packaged their goods and accessories, as it provides protection and ease of use in installation.
---
Page Index
1. Introduction, Packaging, Specifications
2.
Physical Look - Hardware; Installation
3.
Test Results
4.
Conclusion