By: Ben Joubert
December 30, 2016
Calgary has some of the strangest weather I have ever experienced. Back in South Africa, we also had some strange weather changes, where it would be cloudy and rainy and then suddenly sunny and warm. Calgary also has similar issues. It can be warm, and just a little while later, a full on storm could be blowing through. So far, our winter this year has been fairly mild, but this week has been, in Canadian terms, a little chilly eh? Temperatures are hanging out around -15 to -20 degrees Celsius without windchill. Mornings are usually the worst, with having to scrape the ice off of my car's windshield, and also having to heat it up. Luckily, I do not have a long walk to the university anymore, so I do not have to spend much time outside. Sometimes, you have to make the best out of bad weather, which, if you take a page out of Editor-in-Chief Jonathan Kwan's book, would be to stick your computer outside and let nature do the cooling for you, haha. Just for the sake of testing though. I do not think it will be always too consistent, especially when the weather suddenly changes. The Calgary weather forecast was fairly consistent with it just being cold for the last few weeks, which is a nice change in a sense. Consistency, I think, is desirable and key, especially if it comes to the temperatures inside of your computer. I would be fairly concerned if the temperatures of my computer's components fluctuate randomly from very hot to cool randomly. Today, we have the NZXT Kraken X52 all-in-one liquid cooler. Perhaps this one will keep the temperatures in your computer under control? Let us find out.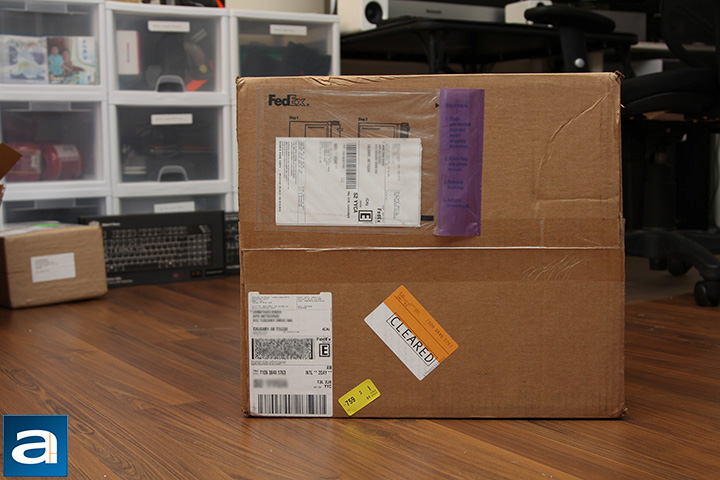 The NZXT Kraken X52 arrived in a medium sized brown corrugated box. As you can see, the box arrived in relatively good condition, especially considering it went through such a long journey. It shipped all the way from southern California via FedEx International Economy, and arrived safely in Calgary, Alberta, Canada where it is considerably snowier. I am starting to doubt the usefulness of a cooler in this climate. However, let us leave that for the testing page.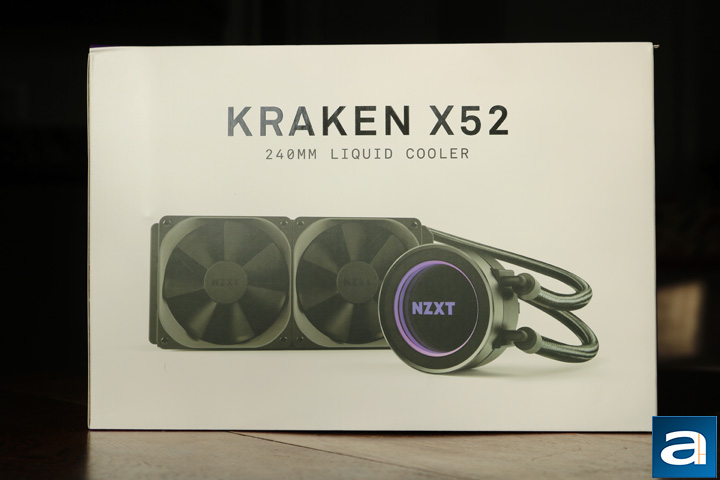 The NZXT Kraken X52 makes a refreshing change to the usual black gaming retail boxes. The front is plain white with a very minimalist design. Only an image of the cooler is on the front, with its full name printed in black above it. The back is also plain white, but with way more information. It advertises a new pump, new fans, and the reinforced tubing. The software is also advertised on the back. The sides feature all the specifications, and is purple in color. There is even a quick comparison of performance with an Intel stock cooler. The Kraken comes with a six-year warranty.
Before we move on, here are some specifications, as obtained from the manufacturer's website:
Specifications
Dimensions: Radiator: 275 x 123 x 30mm
Pump: 80 x 80 x 52.9mm
Material: Aluminum, copper, plastic, ultra-low evaporation rubber, nylon sleeving
Weight: 1.08kg
CPU Socket Support: Intel Socket 1151, 1150, 1155, 1156, 1366, 2011, 2011-3
AMD Socket FM2+, FM2, FM1, AM3+, AM3, AM2+, AM2
Control Modes Fan: Silent / Performance / Custom / Manual
Pump: Silent / Performance / Custom / Manual
Control Method: Software with CAM
LED Modes: Preset Modes: Fixed, Breathing, Fading, Marquee, Covering Marquee, Pulse, Spectrum Wave, Alternating, Tai Chi, Water Cooler, Loading
Reactive Modes: Smart and Audio
Pump Speed: 1,000~2,800 +/- 300RPM
Fan Model: Aer P120
Number of Fans: 2
Fan Speed : 500~2,000 +/- 300RPM
Fan Noise Level: 21-36dBA
Warranty: 6 years
Model Number: RL-KRX52-01
UPC: 815671012869
EAN: 5060301693191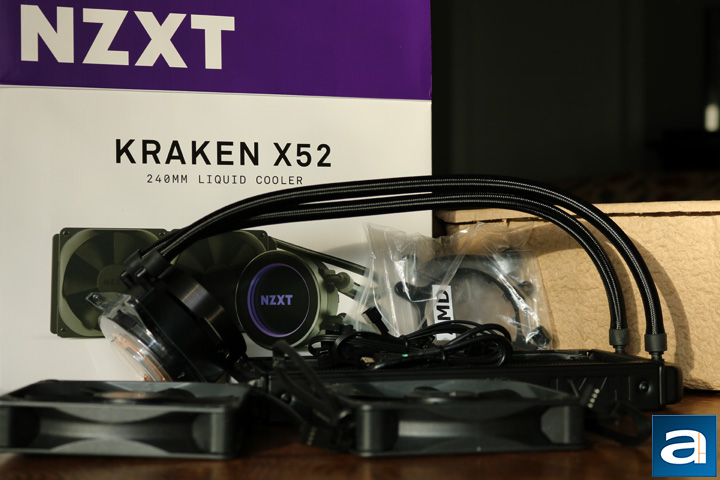 The NZXT Kraken X52 was packed tightly, ensuring its safety. The radiator and the two included fans have cardboard covering them to stop any surface damage, while the water block has a hard plastic covering to prevent any scratches, and also to protect the pre-applied thermal paste. As such, there is no included thermal paste, because it is pre-applied onto the block. Everything required for installation is kept in plastic bags; only one of them is labeled AMD. Other than that, there is also an instruction booklet, all the cables required for the water block's LEDs, pump power cables, and fan splitter. Overall, I think the packaging is sufficient to keep the product safe.
---
Page Index
1. Introduction, Packaging, Specifications
2.
Physical Look - Hardware; Installation
3.
Test Results
4.
Conclusion