By: Kenneth Kwok
June 17, 2011
Explosions, pings, message notifications, and the Windows login tune. What do all of these have in common, you may ask? Well, these are all sounds we may hear almost every day when sitting in front of our computers. From just logging on to playing games, we hear a plethora of stuff coming from our speakers or headsets. However, one thing most users don't want to hear while performing their day-to-day routine would be the incessant humming from their computer itself. In my case, the last thing I would want to hear when I am gaming or listening to music is the spinning noise from my hard drive, or the noise from my case fans. To combat this problem, some people may go about and get the best fans and passive cooling units to reduce the noise. What some users do not think of, however, would be to choose a quieter chassis to seal the deal. Well, today we have a new case from NZXT that advertises to do just that. NZXT is well known in the industry for their high quality cases, fans, and power supplies. The product we will be taking a look at today is the NZXT H2 from the Classic line of cases, which is pretty self-explanatory. This line seeks more classic and clean designs, while providing modern luxury at the same time. Without further delay, let us dive right into our review, and see how well this chassis reaches its goals for being quiet and clean looking at the same time.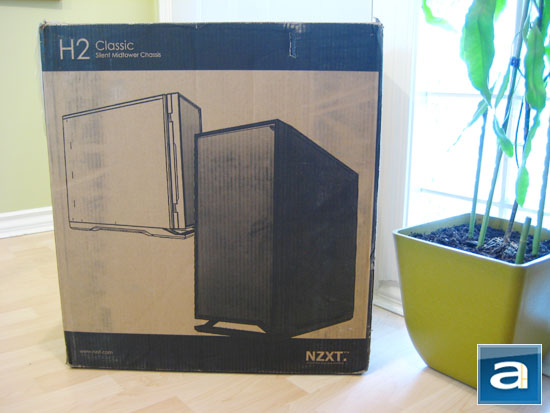 Our review unit of the NZXT H2 was transported to us from American Future Technology's offices in California, USA to us over here in Vancouver, British Columbia, Canada. As we have touched upon in our past reviews, American Future Technology is NZXT's parent company. As expected, UPS Standard was the shipping method used; as with previous NZXT products sent to us. The package was acquired in good condition, safe from the usual bumps and dents that comes from shipping. However, it seems that every time I receive a computer chassis for review, I am not there on the receiving end. On the other hand, UPS always does a good job, and leaves it at my back door so that it doesn't get stolen while I am away. Stealing a computer case is probably anything but discrete, but sometimes these things do happen.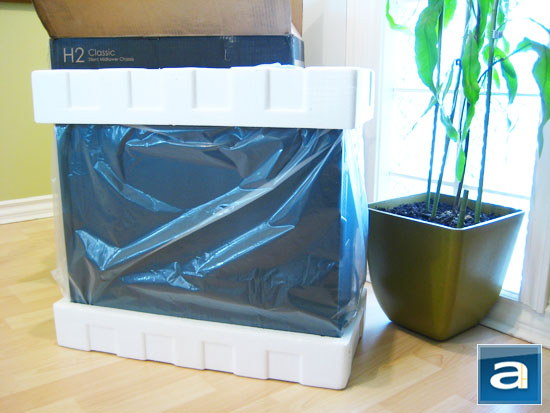 The NZXT H2 came in retail packaging, which looks more like any old brown corrugated cardboard box, save for the printing on it. For this enclosure, NZXT took a 'no-frills' approach to the box design, since it was not even colored or highly decorated -- but at the end of the day, isn't it what is inside that is more important? (That sounded sort of cliche, but it is some good words to live by.) Anyways, in terms of box design, the H2 packaging includes a giant picture of the case in monochrome. There is a big black border at the top and bottom. In the border at the top is the name of the case, as well as the Classic series branding; while on the bottom, there is a link to NZXT's webpage, as well as the NZXT logo.
Opening up the box, we are treated with the usual packaging for most modern chassis these days. This consists of the usual two pieces of Styrofoam to sandwich the case, which is encased inside a plastic bag. After removing all the packing material, we are treated with the NZXT H2 itself. Nothing else is found out of the box save for these things, since the rest of the components are located inside the NZXT H2. Overall, the packaging was more than enough to make sure the chassis arrived without damage.
Before we move on further into this review, let's take a look at the features and specifications of this product, as obtained from NZXT's website:
Features:
- Touch powered fans with fan filter for easy maintenance and fan swapping
- 30W 3-step fan control for airflow settings at 40%, 70%, and 100% of maximum fan speed
- Top hot swap capable SATA HDD Dock (requires an AHCI capable motherboard and hot swappable HDD) and USB 3.0 port for the most up to date function
- 8 Front facing HDDs for optimal airflow
- Noise dampening foam and a top magnetic fan cover for minimal PC noise
- Ample 25mm space behind motherboard for cable management
Specifications
Model: H2
Case Type: Mid Tower Steel
Front Panel Material: Plastic/Steel
Material: Steel with painted interior
Dimensions (W x H x D): 215 x 466 X 520 mm
VGA Clearance Maximum: 310 w/o HDD, 270mm with HDD
CPU Heatsink Support: 170mm
Expansion Slots: 7
Weight: 8.9 kg
Motherboard Support: ATX, MICRO-ATX, BABY AT
Cooling System:
- Front: 2 X 120mm @ 1200rpm (included)
- Rear: 1 X 120mm @ 1200rpm (included)
- Top: 1 X 140mm
- Borrom: 1 x 120mm
Drive Bays:
- 3 External 5.25" Drive Bays
- 8 Internal 3.5"/2.5" Slots
- Screwless Rail Design
---
Page Index
1. Introduction, Packaging, Specifications
2.
Physical Look - Outside
3.
Physical Look - Inside
4.
Installation and Conclusion